Archive for Ring-Billed Gull
When I have a question about birds, I ask my friend Bonnie….. a birder. When we have traveled together, I have seen her (on many occasions) quickly digging binoculars out of her handbag to try to identify a bird in flight. I love that! A couple of years ago on Cape Cod, we both watched a bird doing something funny and I said "Look at the funny sea gull!". That's when I learned that there is NOT one bird that has the name of "Sea Gull". Weird, huh? So she is my go-to-girl when I have a question about a bird.
This is not a "Sea Gull" it's a Ring-billed Gull. I know this now because Bonnie met me on the beach at Gulf Side City Park to teach me about birding. We made a deal …. if I would teach her a little about shelling, she would teach me a little about birding. What a deal!!
She brought her binoculars and her Sibley Field Guide To Birds book to give me my first lesson on shore birds. So when we saw the Ring-billed Gull, she whipped out the Sibley and flipped to this page to show me this……(click it to enlarge)
Then we saw a Ruddy Turnstone….
Then she quickly turned to this page…but notice how many different changes and colors the Ruddy Turnstone goes through as it matures.
Then we saw a Laughing Gull.  They really sound like they are laughing when they communicate.
Here is the Sibley page for Laughing Gull (again, notice the color changes!)…
So when we came across the next bird, Bonnie had to use process of elimination to figure out what bird this was. Notice the reddish color of the inside of the beak, the orange legs and the rest of the coloration.
The conclusion was that this is an adult nonbreeding Common Tern that is in a maturing stage to an adult breeding Common Tern. This was so much fun to figure out! You have to look at every detail of beak, legs and color patterns through the binoculars. It's a puzzle.
This is one of my favorites to see on the beach. I love that little spiky hair-do ( okay, it's really called a shaggy crest) . I think it was extra spiky since the fog was so thick and everything got damp so quickly… so it was even cuter.  This is the Royal Tern…
Here are the details…
See? Birding is so similar to shelling. We identify both of them through patterns, colors, destinations, process of elimination ….and both of these beautiful sites are found by just taking a walk along the beach at any given time of day on Sanibel or Captiva. Here are just a few photos of the shells. I really was so much into the birds, I'm not sure I held up my end of the bargain to teach her about shells. Oops! Well, I'll have another good reason to get together with Bonnie.

When the high tides sweep the beach of the larger shells and take them back out to sea, the hunt for smaller shells starts again along with any type of beach treasure. If you want to find the WENTLETRAPS, you've got to get down and dirty by bending those knees as much as possible. This is Clark at sunset at the Lighthouse Beach finding those little beauties.
I found a few wentles too but my best find was the head bone of a catfish called a CRUCIFIX SHELL. I know it sounds a little weird but it is a sign of good luck when you find one of these. Yippee! It's gonna be a good week.
I also found myself paying closer attention to the birds around me since my calling to little miss cutie Sandy The Sanderling. I caught these WILLET birds (above) all resting on one leg right at the shore line. Do you know why birds stand on one leg? My friend Bonnie helped me on this one….. Because they are conserving their energy and reducing their heat loss. Smart, huh?
Doesn't this guy know better than to mess around with those PEN SHELLS? He didn't get his beak caught like the Sanderling but geez, dude, watch out!
Maybe he lost this tooth trying to pry that shell open. LOL Yes, I know it's not from a bird (birds don't have teeth, silly) but what do you think it's from?
While we think on that, let's take a minute to relax and enjoy this scene at sunset.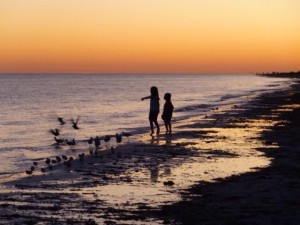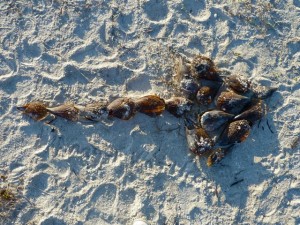 Clark and I parked at Fulgur Street (click on street name for a map) beach access this morning and took the advice of this PEN SHELL arrow pointing west to find shells. It gave us the right of way! We found shells…. lots of them.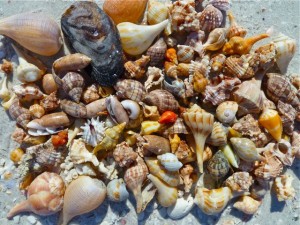 We found so many different types of shells and this is just a sampling of what was on the beach. There were oodles of MUREXES, OLIVES, TULIPS, CONCHS and WHELKS that we didn't even pick up. Most of these were found along Middle Gulf Drive…. including that FLORIDA CONE and that sweet baby TRUE TULIP nestled in the middle.
I met Randy from Iowa who showed me this SHARK'S EYE that had a CHITON ( yes, it's a mollusk) stuck to it. Okay, ya'll know I love shelling and love everything marine (even SEA PORK!) but the chiton kind of …errrrr….. creeps me out. Maybe it looks like a bug or something? LOL I don't know. Although, since reading about it , I didn't realize that once the mollusk dies those individual plates (that look like armor) fall apart so when they wash up on the beach they can be recognized by their butterfly shape. I might like the shell plates- I'll look for those.
The TIDES have been super low and will continue to get even lower this next week so there should be some awesome shelling. I'll try to get out early tomorrow morning to catch the -0.7 ft low tide … and if you are in the area, you should too!
So what do you think… are these RING-BILLED GULLS Kissing or fighting?