Archive for Bald Eagles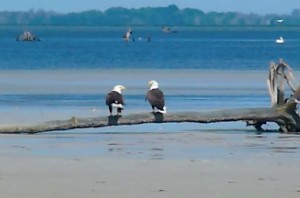 We just got our first dose of cool 70s, non-humid weather to feel the fall season here upon us in SouthWest Florida. Along with cool weather, every fall we look forward to the arrival of the WHITE PELICANS who spend the winter months with us on the islands. Since the fall weather has also sprung a terrible cold onto poor Clark, we didn't get out on the boat this weekend as we normally do at this time of year to greet the new arriving birds. So I reminisced about last year. OMG! I never showed you a video I made of the birds we saw last year on this same weekend in 2011! I think I was way too over the moon last year after finding a LION'S PAW and my very first (and only) JUNONIA to even think about making a movie but …better late than never, right? LOL
After finding the best shells of my life last October, we watched the PELICANS gracefully fly from one mud flat to another on North Captiva, then spotted not just one BALD EAGLE… but two BALD EAGLES!
Here is a movie from the video I shot last year of their sweet little romance that unfolded right before my eyes and my camera lens. I'm so happy I captured their EAGLE date on video…. yes, shaky video… but I'm so happy I can share it with you now.
Here's the story of Jule Eaglette and Rome Eagleo…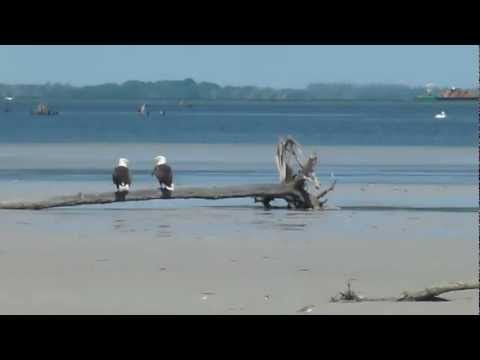 Two BALD EAGLES were enjoying their lunch at The Dunes Golf and Tennis Club yesterday…..and I got them on video too! I had some requests for more video after I posted the COWNOSE RAYS video but I can't believe I got this close to these breathtaking birds this week as well. After I captured the rays, I've had my video camera practically attached to me so I never miss a moment. It's a good thing since one of the EAGLES let us pass him in the golf cart while he ate his fish for lunch. It's been a good week….I think Mother Nature is helping us celebrating Earth Day all week long.