Archive for October, 2011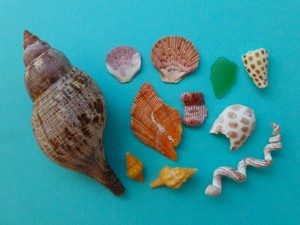 The shelling was excellent all weekend after the storm early last week. Not only was I tickled to find this large TRUE TULIP, the FLAT SCALLOPS, HORSIES, the WORMIE and a piece of aqua SEA GLASS, I think finding 2 pieces of JUNONIA and 2 pieces of LION'S PAW is what turbo charged me to run from beach to beach to search the clues for the unbroken loot. The after-burners went into high gear. I know you already heard I hit gold with my JUNONIA and LION'S PAW but now they are all cleaned up so I have to show them just one more time (I know, I know… just humor me

)….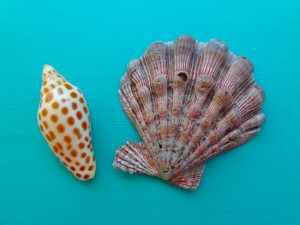 Ahhhhh. Two out of  The Elite Three. So for a while, I'm not coming down from being on cloud nine.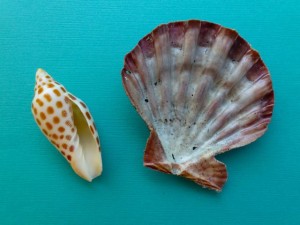 I saw lots of other shellers and friends enjoying the gifts of the sea too. Sunrise shellers Robert and Eileen…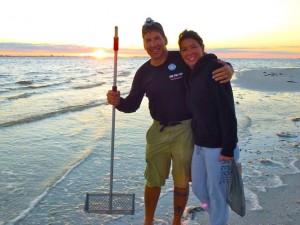 Robertfound a LION'S PAW too! It has some barnacles but who cares! It is a huge whole one and will clean up nicely I'm sure.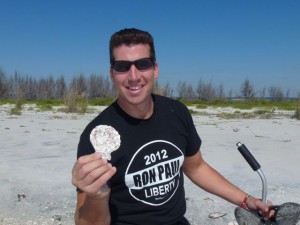 The locals were out playing on the beach too. I ran into my friend Mary (Captiva) …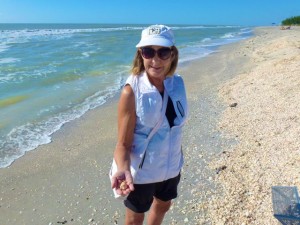 She found an ALPHABET CONE and a bright orange HORSE CONCH. Candy!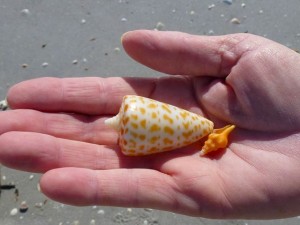 More of my buddies! I found Betsy and Sherrill sittin' n siftin' through another big shell pile…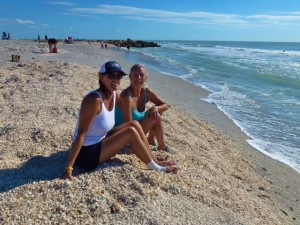 King and Queen of this shell mountain, Kathy and Tony had it all to themselves…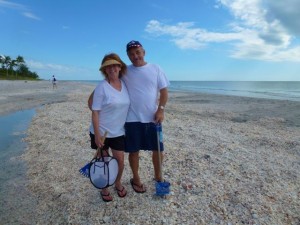 Other than shells, the storm brought in lots of other Beach Bling too. One of my favorites being pieces of CORAL.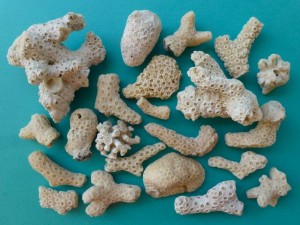 I still have more photos of cool stuff I found on the beaches..but not the time to show them all again. We have Hurricane Rina out in the Caribbean which may turn towards Florida from Mexico so we have to keep an eye out to see what she does. I just hope everybody is safe from this Category 2 Hurricane headed for Cancun, Cozumel then turning towards Cuba. When everybody is safe, then we can think about the shells she might produce. I promise, I'll catch up tomorrow and keep you updated.