Archive for Rocky Point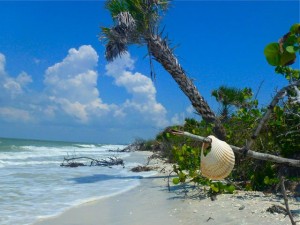 It sure was a roller coaster weekend… literally.  Hurricane Irene was rolling along the coast wreaking havoc and causing lots of trouble. My family and friends in Virginia Beach are fine (some with no power still, but fine) and I hope you and yours that were in Irene's path are okay as well. I spent most of my time glued to the weather channel wrenching my hands so I took a 45 minute drive to Bonita Springs on Saturday to meet my Shelling Sistas Carla and Kelly at Barefoot Beach for some well needed shelling time. The welcome wagon was there to greet us in the form of a GOPHER TORTOISE…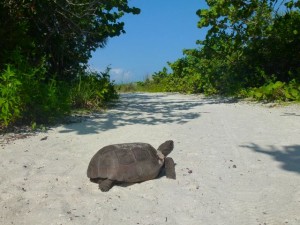 He was even so friendly to hang out with Kelly for a bit. How cute are they!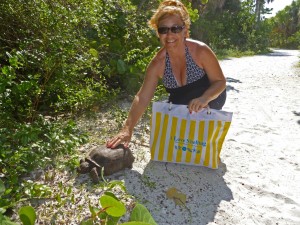 The tide was pretty high when we started our treasure hunt but there's always something fun to find on the beach.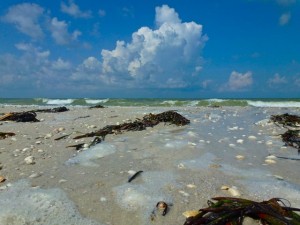 Carla spotted a couple of SHARK'S TEETH and fossil piece of a mouth plate to a PUFFER FISH….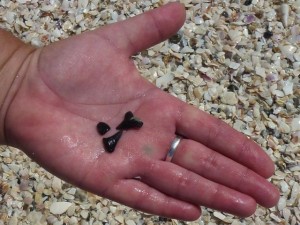 I only found one little SHARK'S TOOTH but was happy to find any!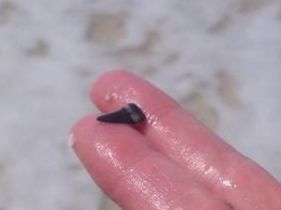 Carla came across this PEN SHELL with such a colorful EGG CASING attached to it. It looks like a beautiful flower blossom!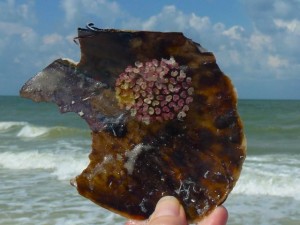 I am a little confused which egg sacs these are because of the color but I think this maybe a TRUE TULIP EGG CASE that just was formed. Take a look and see what you think. I'd love a positive I.D. so if you can help, please help us learn what it is. Here's a closer look at this beauty….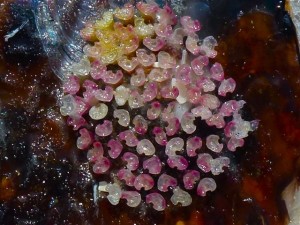 Carla walks this beach probably as much as I walk the Sanibel beaches so she has a keen eye to find the goodies like the SHARK'S TEETH, EGG CASES and this perfect empty LACE MUREX …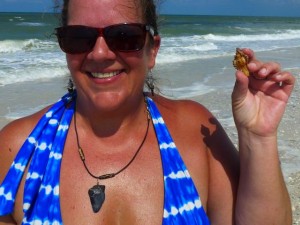 Did you notice her necklace? Yes! She found that big honkin tooth and made a necklace out of it like she did for the oh-so-cool piece of sea glass she gave me. I love it Carla!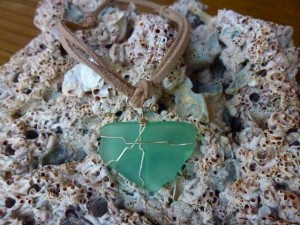 Kelly was soaking in the beauty of the day every second….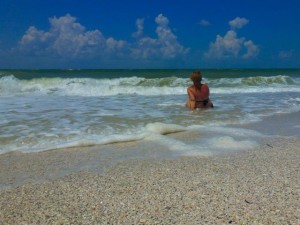 I was thrilled when she brought seashells she found from Puerto Penasco, Mexico (aka- Rocky Point) to share. Thank you Kelly! Now remember, these are shells from Mexico NOT Florida…
I didn't get a picture of all her treasures our day on Barefoot so she sent a photo of her shells from the day…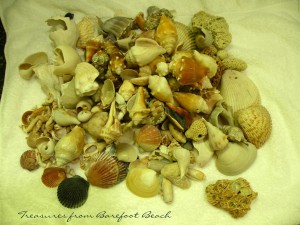 I know these don't look like great shells to most, but these were my favorite finds on Saturday- CORAL, WORMIE, SHARKS TOOTH, a piece of a LION'S PAW (!), a tiny OLIVE with beautiful color and pattern and a SEA PEARL.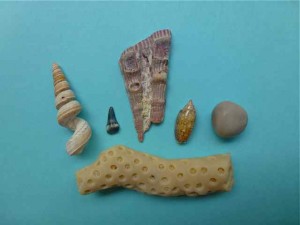 Since I was so distracted by Hurricane Irene, I didn't get to show you another shelling sista I met last week on the beach in Sanibel. It was so nice to meet you, Desiree! I love your hat!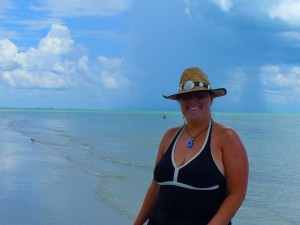 She said she bought a cheapy hat and embellished it using hot glue with shells she found on Sanibel. She said it was a snap to make since the ribbon was already there to glue the shells to. It's the simple things that make life fun, isn't it?
I have some pictures of Blind Pass from yesterday evening at low tide that I won't probably get to post until tomorrow but it's just an FYI…. there are shells there. You have to look in the water right at the edge of the small drop off. Good luck! In the mean time, enjoy a few more pics of Barefoot Beach…