Archive for Long-Spined Star-Shell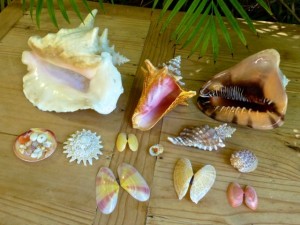 I am still in awe of how many different seashells we found on our vacation to North Caicos and Middle Caicos of the Turks and Caicos Islands. I'm also in awe (okay, let me tell the truth…. "overwhelmed" would be the right word) because I took over 1100 photographs. Yikes! So this is what I'm going to do since I can't smoosh all of these amazing shells, photos and info in just this one post. I'm going to show you our best finds now and then in my next post I'll show you where we found them and a few maps just in case you ever want to go there on one of your shelling vacations too. After that, I'll show you where we stayed on North Caicos and a few restaurants and other things we loved about the islands. But for now, lets get on with the seashell show! I showed you Clark's KING HELMET, my ANGULAR TRITON and some QUEEN CONCHS on my last post but these PARTRIDGE TUNS for sure made it on our "besties" list. They look like really fragile scotch bonnets without the thick lip.
Here's a close up the bottom of our LONG-SPINED STAR SHELL I showed on my vacation "teaser" (heehee) post. I say "our" shell because Clark and I were snorkeling side by side when we both spotted this beauty as the same time.  Gorgeous, right?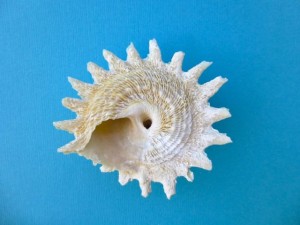 Here are the different colors of the GAUDY ASAPHIS I talked about…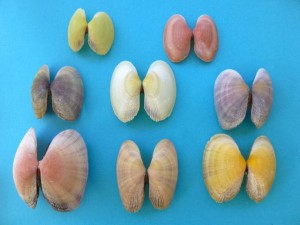 We could have gathered hundreds of doubles! Clark collected so many different colors then picked through them to get the best to bring back…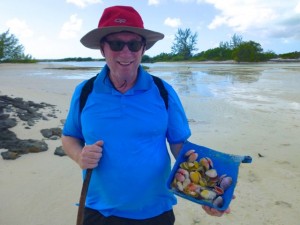 The double SPECKLED TELLINS were such a treat too! We are always tickled to find beautiful bivalves when both valves are still attached…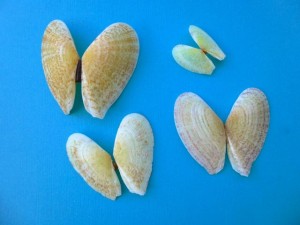 Believe it or not, this is my first BLEEDING TOOTH NERITE. I saw oodles of NERITES, but since I was trying to be very selective in what we brought home, I chose this one I've never found before to bring home and it's one of my faves!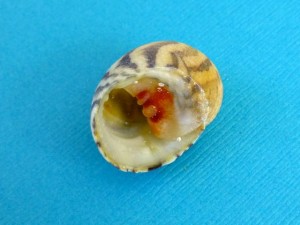 And of course the SUNRISE TELLINS. Oh my. They really look like they have been colorfully painted then sprayed with a high gloss coating. It was astonishing to find a perfect double SUNRISE TELLIN laying in the shallow water half covered by sand. A true gift of the sea.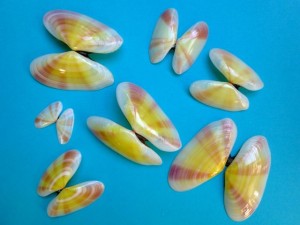 Oops! I forgot to put my MILK CONCH in my bestie photo but this has to be part of my favorites list too!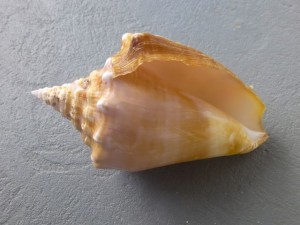 I found this MILK CONCH and a juvie QUEEN CONCH the first night we arrived… which was my birthday night. YAY! We didn't want to waste a minute so we walked the beach as soon as we arrived and these washed up at my feet. YAY Again!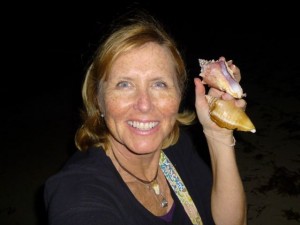 I love the minis!!!! Just like here in Sanibel, if we are visiting a beach and we aren't finding the larger shells in the wrack line, at the shoreline or in the water, we start looking for miniature shells. We found them! They are just so stinkin sweet, arent they?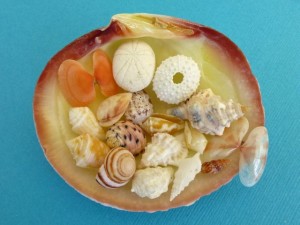 But wait! There's more! I want to share Jane and John's besties too!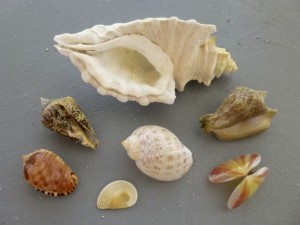 You saw John Johnny Rescue's QUEEN CONCH and Jane's ANGULAR TRITON yesterday and they found the SUNRISE TELLINS and PARTRIDGE TUNS as well…. But… John found this very cool CONE!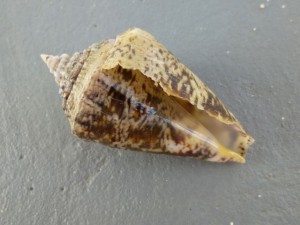 It really doesn't match exactly with that thin lip, high spire and a few other details and I havent had time to research further, but our best guess is that it's a CROWN CONE.
UPDATE! Deenie just commented to tell us that this is not a CONE at all! It's a juvenile HAWKWING CONCH! How cool is that. Now that I know what it is, I can completely recognize the shape and now I know why the lip is so thin unlike a CONE and the spire is so tall. Thank you so much Deenie!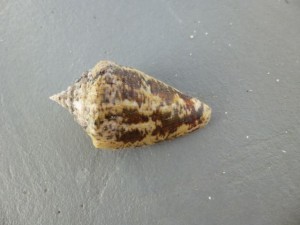 Well how about that… John found an adult HAWKWING CONCH as well so you can see what that juvie will look like when it grows up.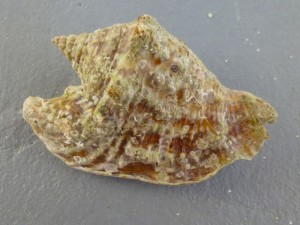 And look at the color and lines of this RETICULATED COWRIE-HELMET!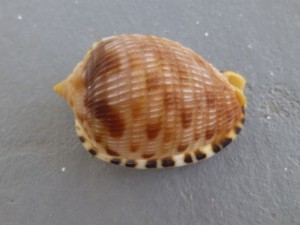 It is a spectacular shell! Good find John!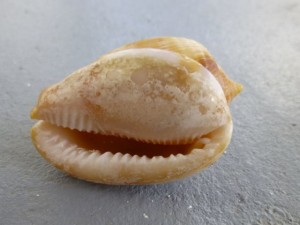 I'm still stunned and amazed at this next shell…. well I should really say "BEACH BLING". It's the OPERULUM to the COLORFUL MOON SHELL! It's a SHIVA SHELL.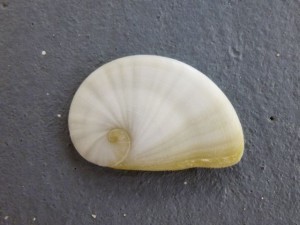 What? Why haven't we ever found these on Sanibel??? We have gobs of COLORFUL MOONS (GAUDY NATICAS) so why don't we find their OPERCULUMS more often? Weird. Plain Weird. Thanks Susan for the heads up on this beaut. So now we have something new to look for in SouthWest Florida too so look at the exterior of this SHIVA SHELL to put this in your shelling brain. Anyway, John found this one in the high tide wrack line mixed in with some other Beach Bling and a few days later I found one too but it wasn't perfect like this…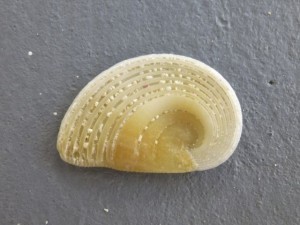 So how cool are these shells from The Caicos, huh? Let me show you the whole kit and caboodle of shells Clark and I brought back. Keep in mind, after rinsing and inspecting the shells we collected each day, we didn't bring home the majority of our shells to Sanibel. We inspected for cracks, critters, crud or replaced them for better specimens. We want to respect the islands, sand and beaches so we have to be conservative with the shells we take.  We only kept the ones we knew we would either display in our home or research for the blog. Look how beautiful they are! I could just sit and stare at all of these treasures for hours at a time!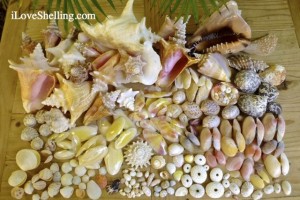 I'll try to give you as much information as possible about our stay in a short time so I'm already working on a map to show you where most of our shells were found on our exshellent adventure!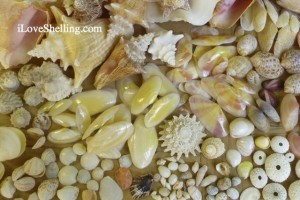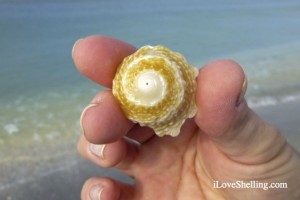 Let the Shellabaloo begin with a bang!!! That's right folks! On our first day of the Island Inn shelling extravaganza, Joe from Ohio found a very rare (for this area) LONG-SPINED STAR SHELL! Holy Toledo! Ok, (hee hee) he's not from Toledo, Ohio… he and his wife Patty are from Akron and had no idea what this shell was.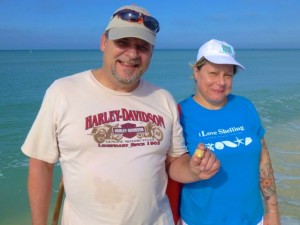 Joe thought it was maybe the top of a cracked shell but as soon as I saw it I knew it was a rare find. For some reason I said it was a "sundial" and it stuck in my head since Im not used to seeing LONG-SPINED STAR SHELLS on our beaches. Whoops! So embarrassing! I've even blogged about LONG-SPINED STAR SHELLS when we found a few on a vacation to The Keys.
Here is Joe's LONG-SPINED STAR SHELL in his hand to show you how big it is…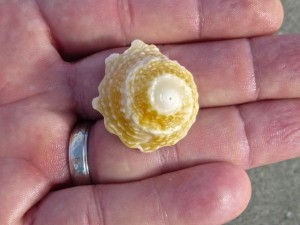 Congratshellations! And guess what… He didn't even consider himself a real "sheller". He just agreed to go on this vacation since Patty is an avid sheller. Ha! I think he might be hooked on shelling now too, huh? Here's the aperture side of the shell.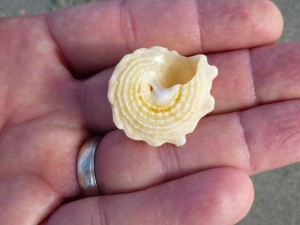 I have got soooo many photos to show you since we've all been have a ball shelling and hanging out together but I had to post this first thing. I'll have more photos and stories coming soon! But wait… now that I'm on the subject of Joe and his awesome shelling skills, I have to show you another beautiful shell he found too… a LIGHTNING WHELK!  The mollusk was alive inside it so he had to put it back in the water where he found it but it is always a thrill to see this awesome creature.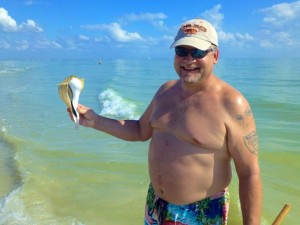 I promise to get to everybody else and their found treasures very soon so I can introduce you to all of these fabulous shellers like …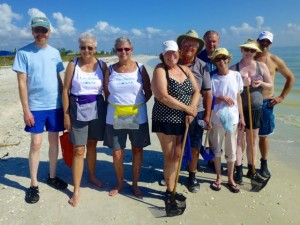 …and like these fabulous shellers too!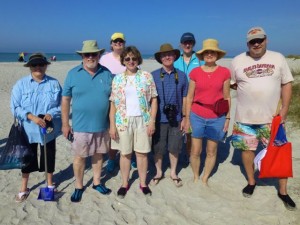 The Florida Keys aren't known for beachcombing since seashells just don't roll up on their beaches like they do here in Sanibel, Florida but they DO have shells……you just have to know where to dive or snorkel for them. This was our first time shell collecting in the Keys so we were very fortunate to have wonderful shell-crazy friends MurexKen and MurexAlice (who have been shelling the middle Keys for over 20 years) take us out in their boat to show us there are shells to be found in those vast aqua waters.
Within an hour or so arriving in the Keys, we strapped on our fins, mask, snorkel and grabbed our shell bags then splashed into the water to seek and explore throughout the weekend. MurexKen found a beautiful live QUEEN CONCH to point out the amazing colors and to show us how many there were living in the grasses. Since it was alive, he put it back and told us there is a big fat fine for keeping a live one. Good!
We found lots of AMERICAN STAR-SHELLS……
We found a few LONG-SPINED STAR SHELLS…
…and some WEST INDIAN TOP SHELLS or also called MAGPIE SHELLS…
Clark found some absolutely perfect MILK CONCHS (MK cleaned these up for us- they look so amazing!)….
We snorkeled around the grasses…..( I think I might have to rename MurexKen as MermanKen- he's a fish!)
We snorkeled around bridges….
…where MurexAlice found a nice SEA URCHIN…
We snorkeled around CORAL REEFS alongside QUEEN ANGELFISH ….
We snorkeled around sandy sea bottoms to see this SHORTNOSE BATFISH……weird!……
I spotted a potential keeper shell… is it empty? Please be empty!
Oh YaYah- Nobody's home! He's a little beat up but I can try to clean it up…..
I was so happy to find an empty QUEEN but mine couldn't compare to MerMan MurexKen's Queen Conch with no mollusk inside! Since the lip was broken off they were going to toss it back…..then offered it to us. Of course we'll take it!
I cleaned up most of the shells with 1/4 bleach and water solution except another shell MurexKen gave us…… This outstanding HORSE CONCH with the brown "skin" or PERIOSTRACUM still on it- I love that! I just let that soak in a bucket of water with just a tad of bleach so it wouldn't take the brown off. After I took this photo, I put it back in the bucket to soak some more to get the white "freckles" to soften up even more so I can try to rub them all off. Hey, and take a look at that little conch I found that was so beat up….. I think it's coming along!
We normally have shells roll up to our feet in Sanibel so this was a fun trip for us to work a little harder (snorkeling's a tough job but someone's got to do it! 😉 ) at seeing different shells in a different environment. The drive from Sanibel to Big Pine Key was 5 1/2 hours and worth every minute of it to spend time with MurexKen and MurexAlice.  It was a trip to remember for sure- Thank you both!
I have to show you one more fascinating shell….. MurexKen found this QUEEN HELMET a few days before we got there. To read more about his finds, he posted a trip report on Trip Advisor CLICK HERE.  I don't think it gets any prettier than this…..
I took some of the photos with a new Fuji underwater camera with a movie feature that was pretty good  until it opened up underwater and flooded the camera. Needless to say, I took it back. The good news is….  before it flooded, I got a nice video- Click HERE to see it! Also, click HERE to see the DEER COWRIES Clark found.