Archive for Summer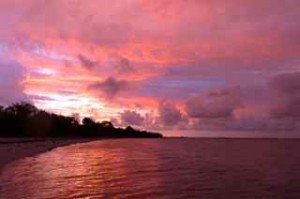 Summer skies on Sanibel are fantastic when the storm clouds quickly roll in and out changing the colors in an instant.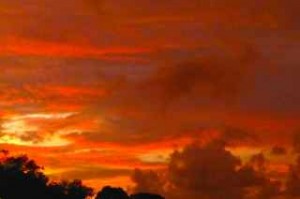 I snapped these photos throughout Saturday and Sunday when I saw an extreme color change.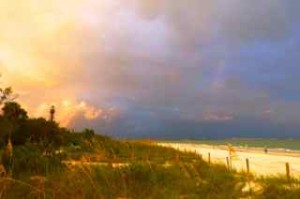 I'm always in awe of Mother Nature's paint brush.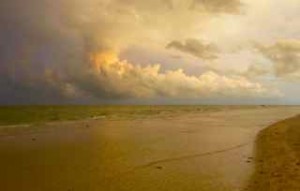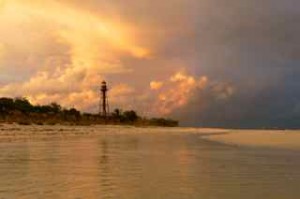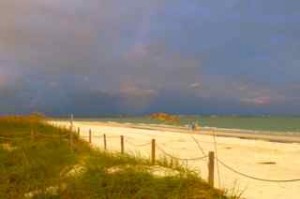 Storm skies can be so beautiful… until the cracks of thunder make us head for shelter.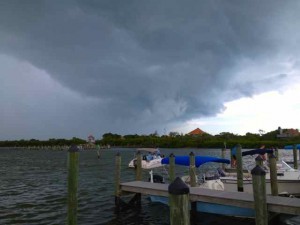 Then after the rain dies down and the lightning passes…. chasing the rainbow begins!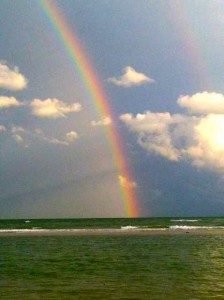 But it fades so fast…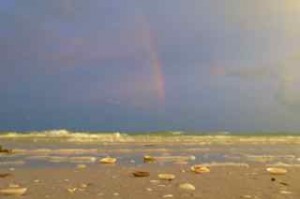 But no worries, just when you least expect it, a little piece of hope pops out again.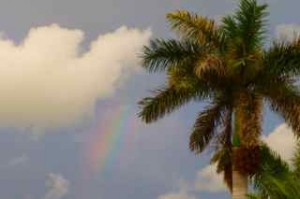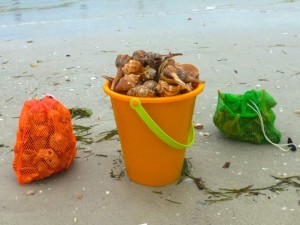 The seashell aftermath on Sanibel left by Tropical Storm Debby was a sight to shellebrate. Seriously… buckets of shells lined the beach surrounding the Sanibel Lighthouse.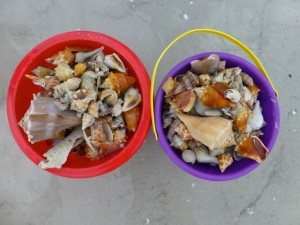 Not only were there buckets overflowing with shells, there were shell bags upon shell bags lining the shoreline.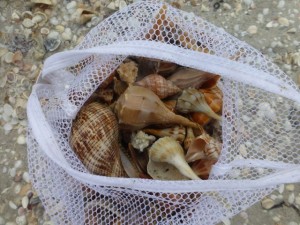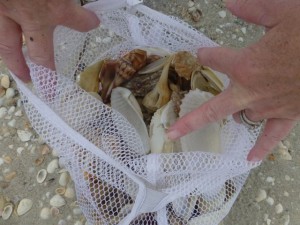 Okay, hold on….take a breath before I show you this next photo of the beach next to the Sanibel fishing pier.  There were PEN SHELLS, FIGHTING CONCHS, LIGHTNING WHELKS, BANDED and TRUE TULIPS, HORSE CONCHS and a gazillion MILLIPEDE STARFISH. You ready?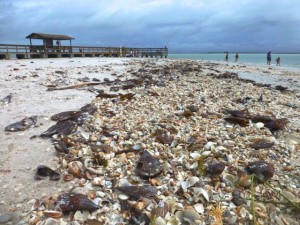 Taylor from New York was one of the lucky shellers that found this gorgeous TRUE TULIP and lots of really nice size LIGHTNING WHELKS (4th pic from the top).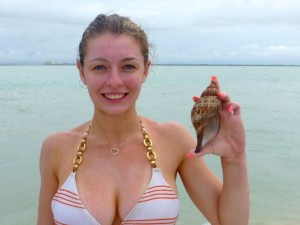 I couldn't believe it when Taylor's mom showed me an ANGELWING  PAIR. Yes! I said "PAIR"! They found it right there near the pier. Awesome!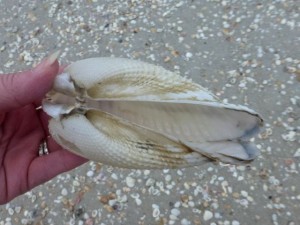 I can't tell you how much fun it was to meet Jesse from Ormond Beach, FL. He was catching fish AND catching shells!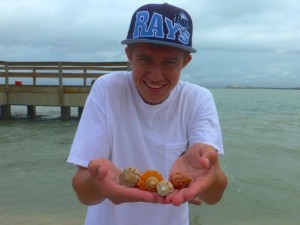 He had buckets of shells but these were a few of his best finds of the morning… 2 awesome ALPHABET CONES, a deep orange TRUE TULIP and I hope you can tell how unusually orange his LIGHTNING WHELK is.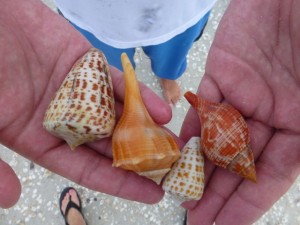 Jesse was shelling with his beautiful family who all found unbelievable treasures- Chris, Jamie, Jordyn, Patty, Jeese and Jake.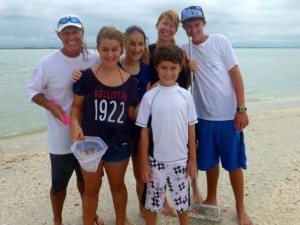 Eddie from Orlando, FL had lots of seashell loot as well…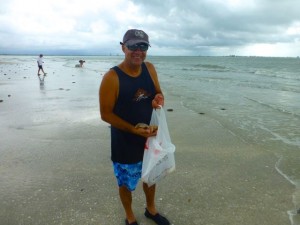 He found this stunning SUNRAY VENUS along with LIGHTNING WHELKS and collected ATLANTIC GIANT COCKLES as well.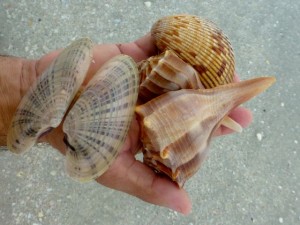 There were seashells everywhere!  Sarah Elizabeth found this beautiful LIGHTNING WHELK in high tide line among the tree roots…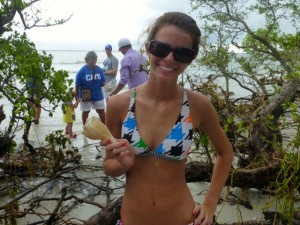 Ilicia (GA) wasn't just collecting shells, she had her eye on the BEACH BLING as well. She found this very cool vertebrae from some kind of marine animal.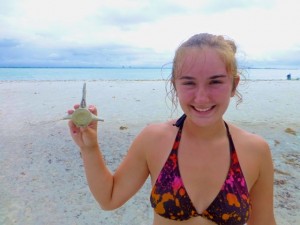 Here's a closer look in case you might know which marine animal it came from. Cool, huh?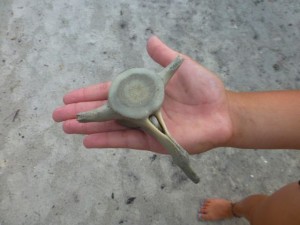 And Ilicia found a piece of a SEA TURTLE SHELL …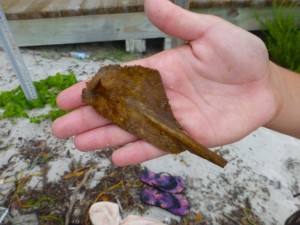 I told you she was collecting shell too, right? Yep, she found a SCOTCH BONNET…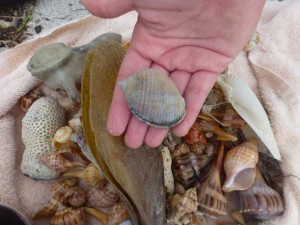 I found Michael from Melbourne, Florida plopped down at the water's edge filling his bag with ANGELWINGS and SANIBEL SIX shells.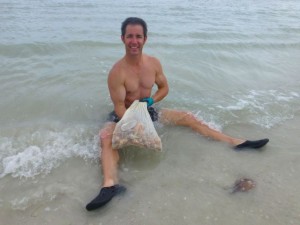 After Tropical Storm Debby churned the Gulf Of Mexico for 4 days, Cara from Georgia couldn't have been happier to have been on Sanibel to reap the shelling rewards of Mother Nature.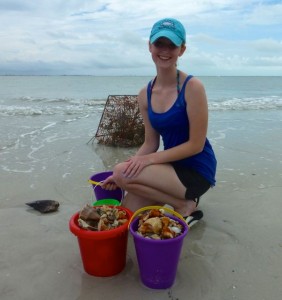 As she was hauling her buckets of seashell gold, she told me she had found a beat up JUNONIA. I had to see it. Even though it's a little rough around the edges, it's still a beautiful keeper- Congrats! Oh, and btw, I gotta get me some of that cute nail polish too!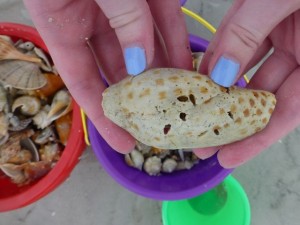 My shelling buddy Jane found a nice HORSIE CONCH and a LIGHTNING WHELK…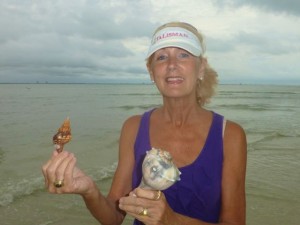 Wanna see my best finds? There were gazillions of LIGHTNING WHELKS everywhere and oodles of LIVE HORSE CONCHS but I finally found a huge empty HORSIE and a pretty good size WHELK. Oh yay a, baby! It was sure worth the wait. Thanks Debby!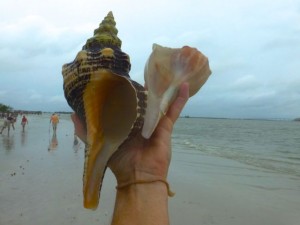 Happy Summer! I love shelling on the islands in the summer time. We are starting to get those tropical afternoon quick storms that bring a little rain to cool things off …….but the best thing? The wind kicks up and gets that wave action to bring lots of those lovely shells and beach treasure to our shores.
Beyond the sand bar, you can see the white caps on the water then that deep dark sky. I think that's a good sign for good shelling in the next few days. Yes! I love shelling in the summer on Sanibel!