Archive for Moon Snail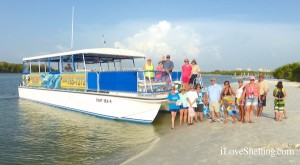 Our first iLoveShelling Sight Sea-R Cruise was even better than I could ever even imagined! This brand new Sight Sea-R boat proved to be the absolutely perfect shelling excursion with plenty of room to take our 48 amazing shellers to this new shelling destination only accessible by boat… Big Hickory Island.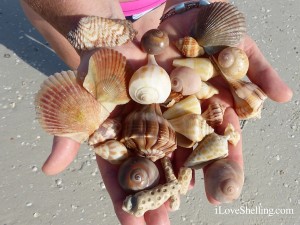 Not only is the island filled with our favorite treasures (shells, of course)….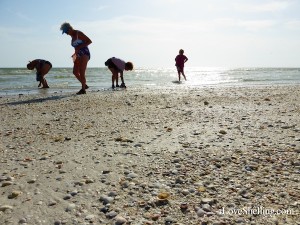 We kicked this shelling adventure off with lots of other goodies too. Giveaways! Clark and I brought a big bucket of Sanibel Six shells so everybody could pick out a lucky shell to get things started.  Then we treated everybody to iLoveShelling waterproof Seashell Identification guides, bumper stickers and had raffle prizes for hats and tee shirts. So. Much. Fun.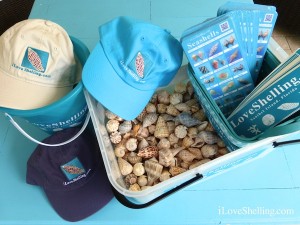 Our biggest surprise was from Mary and Jana of Sealife By Congress- my fave jewelry store. You won't believe it, they gave every single person on this cruise a sterling silver sealife charm. Seriously. They came on the boat with large baskets filled with beautiful pieces of jewelry and let us all pick our gift of hand made sterling silver dolphin, starfish, sand dollars, scallops and yes… even junonia charms. So sweet!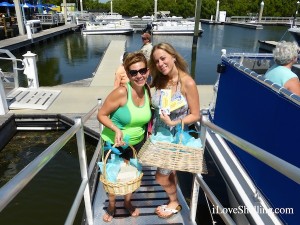 Texas cutie cousins Pat, Pam, Kay, Peggy, Debby and Linda were thrilled to all receive such a gracious gift of jewelry. Thank you Sealife By Congress!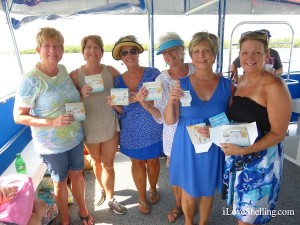 Let me tell you… this boat turned into a parrrr-taayyy!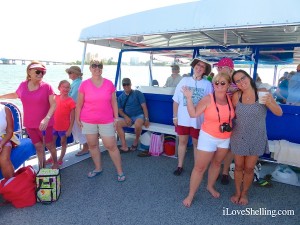 So to top it off, on the boat ride to the island we spotted lots of different wildlife. There were dozens of species of birds but we were most excited about seeing many ROSEATE SPOONBILLS…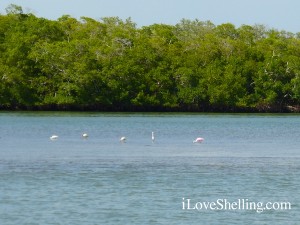 We also saw a rare sighting of a SEA TURTLE popping out of the water and we also witnessed countless pods of BOTTLENOSE DOLPHIN.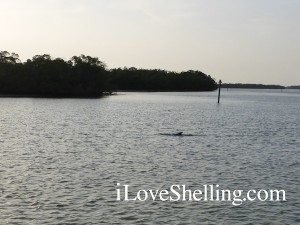 This was already so much fun and we hadn't even starting shelling yet. But I was soooo ready… especially since I saw Holly had made a special shell bucket for herself with "My Shell Holl" on it- heehee. She also made one for her husband Ted that said "Collect-Ted Shells" and she made one for me with "My Pamtastic Shells". OMG So stinkin cute.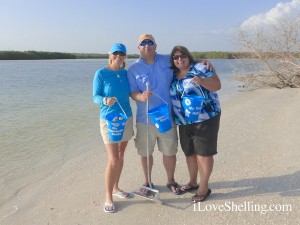 We were all ready to hit the beach to find shells. And we did! Sandy from Fort Myers Beach's newspaper The Island Sand Paper found some awesome shells to make her smile. Go back and take a look at the second photo from the top, those are her shells- See? Awesome.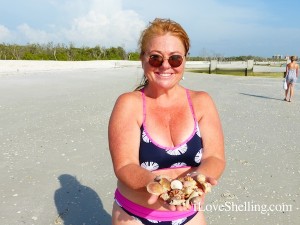 We couldn't believe how many WORM SHELLS we all found…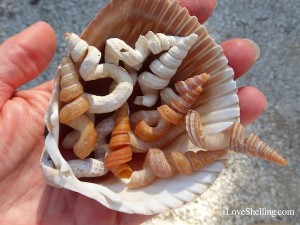 And lots of SHARK'S EYES…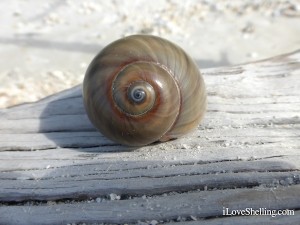 During the boat ride back, I asked how many people found CONE shells (and not ones they picked from the "lucky bucket") and 19 shellers raised their hands. Wow!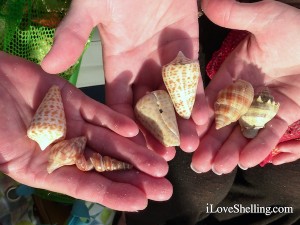 I'm always so happy to meet families that shell together. Christine, Anthony, Paula, Bryce and Dominic (from VT and MA) were such a pleasure to talk to.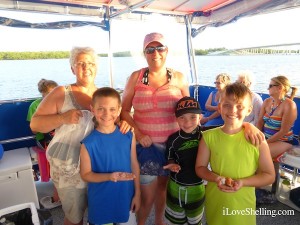 I asked Bryce what his favorite thing about the cruise was and he reminded me that together we saved a SEA HARE that got washed up on the beach. We put the SEA HARE back in the water and after a minute, he revived and swam away- that was his favorite moment. I asked Anthony what his favorites were and he immediately showed me his ROSE PETAL TELLINS (with 2 COCQUINAS as well).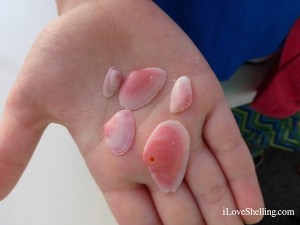 Brooke and Josh from Georgia had favorites too…  SAND DOLLARS.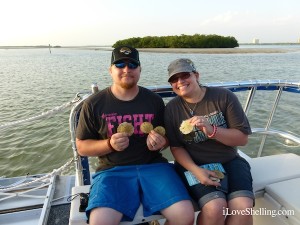 Clark and I loved hearing Keri (also from the Sand Paper) tell about shelling bringing back so many memories of her childhood while shelling with her grandmother. I think that's why we love it so much… we explore the beach like we are kids again and remember those days.
Thank you Captain Phil and Meg for such a great adventure!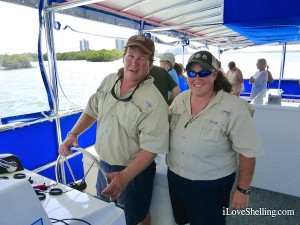 I still can't believe how exciting every moment was with perfect weather seeing DOLPHINS, ROSEATE SPOONBILLS, OSPREY, PELICANS, a SEA TURLE, lots of seashells and the best group of people Clark and I could wish for.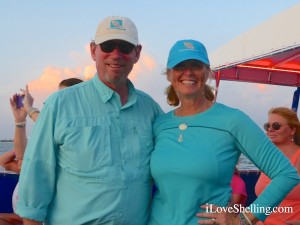 To make a fairy tale ending, on our way back to the dock we watched the sun set over the Sanibel Lighthouse…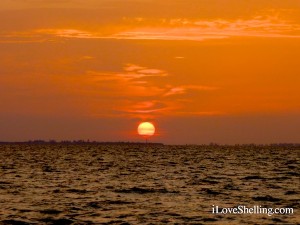 It was a very special day to remember. Oh but wait… I still have more photos and I have just a few more things I want to share with you about this day on my next post. The surprises continue!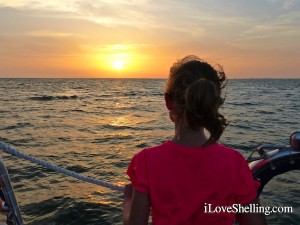 Thank you Sight Sea-R Cruises!
You can catch a cruise too. Hop on a regularly scheduled shelling cruise on the Sight Sea-R to Big Hickory every Wednesday at 10am, Call 239-765-7272 or go to the website at http://www.sightseaflorida.com. You won't be disappointed.
If you want to catch an iLoveShelling shelling adventure with me as your guide (once a month), CLICK HERE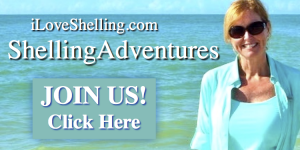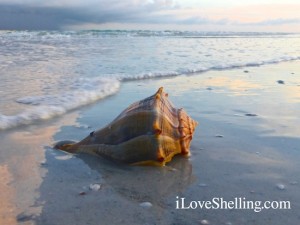 If the Sanibel SEA LIFE could have talked last evening at low tide, they probably would have been chatting it up about how lovely the evening was and how healthy they were feeling…. just like us.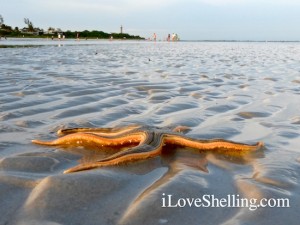 This LINED STARFISH was raisin' the roof!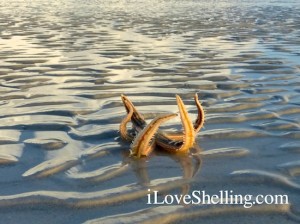 The live LETTERED OLIVES were doin' the locomotion…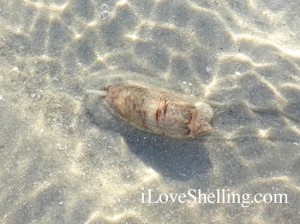 The live AUGERS were gettin' jiggy with it…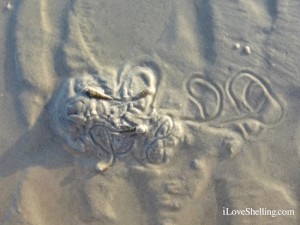 This live BABY'S EAR was jivin' and slimin'…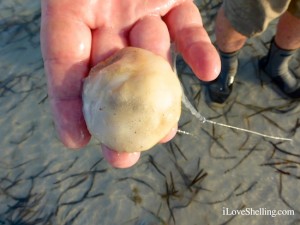 The live FIGHTING CONCHS were putting' up their dukes…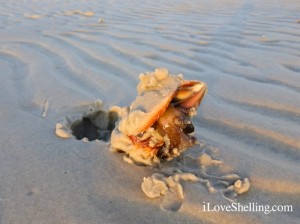 There were hundreds of HERMIT CRABS running around claiming the best shells for their residences.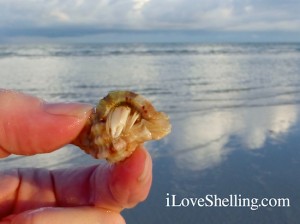 We even saw quite a few SHARK'S EYE EGG COLLARS brimming with little tiny eggs…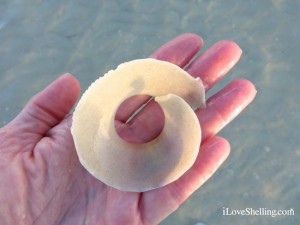 We even saw lots of ONION SEA ANEMONES flowering in the tidal pools…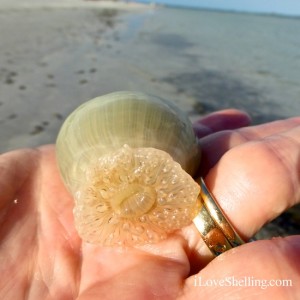 Hmmmm….I wonder why they call it an "ONION" SEA ANEMONE … heehee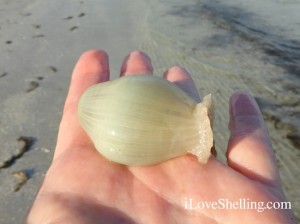 The colors of the night were amazing! This clump of SEA SPONGE was the most brilliant color purple…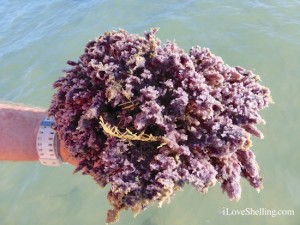 A little higher on the beach, I saw that Leah from Georgia found a honey hole of wonderful minis which included lots of WENTLETRAPS.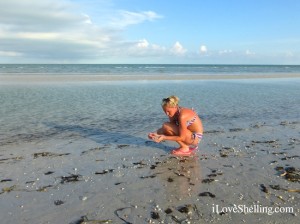 Leah and her husband Matt were vacationing on Sanibel to celebrate Matt's 40th birthday.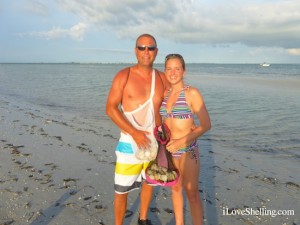 Finding a few beautiful shells to take home was just icing on the cake. Happy Birthday Matt!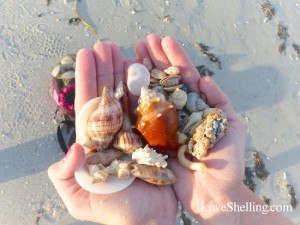 The weather was perfect, the beach was teeming with live creatures and each breath of fresh, salty air made exploring the tidal pools heaven on earth.