Archive for lady-in-waiting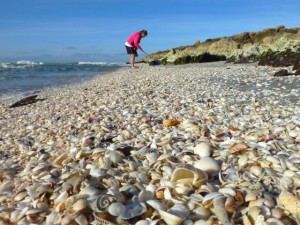 Do you remember that shellacious shell pile at Blind Pass Captiva I showed you on yesterday's post "As The Seashell Piles Turn"? If those photos of the changes in the beach knocked your socks off yesterday…  hold on to your flip flops today. It's now gone. Wiped clean. Covered with sand. Goodbye shells.
Both yesterday and today, I took these photos at low tide in the morning about the same time.  All these changes happened within 24 hours! But the good news is… the shells shifted to the other side of the jetty rocks. Crazy! Look at the change for yourself on this video.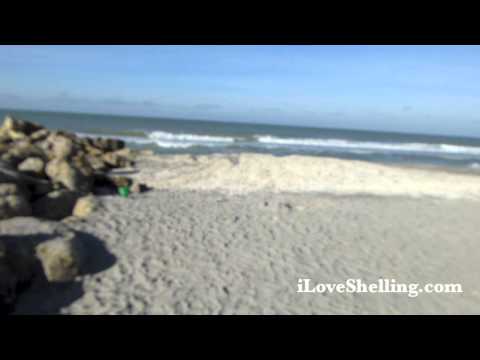 The hide-n-seek seashells couldn't hide from Lauren and Jesse from Atlanta.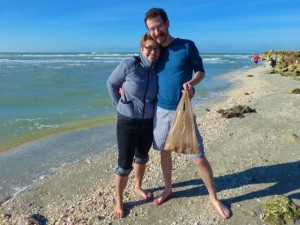 This BANDED TULIP was Jesse's fave shell along with a few other beauties…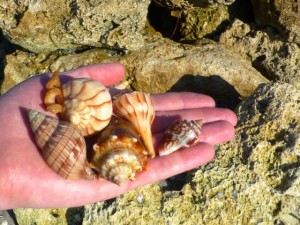 I had to giggle at Rhonda from PA (lots of shellers from PA lately!!) sittin' 'n siftin' in a wet suit while the waves brought the shells to her. It was 45 degrees this morning!!! Seashells or Bust!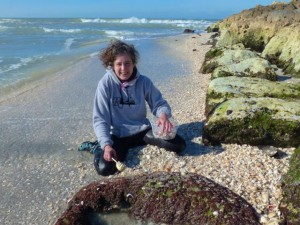 Then I heard a voice behind me that said "Shello, Pam!" LOL It was Mike Ryan again. Remember he found that beautiful SEA FAN the other day?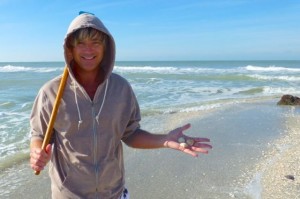 The shore was peppered with LADY-IN-WAITING VENUS CLAMS so he was picking them up and so was I. They aren't uncommon to find on our beaches but it was amazing to both of us that there were thousands. I don't know… errr… maybe hundreds… whatever, there were oooodles of them washed up.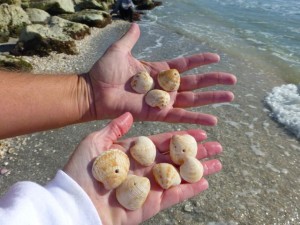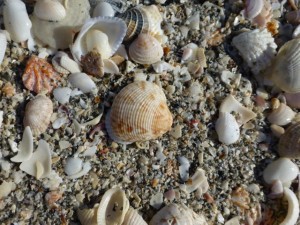 My fave of the day was this dark brown LACE MUREX…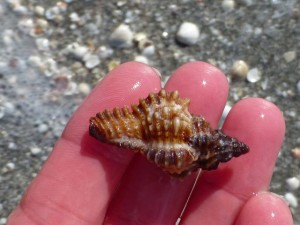 This is always a special find since we rarely find this blackish dark brown "LACIE".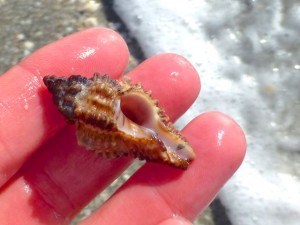 I couldn't wait to show you the changes today but check in with me again tomorrow because I'm working on the 2012 top 10 iLoveShelling days to finish out the year before we move on to 2013. Wow. Another year is about to begin. It's gonna be a good one!
They're baaack. We've been waiting all week for those west winds to push the shells up on the beach…. and now we got our wish. Shells were washing up at Blind Pass this afternoon but not on the new sand bar. They were piling up all along the beach at our old fave spot on the right side of the jetty rocks on Captiva.
My favorite finds yesterday were…. The Sani-Belles!!  Girls know how to have fun in this family and they do it in their iLoveShelling tee shirts and named themselves Sani-Belles for their love of the islands! Shelling sister Sani-Belle Val from New Mexico (Every day I cherish that ornament she made me) brought her sisters Sani-Belle Suzie and Sani-Belle Ellene and their mom Sani-Belle Ella (California) out to Blind Pass at the perfect time of day laughing and giggling every moment with every scoop of shells they found.
Sani-belle Suzie has a pretty darn good shelling eye.
Look at the pattern on this JUVENILE SOUTHERN QUAHOG. I had a little difficulty identifying this shell because the pattern is so similar to the LADY-IN-WAITING VENUS clam. MurexKen came to the rescue again to help correctly identify it. I would have never thought something named a QUAHOG could be mixed up with a LADY-IN-WAITING (only perhaps in Shrek). Thanks MK!
We also saw ALPHABET CONES, FLORIDA CONES, a LACE MUREX, HORSE CONCHS, WHELKS, colorful SCALLOPS and too many LETTERED OLIVED to count.
I couldn't believe my eyes! I found a MERMAID resting on the jetty rocks!
It was crazy how many OLIVES were rolling in. We also found those huge (relatively speaking…. they are only 2 inches long ;)) AUGERS Every time the waves hit the shore, it seemed to bring AUGERS and OLIVES. Here's a look at what we experienced yesterday. Enjoy the video.