Archive for lady-in-waiting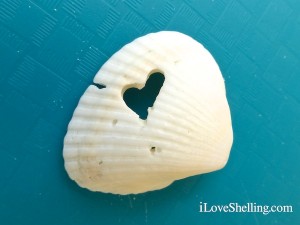 i heart seashells. Shells have a way of talking to us, don't they?  They make us feel deeply connected to the vast sea and pull us towards it. This PONDEROUS ARK shell washed up at my feet with a heart carved in it. Awwwwe, so sweet! I love you too! But hmmmm… other than being an oh-so-sweet message from King Neptune, how did this happen?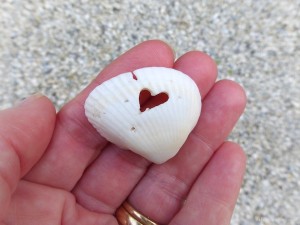 We see natural holes drilled in all sorts of shells, so it's time to find out how they are made. The hole in this SHARKS EYE tells me a little secret of what happened to its life. The clue? It has a perfect countersunk borehole with a beveled edge twice the diameter as the inner diameter. Because of the shape of that hole, you can bet that he was eaten by another SHARKS EYE!  OMG They are cannibals!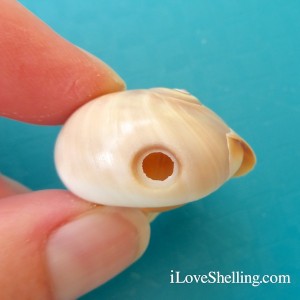 We have to guess what happened to this next guy because it looks like a fellow predator SHARKS EYE started carving up his next meal but stopped before he tasted victory.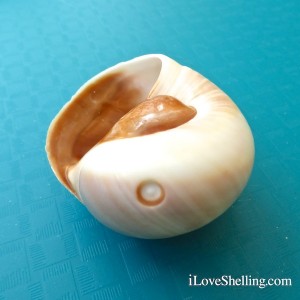 By looking at the hole in this DISK DOSINIA, I'm going to assume that a SHARKS EYE made a meal out of this guy too.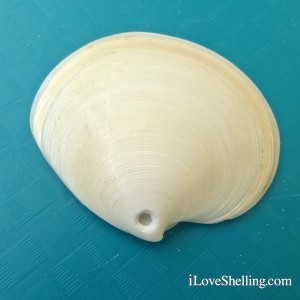 Geez, SHARKS EYES have a smorgasbord of choices for their buffet. Looks as though they like BUTTERCUP LUCINES too.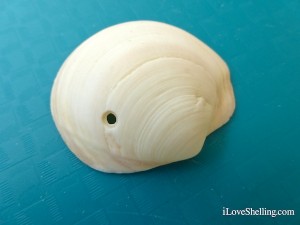 A straight hole with only a slight beveled edge like this LADY-IN-WAITING VENUS CLAM …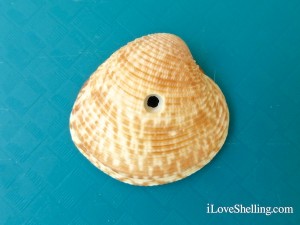 …was most likely drilled by some sort of MUREX… like GULF OYSTER DRILLS. Aha! That's why they are called "DRILLS"!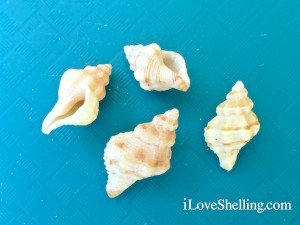 The grooves in these CROSS BARRED VENUS CLAMS and TRANSVERSE ARK aren't the handiwork of the SHARKS EYE or DRILLS. These grooves were most likely made by a BRISTLE WORM. It uses a rasping technique with its bristled body while secreting acid to etch a groove in the shell to make a nice cozy place to rest.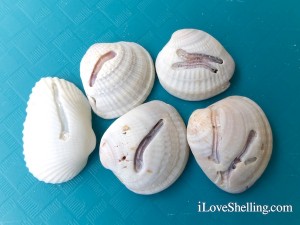 If you have never seen a BRISTLE WORM, click on the video to watch the first time Clark and I came across a BRISTLE WORM…. and then come back to see what cute tokens they make.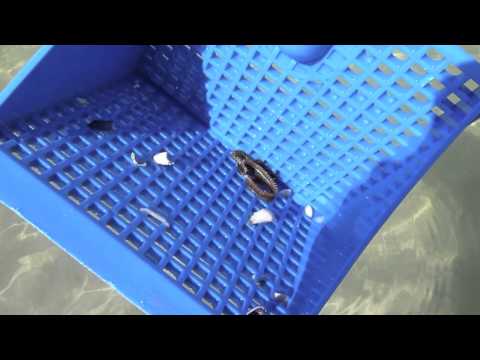 Last May, Lisa from Shellabaloo 2 was having a great time sifting through shells at Blind Pass Captiva and found a few messages on shells she shared…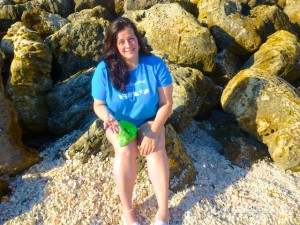 After Shellabaloo, she sent me this sweet CROSS-BARRED VENUS shell with a smiley face on it (made by a BRISTLE WORM). I keep it by my desk!
She also found a "K" on a CROSS BARRED VENUS…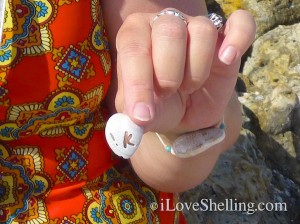 Lisa was so thoughtful, she gave it to another Shellabaloo-er… Kendra. K for Kendra!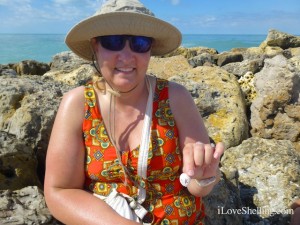 So let's get back to that heart I received from King Neptune … these bigger holes most likely were drilled by a STIMPSON CHIMNEY CLAM. Oh, What? You've never heard of a STIMPSON CHIMNEY CLAM before? LOL Well, neither had I before I got so curious about what made that heart shape and found out that two separate drilled incidences by these clams are the most likely culprit. When I find a STIMPSON CHIMNEY CLAM, you will be the first one to know about it and I will post a photo. I already have an appreciation for them since they are quite the artists!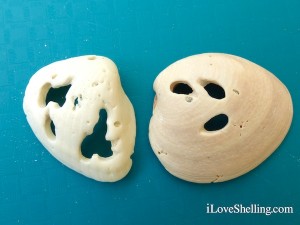 I just assumed that a shell with lots of little holes in like this was just from regular wear and rear by the salt and wave action… like when you wash and wear your favorite shirt too many times. One day, you'll start to see holes in it! But some times shells that look like this tend to be "holey" because BORING SPONGES have invaded it as a living space.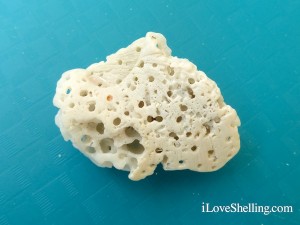 I've always been drawn to shells that have holes for stringing them for crafts….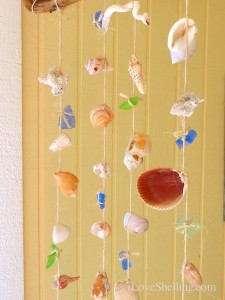 For gift tags…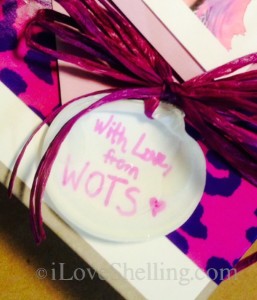 And I always love to see someone string them for jewelry…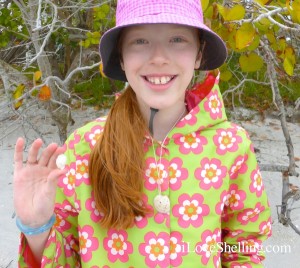 I would have never known where to start finding information on these cool holes in shells if Lisa from Shellabaloo 5 (OMG I just realized… both Lisas from different Shellabaloos are fascinated with holes in shells too! Ha! They need to know each other, wouldn't you say?) anyway… I wouldn't have known there was such a term as "Shell Bioerosion" and such if she hadn't shown me where it was in this book Living Beaches of Georgia and the Carolinas .
There's all kinds of fun to be had in exploring the common shells if you just give them a chance. They may even tell you a secret!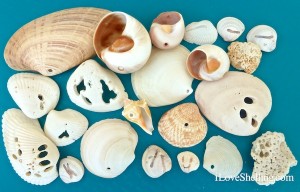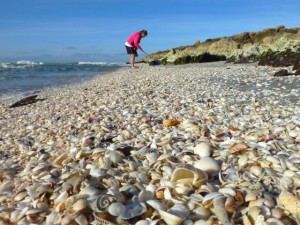 Do you remember that shellacious shell pile at Blind Pass Captiva I showed you on yesterday's post "As The Seashell Piles Turn"? If those photos of the changes in the beach knocked your socks off yesterday…  hold on to your flip flops today. It's now gone. Wiped clean. Covered with sand. Goodbye shells.
Both yesterday and today, I took these photos at low tide in the morning about the same time.  All these changes happened within 24 hours! But the good news is… the shells shifted to the other side of the jetty rocks. Crazy! Look at the change for yourself on this video.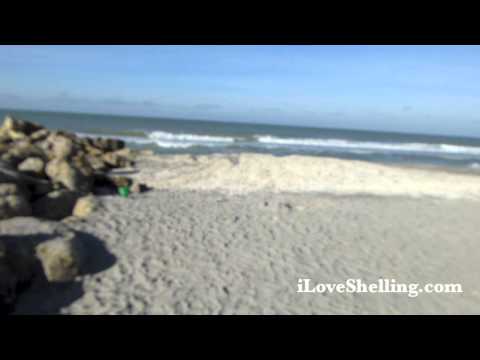 The hide-n-seek seashells couldn't hide from Lauren and Jesse from Atlanta.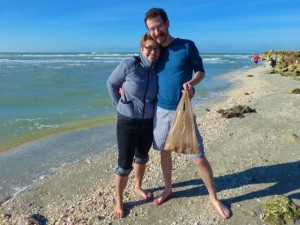 This BANDED TULIP was Jesse's fave shell along with a few other beauties…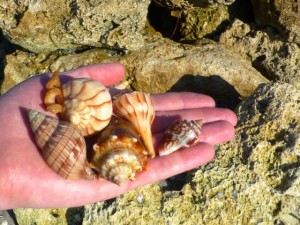 I had to giggle at Rhonda from PA (lots of shellers from PA lately!!) sittin' 'n siftin' in a wet suit while the waves brought the shells to her. It was 45 degrees this morning!!! Seashells or Bust!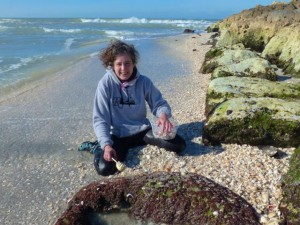 Then I heard a voice behind me that said "Shello, Pam!" LOL It was Mike Ryan again. Remember he found that beautiful SEA FAN the other day?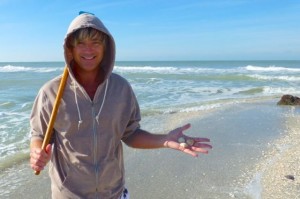 The shore was peppered with LADY-IN-WAITING VENUS CLAMS so he was picking them up and so was I. They aren't uncommon to find on our beaches but it was amazing to both of us that there were thousands. I don't know… errr… maybe hundreds… whatever, there were oooodles of them washed up.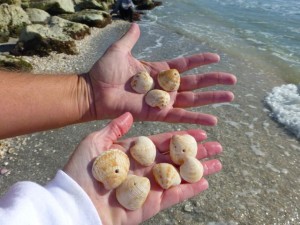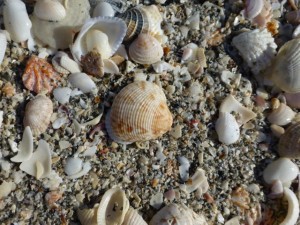 My fave of the day was this dark brown LACE MUREX…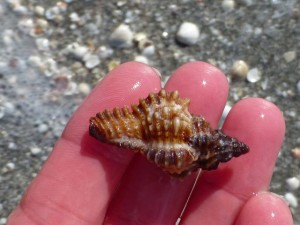 This is always a special find since we rarely find this blackish dark brown "LACIE".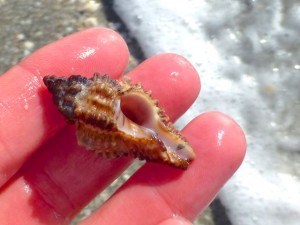 I couldn't wait to show you the changes today but check in with me again tomorrow because I'm working on the 2012 top 10 iLoveShelling days to finish out the year before we move on to 2013. Wow. Another year is about to begin. It's gonna be a good one!
They're baaack. We've been waiting all week for those west winds to push the shells up on the beach…. and now we got our wish. Shells were washing up at Blind Pass this afternoon but not on the new sand bar. They were piling up all along the beach at our old fave spot on the right side of the jetty rocks on Captiva.
My favorite finds yesterday were…. The Sani-Belles!!  Girls know how to have fun in this family and they do it in their iLoveShelling tee shirts and named themselves Sani-Belles for their love of the islands! Shelling sister Sani-Belle Val from New Mexico (Every day I cherish that ornament she made me) brought her sisters Sani-Belle Suzie and Sani-Belle Ellene and their mom Sani-Belle Ella (California) out to Blind Pass at the perfect time of day laughing and giggling every moment with every scoop of shells they found.
Sani-belle Suzie has a pretty darn good shelling eye.
Look at the pattern on this JUVENILE SOUTHERN QUAHOG. I had a little difficulty identifying this shell because the pattern is so similar to the LADY-IN-WAITING VENUS clam. MurexKen came to the rescue again to help correctly identify it. I would have never thought something named a QUAHOG could be mixed up with a LADY-IN-WAITING (only perhaps in Shrek). Thanks MK!
We also saw ALPHABET CONES, FLORIDA CONES, a LACE MUREX, HORSE CONCHS, WHELKS, colorful SCALLOPS and too many LETTERED OLIVED to count.
I couldn't believe my eyes! I found a MERMAID resting on the jetty rocks!
It was crazy how many OLIVES were rolling in. We also found those huge (relatively speaking…. they are only 2 inches long ;)) AUGERS Every time the waves hit the shore, it seemed to bring AUGERS and OLIVES. Here's a look at what we experienced yesterday. Enjoy the video.