Archive for Kings Crown egg case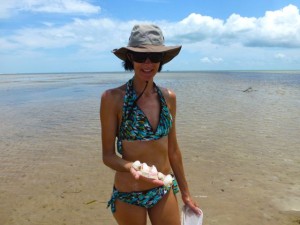 Me and my blog buddy Lizbeth who writes Four Sea Stars sloshed around the sand flats at Bunche Beach yesterday looking for ANGEL WINGS. She found about 30 single valves earlier in the week so she wanted to go back to try to find a pair.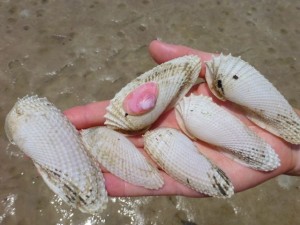 We found a few more single valves but nope… no pairs like MurexKen and MurexAlice found in November 2010. I think any day you can find one ANGEL WING is a good day but I know she will find a pair some day. She is determined! Did you notice that sweet little ROSE PETAL TELLIN in the photo too? Well, we found quite a few of those too. Here's my stash…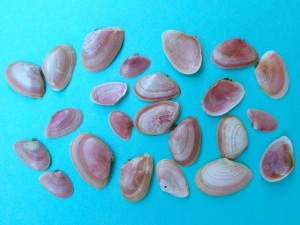 We also found a few MINOR JACKKNIFE CLAMS…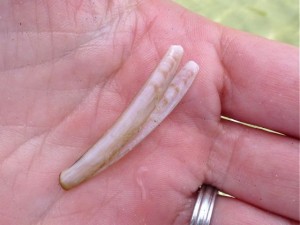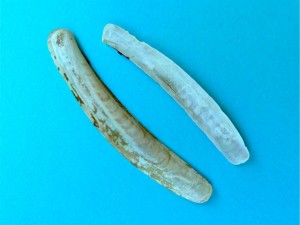 We found more TELLINS too. These look like orange  ROSE PETAL TELLINS (they are the same size) but they also could be CONSTRICTED MACOMA TELLINS. I've got a few feelers out there to see if anybody can correctly identify them. So hang on…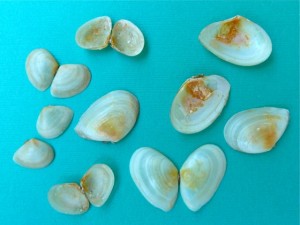 I know that just looks like "goo" on the inside but it's really the color of the shell. It looks like it was stained, right? I hope to know soon what they are other than what I've been calling them… Dreamsicle Tellins.
UPDATE 6/16: Okay, got a positive identification from Dr Jose Leal from the Bailey-Matthews Shell Museum…. it IS a ROSE PETAL TELLIN. Thanks Doc! (but I still think I might call it a Dreamsicle Rose Petal Tellin)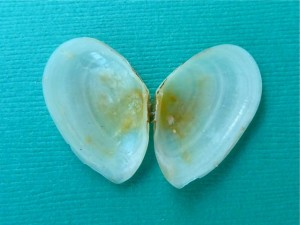 There were also oodles of SUNRAY VENUS CLAMS…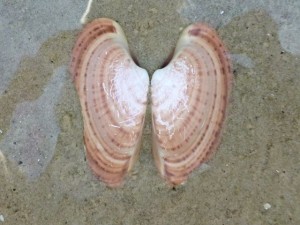 Lizbeth found this gorgeous SHARK EYE! Okay, I've always called any shell that looks like this a "SHARK'S EYE" but this is actually a FALSE SHARK EYE…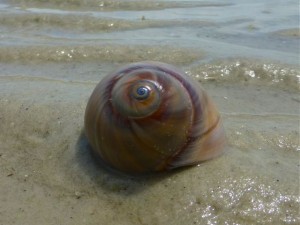 Look at the side view…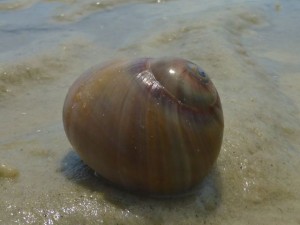 It's actually a different shell that the ones we find with a rounded top. Susan H showed me this difference last year then commented on a previous post
"Hey Pam. As you probably noticed, that shark's eye is the "other" species, the high-spired more southerly one that has a much more restricted range, Neverita delessertiana, rather than the low-spired regular shark's eye which occurs from Massachusetts south, Neverita duplicata. Cool."
You know I don't like to get too technical so I took a photo with the two different species side by side so you can see the difference. The one on the right is a Neverita duplicate (SHARK EYE) and the one on the left is a Neverita delessertiana (I've see it called a FALSE SHARK EYE). See the difference? I think we should just call the one on the left a SHARK'S POPEYE. LOL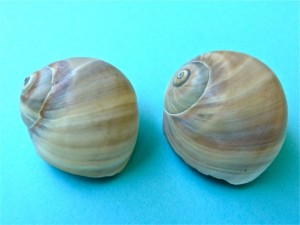 And how I loved seeing this next creature! It's a live KINGS CROWN laying eggs! Go Momma! Make more babies!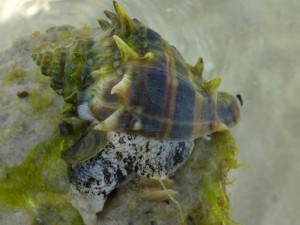 Look at the brilliant orange beak on this bird. It's an AMERICAN OYSTERCATCHER…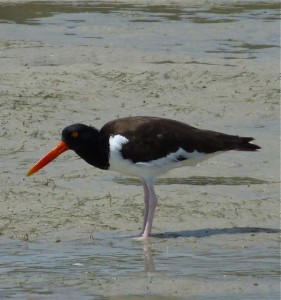 I had a wonderful day hanging out with Lizbeth- the girl had my sides splitting ROTFL (I know, I'm not much for those acronyms but they really do explain it sometimes) while we hunted for her WINGS. Good luck in finding your pair!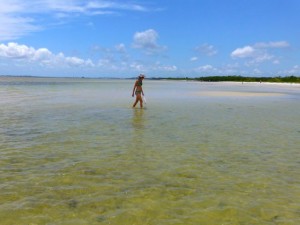 The moon was full and the low tides were in the early evening this weekend so it was a perfect time to get out and see Mother Nature on the beaches of Sanibel Island. This COLORFUL MOON SNAILwas about 2 1/2 inches round and so beautiful….but I didn't get to bring it home because he was still alive and well…. that's a good thing.
Last week I posted a picture of an APPLE MUREX mound then MurexKen commented on that post to let us know that it was a female laying eggs. Now, look what I found! This is what those eggs look like with some of the murexes still surrounding them.
I found another smaller egg case too with only one murex still on it. Not sure if this is the female still laying more eggs but if so, where did all of her men go to?? Did she run them off?
We hit the jackpot when we found this perfect KING'S CROWN in a shallow low tide pool on the east end. When we  picked it up, we realized that it was still alive…. but more importantly, she was laying eggs too! She found an old FIGHTING CONCH and decided this would be a perfect place to "birth her babies"

. We gently put her back in the water where we found her so she could go about her way. We may not have been able to keep that gorgeous shell but just seeing Mother Nature  in progress was hitting that jackpot for us.
Cathy from Orlando had her cup over-floweth with CALICO SCALLOPS, WHELKS, MUREXES and other treasures. She said she loves to come for weekends to go shelling any chance she gets. It was a beautiful Memorial Day holiday weekend for her to choose.