Archive for Channeled Duck Clam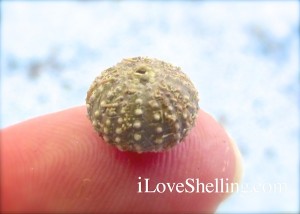 SEA URCHINS! I haven't seen SEA URCHINS washed up on our shores in quite a while… much less cutie itty bitty ones like this.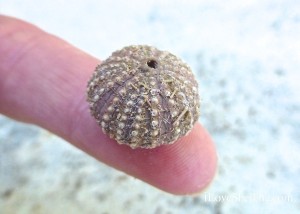 I found dried tiny ones with spines as well…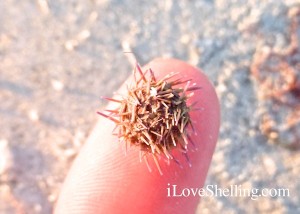 Normally if SEA URCHINS still have their spines in tact I would assume they were still alive and put them back in the water. But I found these in the highest wrack line at Lighthouse Beach. They had been cast on shore by those rough waves from the high winds last week with the high tide and got caught in the "sea weeds" then left for days to dry out. They look like the gumballs that the Sweetgum trees drop in the winter up north, dont they? LOL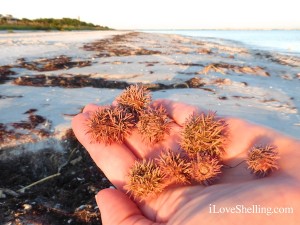 I normally don't get so excited to collect PEN SHELLS (since we see them so often on our beaches) but I rarely see perfectly intact baby STIFF PEN SHELLS (on the left of my hand) and SAW TOOTH PENS SHELLS especially with no BARNACLES or SLIPPER SHELLS attached to them. They are so cute!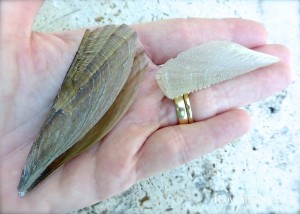 See how thick this wrack line was? Some people in other parts of the world might think this was an ugly site on a beach… but not me and most beach combers. This is a haven for shells and BEACH BLING for beach combers and for wildlife as well. Thick wrack lines like this packed with all sort of vegetation and other sealife are so important for our beach ecosystem. They provide food for birds and other wildlife as well as providing a layer to trap sand  for less erosion. They become incubators for dunes!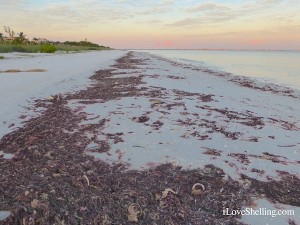 But… Just to make sure this seaweed was a natural occurrence without being harmful, I asked my friend and director of the Sanibel Captiva Conservation Foundation (SCCF) Dr. Eric Milbrandt if he knew what types of matter had washed ashore. Of course he did! He said "There were 8 species from collections at Moonshadows beach and the Lighthouse beach. Many of the specimens had intact holdfasts and given the recent > 1 m wave heights, were likely attached and cast on shore. Many of these species are found at nearshore hardbottom areas (the same areas that produce many of the mollusc shells) whose abundance peaks in Nov."  He also reported that most of these species of seaweed (macroalgae) were common on all coasts. Thank you Dr. Milbrandt!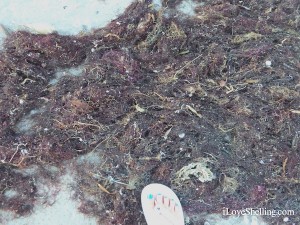 Along with the PEN SHELLS and SEA URCHINS tucked away in all that seaweed, Clark and I found hundreds of double DOSINIAS…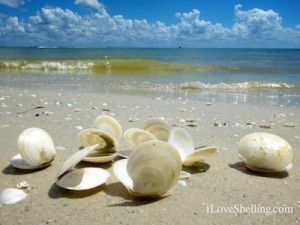 And a very cool completely intact dried (and non-stinky!) SPIDER CRAB…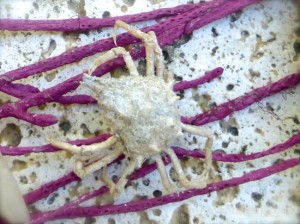 Clark found a double SAILORS EAR (CHANNELED DUCK CLAM) without any cracks. It's funny, we rarely find them on the beach with both sides intact because they are just so dang delicate…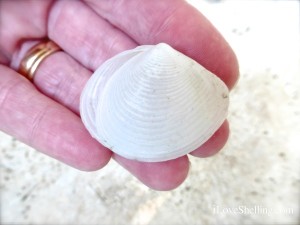 I haven't gotten a good dose of combing through cool BEACH BLING in a while so I was in haaaawg heaven. There were oodles of little micro shells, SEA WHIPS and other goodies so I could (and did) walk for miles and miles getting lost in discovering the fascinating gifts that Mother Nature leaves us on our beaches.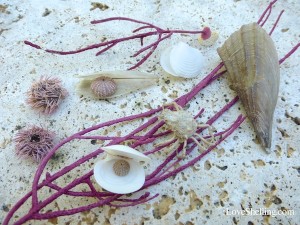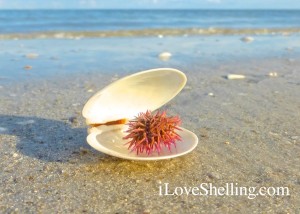 I see a lot of CLAM shells every day I'm on the beach but this one I found at Blind Pat's (….oops! I mean Blind Pass. 😉 ) was a little different from the usual clam shells like the DOSINIAS, CALICO VENUSES  or SEMELES.
At first I thought it was just gunk stuck on the edge of this shell but I didn't want to do anything to it since it seemed so fragile. Once I got home, I could see that this thin shell was a SMOOTH DUCK CLAM and that "gunk" was a nice little ridge on the side of it that makes it different from its "sister shell"  the CHANNELED DUCK CLAM I call a SAILOR'S EAR. I don't think I've ever picked up a SMOOTH DUCK CLAM before (I don't think it's too common in South Florida but I may have just never noticed) but we frequently see the SAILORS EARS on the beach so I can't believe I've never shown this one before.
See? Doesn't that look familiar?  I found the SMOOTH DUCK CLAMS in the shell line on the pass side of the jetty rocks this week.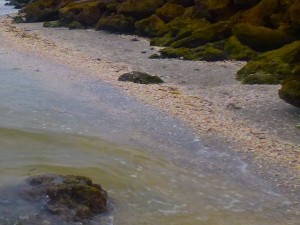 I found the CHANNELED DUCK CLAMS in my stash of shells that Clark and I have been trying to organize. I've been overwhelmed by all the shells in our garage that have never been cleaned and sorted so this is our project this week. Organize! We don't bring home many shells any more but some times…. you know how it is. We just can't help it.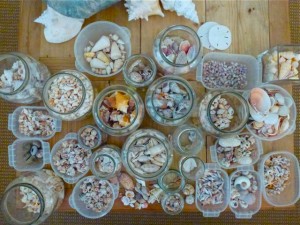 Smitty told me he found a few good shells like an ALPHABET CONE and then he said "I found a few CANDIES too". It stopped me in my path. Did you say "Candies"? He sure did! He and his wife Marcia hang out with us here at iLoveShelling!
Smitty and Marcia (sorry I missed you, Marcia!) have been visiting Sanibel to shell for 23 years and plan their trips around the moon and tides. He chose this week for not only the full moon but because there are also two low tides per day for optimal shelling. Notice in the photo above, the moon is practically sitting on his shoulder.
I had to show you this photo too because he uses the Seashell Sifter scoop to get his shells which Marcia gave him for his birthday. He told me a gal asked him "Is your name Clark?". That was Barbara whom I met a little while earlier this evening and she thought he was Clark because she recognized the blue scoop that she sees Clark using in some of the blog pictures. Small world!
Barbara and Ray did end up finding the right Clark (they hang out with us here at iLS too!) and they also found lots of good shells to brag about. I have to admit that I think that Barbara is the one that found the FLORIDA CONE but it ended up in Ray's hand. hmmmm. 😉 As he told Clark "Possession is nine tenths of the law". HA! They sound like us….just a little competitive, huh?
After I took this photo, she found an ALPHABET CONE too…. Nice!
Clark found most of these shells (below) in the water although I added the OPERCULUM, the BLACK JINGLES, CHANNELED DUCK CLAMS (which I call Sailor's Ears, do you?), the little candy TRUE TULIP and the "CANDY" (little orange HORSE CONCH).
Can you identifiy the rest of them? If not, go to the SEASHELL IDENTIFICATION page to help. I do have to show you another TURKEY WING Clark found too. We mostly find these shells pretty beat up but this one is a beauty.
Look how small this TRUE TULIP is and it has a little white tip like the candies.