Archive for Duck Clam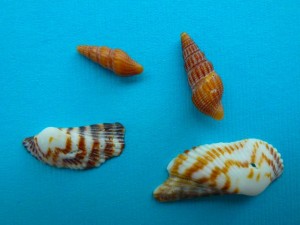 Don't get your taste buds all worked up about TURKEY, RICE or CANDY because I'm talking seashells, of course! We found lots of mini "morsels" at the lighthouse over the weekend including these two TURKEY WINGS  (the biggest one is only about an inch long) and two TAMPA TURRIDS in the photo above and RICE OLIVES and BABY'S EARS in this next photo.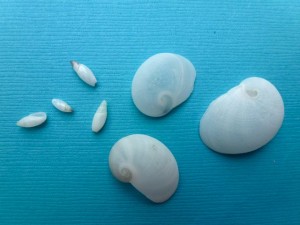 Along with the usual ANGULATE WENTLETRAPS, I found a BROWN BANDED WENTLETRAP too….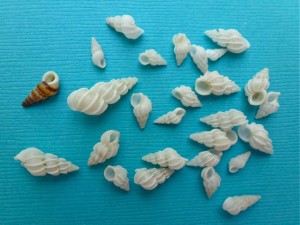 …. And some AUGERS and little FIGHTING CONCHS.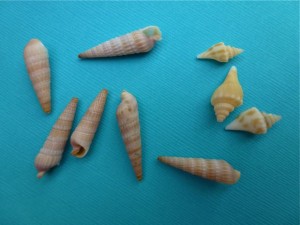 And to top it all off with some sweet candy, we found two HORSE CONCHS and baby ALPHABET CONE.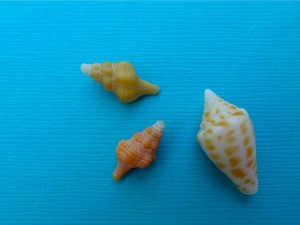 I met William and Melissa (Jacksonville, FL) filling their shells bags with SCALLOP shells, CONCHS and some MUREXES.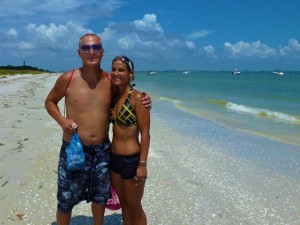 I found out this was their first trip to Sanibel so I showed them how to find WENTLETRAPS too..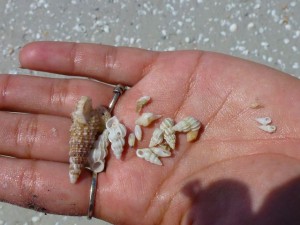 I met another Shelling Sister Sanibel Stooper on the beach too…. this little cutie Lucy! She was having a ball with this COCKLE shell on the beach with her parents Jeff and Tammy.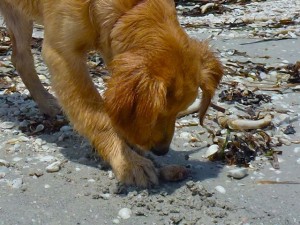 And look what I found again…. a SMOOTH DUCK CLAM. Maybe it isn't that unusual (?)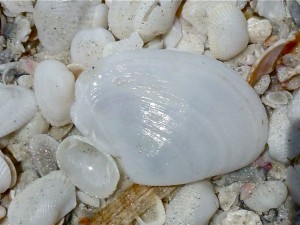 Unfortunately, it's so thin and fragile, it broke when I got it back to the house……oops!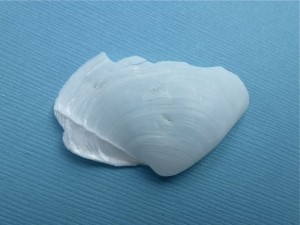 There were so many SAILOR'S EARS, I bunched a few together and that's when I saw the SMOOTH DUCK CLAM too.
Just a reminder- If you haven't entered the  Susick Sea Shell Sifter Giveaway yet, CLICK HERE to win!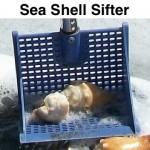 I see a lot of CLAM shells every day I'm on the beach but this one I found at Blind Pat's (….oops! I mean Blind Pass.

) was a little different from the usual clam shells like the DOSINIAS, CALICO VENUSES  or SEMELES.
At first I thought it was just gunk stuck on the edge of this shell but I didn't want to do anything to it since it seemed so fragile. Once I got home, I could see that this thin shell was a SMOOTH DUCK CLAM and that "gunk" was a nice little ridge on the side of it that makes it different from its "sister shell"  the CHANNELED DUCK CLAM I call a SAILOR'S EAR. I don't think I've ever picked up a SMOOTH DUCK CLAM before (I don't think it's too common in South Florida but I may have just never noticed) but we frequently see the SAILORS EARS on the beach so I can't believe I've never shown this one before.
See? Doesn't that look familiar?  I found the SMOOTH DUCK CLAMS in the shell line on the pass side of the jetty rocks this week.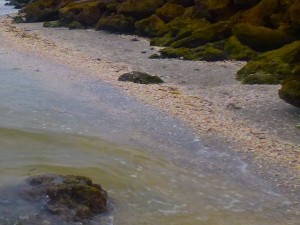 I found the CHANNELED DUCK CLAMS in my stash of shells that Clark and I have been trying to organize. I've been overwhelmed by all the shells in our garage that have never been cleaned and sorted so this is our project this week. Organize! We don't bring home many shells any more but some times…. you know how it is. We just can't help it.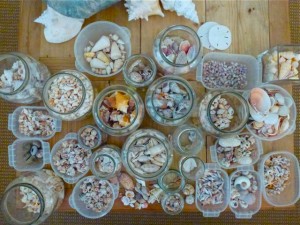 Smitty told me he found a few good shells like an ALPHABET CONE and then he said "I found a few CANDIES too". It stopped me in my path. Did you say "Candies"? He sure did! He and his wife Marcia hang out with us here at iLoveShelling!
Smitty and Marcia (sorry I missed you, Marcia!) have been visiting Sanibel to shell for 23 years and plan their trips around the moon and tides. He chose this week for not only the full moon but because there are also two low tides per day for optimal shelling. Notice in the photo above, the moon is practically sitting on his shoulder.
I had to show you this photo too because he uses the Seashell Sifter scoop to get his shells which Marcia gave him for his birthday. He told me a gal asked him "Is your name Clark?". That was Barbara whom I met a little while earlier this evening and she thought he was Clark because she recognized the blue scoop that she sees Clark using in some of the blog pictures. Small world!
Barbara and Ray did end up finding the right Clark (they hang out with us here at iLS too!) and they also found lots of good shells to brag about. I have to admit that I think that Barbara is the one that found the FLORIDA CONE but it ended up in Ray's hand. hmmmm.

As he told Clark "Possession is nine tenths of the law". HA! They sound like us….just a little competitive, huh?
After I took this photo, she found an ALPHABET CONE too…. Nice!
Clark found most of these shells (below) in the water although I added the OPERCULUM, the BLACK JINGLES, CHANNELED DUCK CLAMS (which I call Sailor's Ears, do you?), the little candy TRUE TULIP and the "CANDY" (little orange HORSE CONCH).
Can you identifiy the rest of them? If not, go to the SEASHELL IDENTIFICATION page to help. I do have to show you another TURKEY WING Clark found too. We mostly find these shells pretty beat up but this one is a beauty.
Look how small this TRUE TULIP is and it has a little white tip like the candies.