Archive for Gulf Oyster Drill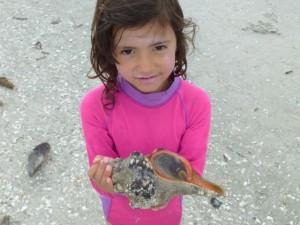 After the rain stopped and the warm sunshine filled our weekend, the Sanibel Lighthouse beach was very popular for watching wonderful wildlife like this huge live HORSE CONCH Bijou is showing us in the first photo (with fresh sunscreen protecting that sweet little face!). Bill from Michigan found a different one moments later…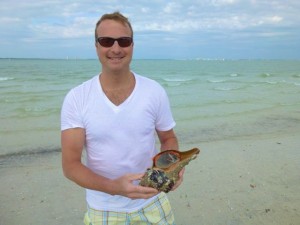 Three young girls look like mermaids calling the dolphins to tell them secrets…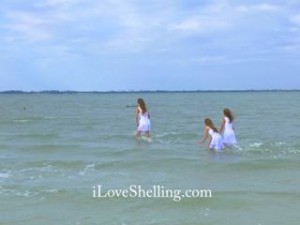 Bruce from Eugene, Oregon was crouching in the sand filling up his University of Oregon cup with hundreds of shells…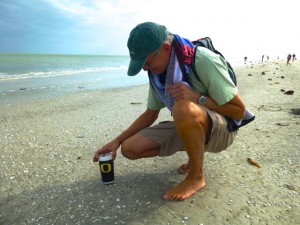 Look at his collection of COQUINAS!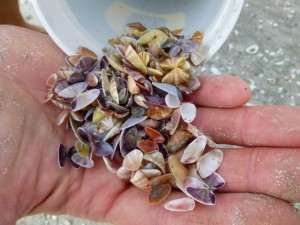 Allison from NC found everything from WENTLETRAPS to LEOPARD CRAB shells but wanted to find a pair of ANGEL WINGS to give to friend but couldn't find them.  So instead, she was collecting COQUINAS since they were like colorful wings.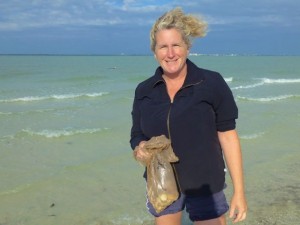 Not one minute after she told me about the ANGEL WINGS, I looked down to find a pair of tiny ANGEL WINGS practically at our feet. What are the chances! We placed the wings inside one of her double DOSINIAS to keep them in her bag for safe traveling until she got back to her room. Best Wishes Allison!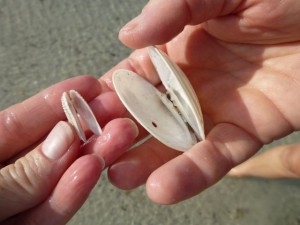 Shelling worlds tend to come together and when they do, Sue and Ken tend to be there. Ken was busy collecting the miniature shells as well…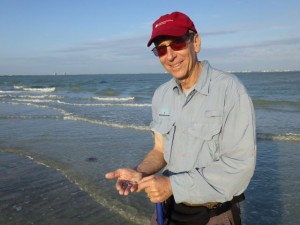 He found lots of other shells but he showed me these WENTLETRAPS, a SHARP RIBBED DRILL and a GULF OYSTER DRILL. I realized I don't have the GULF OYSTER DRILL on my SEASHELL IDENTIFICATION page! This week, I'm going to work on getting that up to date, my friends.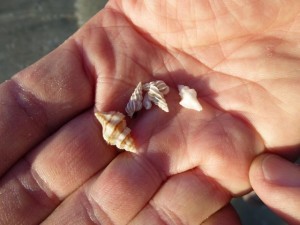 You may not think the beach looks pretty in the next photo because it looks a little "dirty" at the surf line… but to me, that looks like a gold mine! That's where all of the mini shells are hiding.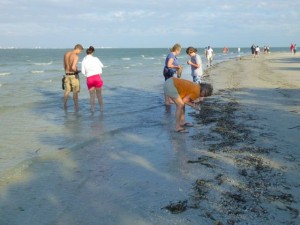 This is just a small assortment of what Clark found the beginning of the weekend. I haven't had time to sort out our finds yet so I'll try to get those posted soon too.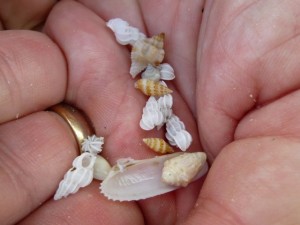 Just in case you were worried about what happened to those large live HORSE CONCHS…. after I took a photo of Bijou's HORSE CONCH, she immediately walked it out in the water as far as she could and gently placed it back in the GULF OF MEXICO (without her mom Deanna having to tell her).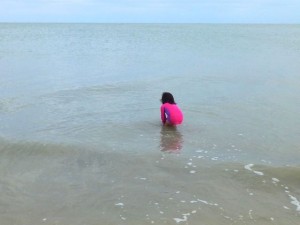 And Bill did the same thing. From all of us, Thank you for being good stewards of the sea.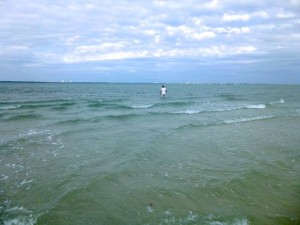 Oh, and…. Join us for our iLoveShelling shelling adventure to Cayo Costa Island next Saturday! Click on the next image for more info…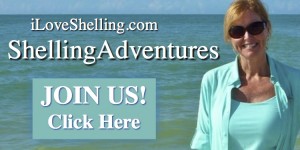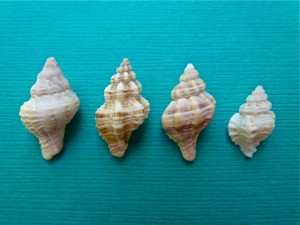 Can you tell that these are four different shells? The difference between these seashells is very slight.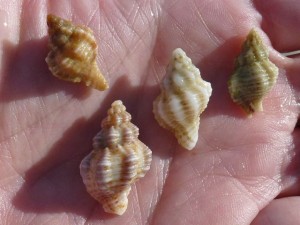 I found a few cutie little shells at the lighthouse that looked very similar but when I turned them over to look at the apertures to correctly identify them, I found little HERMIT CRABS in each one.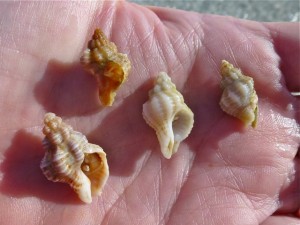 After I took the pictures, I put the shells back in the water where I found them then got inspired to head home to sift through my collection of unsorted shells. I had so many of these smaller shells lumped together so it was time to make sure I had the right identity on each one. Okay, so let's go back and look at the shells I found in my collection at home that were so similar (but not exactly the same kind I found on the beach)…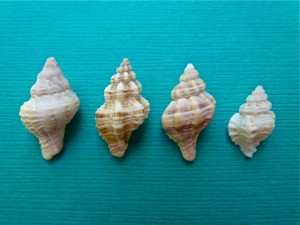 From left to right… MAUVE-MOUTH DRILL, RIBBED CANTHARUS, GULF OYSTER DRILL and a PITTED MUREX.  Here are the apertures…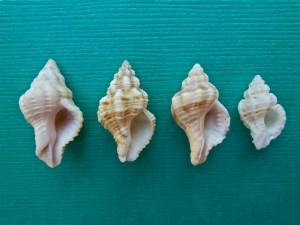 I showed the MAUVE-MOUTH DRILL (and it's eggs) in my January 24 post …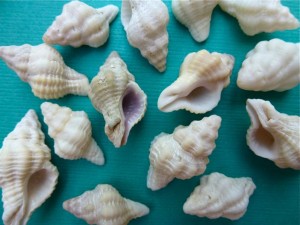 but now you can see how similar it is to the RIBBED CANTHARUS…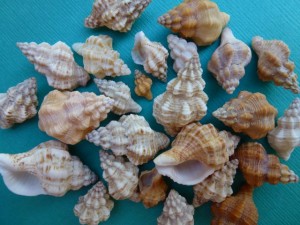 and the GULF OYSTER DRILL…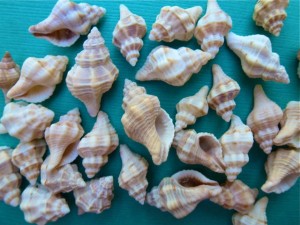 I've only showed a GULF OYSTER DRILL once before, which is strange because  they are somewhat common to find on Sanibel. So here's a closeup…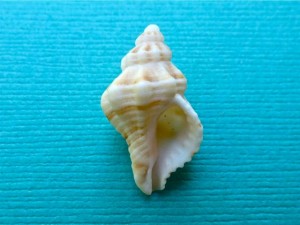 The PITTED MUREX is bit smaller (and not as common… for me any way) than the others but it's still a bear to identify without "cheaters" on. And it is so similar too!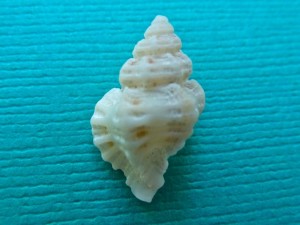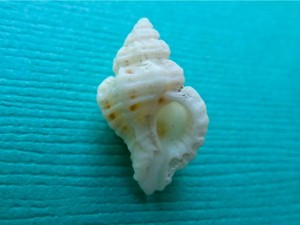 So now we can sift through our collections and finally identify the differences between these four shells now that we can see them side by side. Uhhhh….. I hate to tell you this…. but…. unfortunately, there a few more that look similar to these as well. For instance, …like that photo of my palm with the HERMIT CRAB shells? That top shell more to the left of the photo…. that's a juvie APPLE MUREX! Doesn't it look like the rest of the shells? And the shell on the far right side of my palm has a broken base so it's harder to identify (and I didn't get a great photo of it) but I'm sure it was a RIBBED CANTHARUS too. And y'all thought Seashell Identification was easy, didn't you? heehee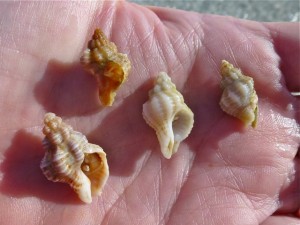 RIBBED CANTHARUS, APPLE MUREX, MAUVE-MOUTH DRILL, broken RIBBED CANTHARUS (I'm sure).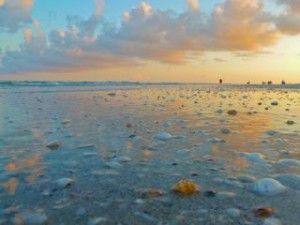 This is how our weekend started off on Friday. A calm, coral sky at sunset with a few shells scattered along the beach.
This is the cute little shell in foreground of the first photo. Cute, huh? It's called a GULF OYSTER DRILL and this is what the aperture looks like…..
We are starting to see lots of live COQUINAS right at the surf's edge getting washed up then quickly  digging themselves back into the sand.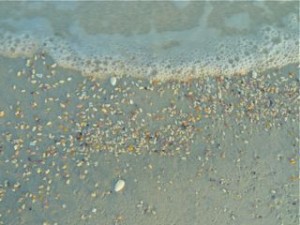 There were a few Sanibel Stoopers enjoying the warm evening and the semi low tide pools off Middle Gulf Drive.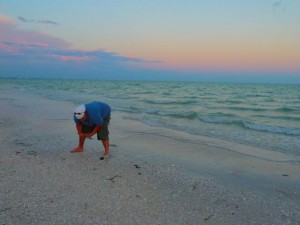 I was so touched that Matt (OH) was collecting shells to make jewelry for his girlfriend. What a guy!
We got a chance to stop by Sanibel side of Blind Pass this weekend too but instead of shelling the sand bar, we walked the beach down to the bayou where I spotted this GREAT BLUE HERON in flight.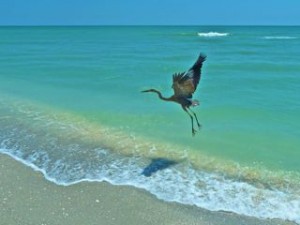 We were surprised to see so many shell piles!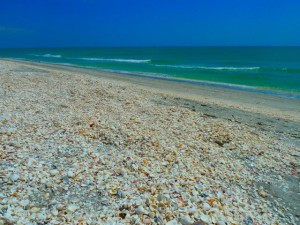 There were lots of FIGHTING CONCHS and WHELKS but I didn't see any SAND DOLLARS until I met Stephanie from Ft Myers. She found about 6 SAND DOLLARS in her shell bag.
I havent had the chance to clean up the 14 inch HORSE CONCH Clark found this weekend (he's still beaming) but tomorrow I'll get that cleaned up and take a few photos then show the rest of the photos of our fabulous boating day.
We looked towards the pass and saw the rain coming. Head for the hills!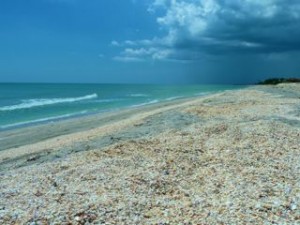 Hope you had a wonderful Memorial Day weekend as we honored the memories of our fallen U.S. service men and women.