Archive for Dove Snail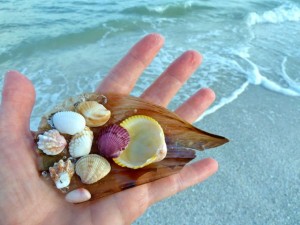 A relaxing walk on the beach with Clark this evening at the lighthouse end of Sanibel was exactly what I needed this evening. I was happy just to find the most common of shells like KITTENS PAWS, ARKS, SCALLOPS, COCKLES, SLIPPERS, JEWEL BOXES, CROSS BARRED VENUS and COQUINAS.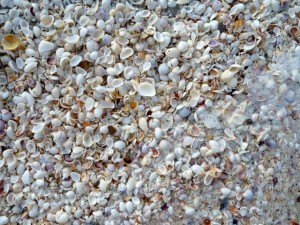 The island is finally slowing down so I can finally get back to taking a quiet, casual stroll on the beach so I could look through the minis.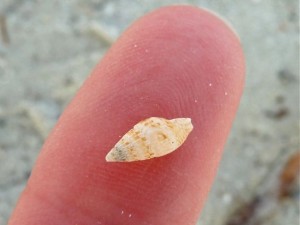 I found three SPARSE DOVE shells…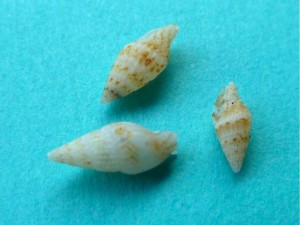 I even got a little giggle along the way after I found the funniest little half eaten pacifier washed up in the beach bling. I decided to keep it to add a little color in the odds and ends jar instead of throw it away.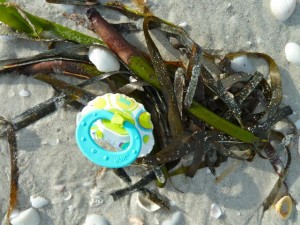 The lighthouse beach looked a little more eroded exposing large chunks of brick and concrete along side the those concrete slabs we've sent through the years. I'm going to do some research to hopefully find out where these aqua colored pieces came from. If you have any idea, please let us know!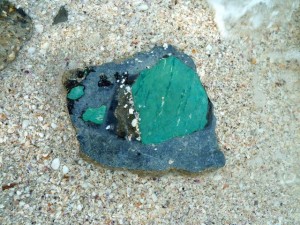 I needed a little peace and quiet this evening because I didn't get much sleep last night. I had a very exciting early morning adventure starting at 4 am. Nope, not shelling. I went to the first annual Immokalee Hot Air Balloon Festival which started at 6am. It was awwwesooome! It was too windy for the balloons to launch but to see dozens of brilliant balloons bunched together on the ground in Southwest Florida was so thrilling. It was well worth that 4am wake up call. I can't wait for next year!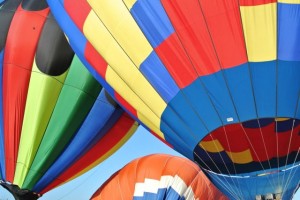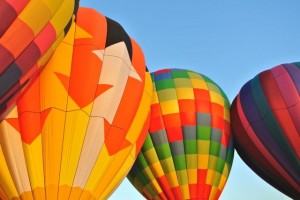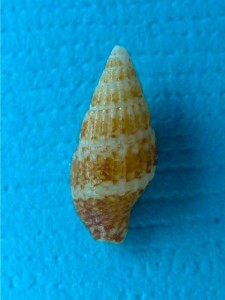 I think the east winds blew those PEN SHELLS I talked about tuesday back into the water so the beach was a little sparse yesterday. Speaking of sparse, a few weeks ago I found this SPARSE DOVE shell which is only 3/8 of an inch big. I'm gonna give myself a break by thinking it was a TAMPA TURRID since they both are so tiny. I could not even tell the difference between them until I put my cheater glasses on. How annoying!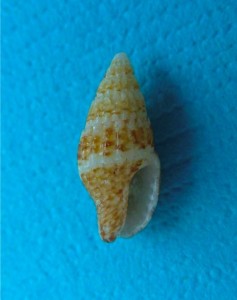 I don't even think I have many in my shell collection… or maybe I need to go through all of my TURRIDS to see if I've been mixing them all along. Here's a tiny TAMPA TURRID (say that 3 times fast). See? I have a hard time even see solids and stripes any more- geez!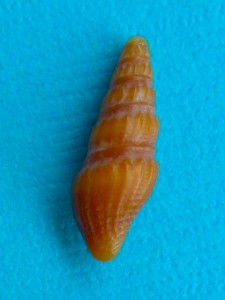 I found another tiny shell the other day at Blind Pass which I thought was a DWARF CERITH but I just found out (MK) it's a WEST INDIAN FALSE CERITH. I think I found the shell because I had just come back from Barefoot Beach looking for small black SHARK'S TEETH. I still had that shark's teeth "eye" going on because I don't see these jet black ones very often…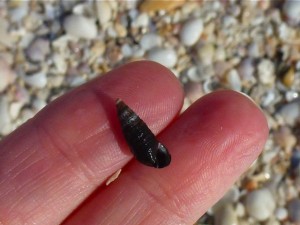 Here's a better look…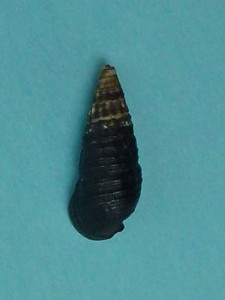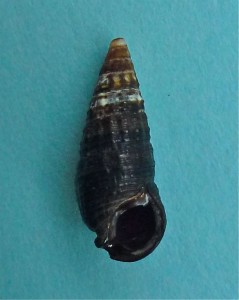 In the next photo, you'll see a common DARK CERITH that we find on our beaches every day. I think they are so common, I look right over them most of the time so this might be on my "Most common Sanibel shells" list when I make it, Susan H. I'm starting to narrow it down a bit.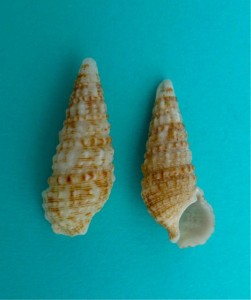 PS- Okay, and I have to tell you that Clark (he's gonna kill me for telling you this) has a nick name for TURRIDS… He calls them "turds"! LOL He'll say "Hey, I found a turd!". Boys will be boys hahaha…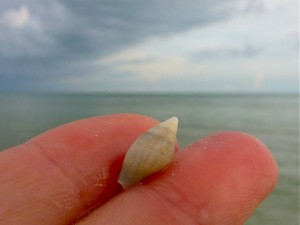 There are thousands of seashells at your fingertips most days on Sanibel but this weekend I was finding oodles of miniature shells that fit ON my fingertips. I found this RUSTY DOVE SHELL rolling along the surf line.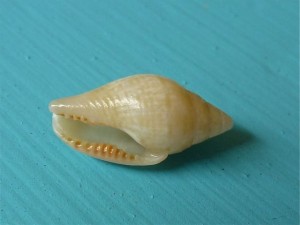 Isn't this the pretties little shell detailed with those tiny teeth along the opening (aperture)? I was excited to find it since it isn't my every day find. I knew it was a DOVE shell but MurexKen verified that it was a RUSTY DOVE SHELL.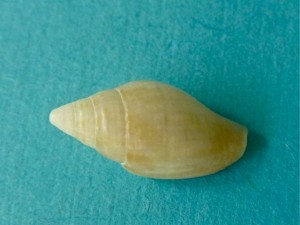 Clark found this little SWEET CONE….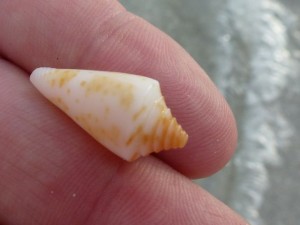 I always love to find the bright orange "juvie" SCALLOPS…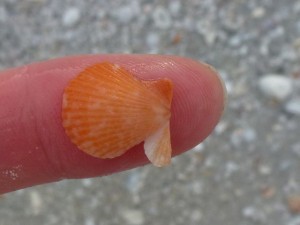 I normally only pick up the FLORIDA SPINY JEWEL BOX but this CORRUGATE JEWEL BOX just struck me as being so colorful and vibrant with such a fun shape… I had to pick this one up. Honestly, most of the time they just aren't so cute… but maybe they are starting to grow on me.
On Friday,I met shelling sistah and sister blogger Cheri from Shelllady who I could have talked to for hours. She lives very close to my family in Virginia so it was so nice to talk to Cheri and her "Hubby" about my old stomping grounds and felt right at home with them…and I got to see their shells they found.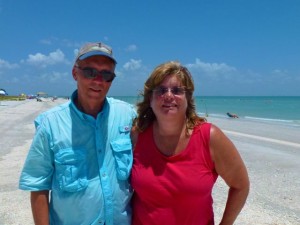 This next picture are the shells they found on Friday but if you go to her blog HERE, you can read about everything they found from the week. They found The Sanibel Six and more!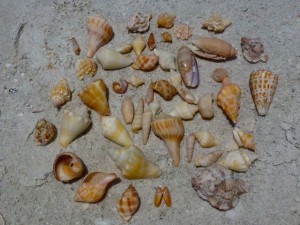 If I had seen this on Thursday, I would have added this to my "10 Reasons Why I Love The Beach" list so I'll just say this is #11….Rainbows