Archive for Cross Barred Venus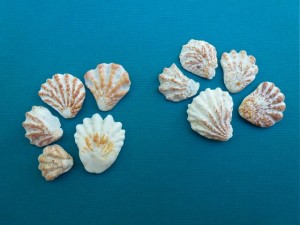 How could anyone think KITTENS PAWS aren't cute?  It was like it had rained KITTEN'S PAWS yesterday since there were so many on the beach at Blind Pass Captiva. Here's a cyber shelling photo so you can virtually pick through the piles and find some yourself. Enjoy!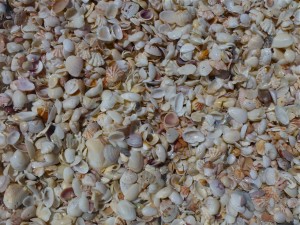 Also mixed in were hundreds of TRANSVERSE ARKS…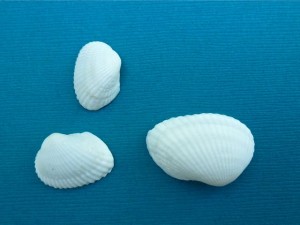 Oodles of CROSS BARRED VENUS clams…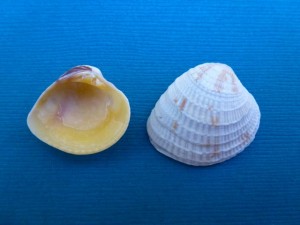 And a few LADY-IN-WAITING VENUS clams mixed in too…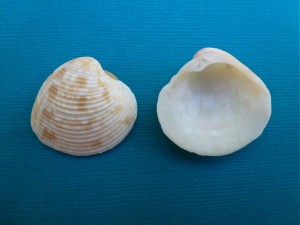 I would say that the KITTEN'S PAWS, CROSS BARRED VENUS and the TRANSVERSE ARKS are the most common shells on Sanibel but I'm still not convinced what the top six commons shells are. I just loved seeing so many LADY-IN-WAITING VENUSes mixed in too, I wanted to show you those. They are so pretty and I normally never pay attention to them. When I don't have a lot of time, I need to stay out of the sun for a bit or we are having lots of scattered showers, I just like to stop by the beach for a short time and enjoy all of the shells that I seem to neglect the rest of the year. Most of the shells in this next photo are all bivalves…. they did not let me neglect them this time.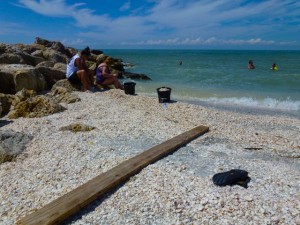 PS- I have no idea how that board got there. I guess it washed up?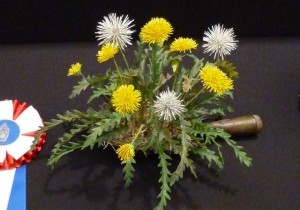 I started thinking about summer projects this week so I revisited some of my blog photos for inspiration. Bingo! The 74th Sanibel Shell Fair and Show was last month … and it gave me a great idea for both me and you. I thought I'd find out some of the secrets of shell crafting so I asked how 2011 Blue Ribbon and Judges's Special Award winner Barb Walling made her "Dandelions" piece. We will get to learn every detail of how this piece was made by the artist herself!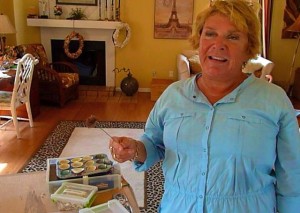 Barb was gracious enough to invite me over to her Sanibel home to see where the magic begins. She first showed me how she organizes her shells that she picks up off the beach after she washes and dries them.
She categorizes each box or drawer by the shell name. This one is the SEMELE which she uses as the base to the dandelion and most of her shell flowers.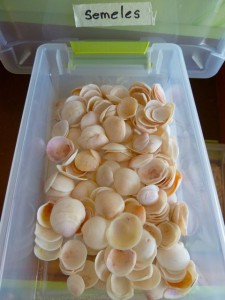 From here, I'm gonna let her tell you how everything else is done. Sit back, relax and let your imagination roll…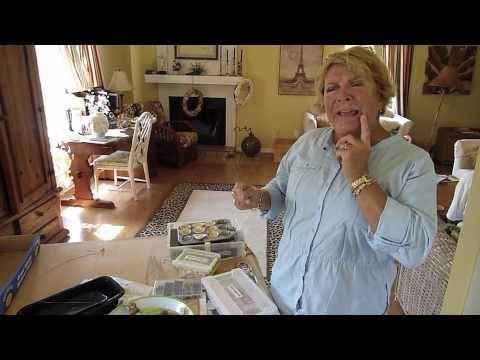 How 'bout that, huh? Here's a close up of the SEMELE she talked about ……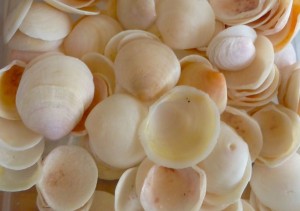 ….and the CROSS BARRED VENUS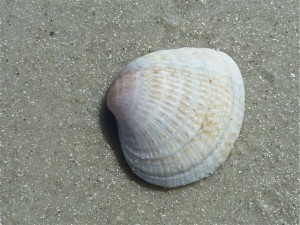 This is a dead PURPLE SEA URCHIN that washed up on the beach with some of it's spines still attached.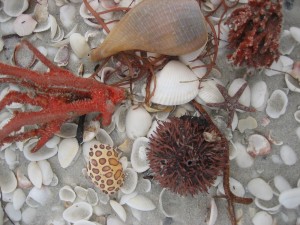 This is a close up of Barb's SEA URCHIN spines. That's a lot of SEA URCHINS!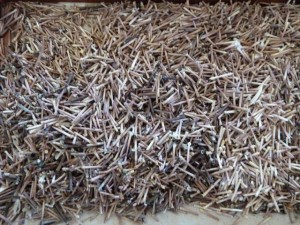 Thank you so much for the shell craft lesson, Barb! Can't wait to see what you create for next year's 75th Anniversary of Sanibel Shell Fair and Show.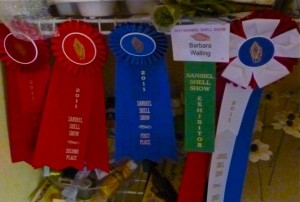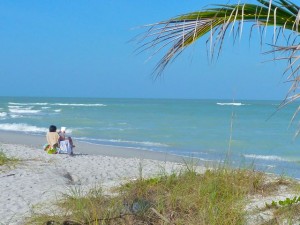 I needed a little shelling pick-me-up yesterday since I've had "technical difficulties" in the blog world the last few days. Since the gulf has been a little rough caused by south winds, I thought I might find some goodies at Blind Pass.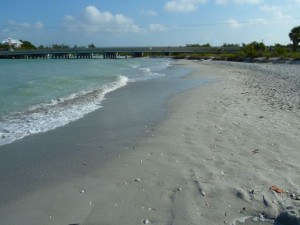 The Sanibel side of Blind Pass was …well, empty of shells. Where'd they go?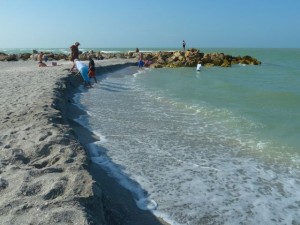 I ran over to the Captiva side to find the beach with even a bigger drop-off than last week. Looked like nothing to me. There were a few people working the ledge but I decided to go back to the east end of Sanibel.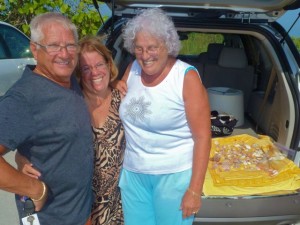 On the way back to the parking lot, I met Bob, Lucy and Linda sorting their shells in the back of their car. I can't believe they found all of these on that ledge I showed you. It looked bare to me.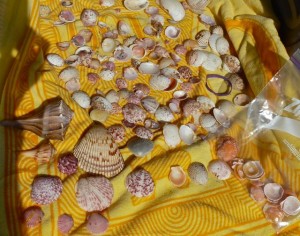 Shame on me for not looking a little harder at that ledge. Look at these beautiful shells… and especially that large, perfect LIGHTNING WHELK on the left.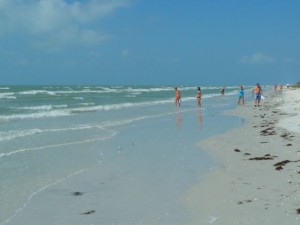 The surf was kicking up around the east end of Sanibel but the beach didn't look like it was piled with shells. Then I started focusing on the wash line a little bit better since I learned my lesson and missed so many at Blind Pass. There were actually some nice shells…… and nice folks.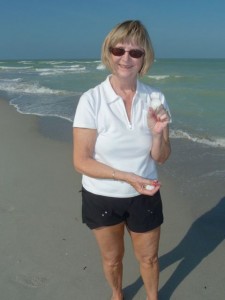 I met another Sani-Belle on the beach!  I met some of the Sani-Belle sisters and mom Mermaid Ella in January at Blind Pass (Click HERE for the post) so I was tickled to meet sister Sani-Belle Muriel too.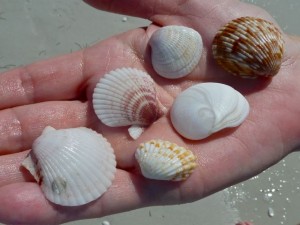 Like I said, there wasn't a huge wrack of shells on the beach but she was still happy with what she was finding. I guess so! Look at that nice size BABY'S EAR! In her hand from left to right is a SCALLOP, a CARDITA, another SCALLOP, that big beautiful BABY'S EAR, a CROSS BARRED VENUS and a COCKLE.
This picture above was taken of Muriel's 92 year old mom in January when I nicknamed her Mermaid Ella. I wanted to show you this photo again because most of the shells that Muriel and the other Sani-Belles collect are "materials" (that's what they call the shells) for frames that Mermaid Ella makes. She showed me this one……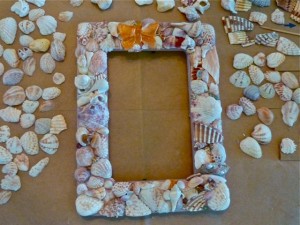 Isn't that beautiful? Shells don't have to perfect to be beautiful. Imperfect is just as beautiful if you look at them in a different view like in this frame. This just makes me smile. And I also smile thinking of some other artists that make beautiful decor and jewelry from beach treasures…. perfect or not.
 Endless Sunner is so clever to design wine charms from seashells with holes in them…..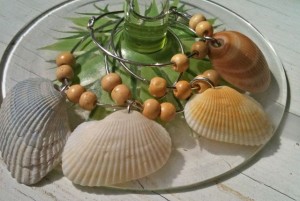 Tresor le Mer creates gorgeous pieces of art from beach treasures that someone else might consider to be beach "litter"…..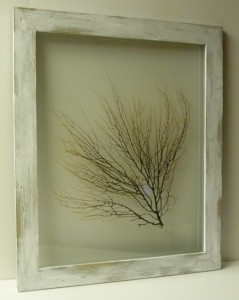 Aptly named, An Imperfect Shell gives us that feeling of just coming off the beach in every design she makes….
I love photography so I love to see how other artists capture the art of seashells. The Coastal Collection presents imperfect seashells in a whole new light….. sepia toned.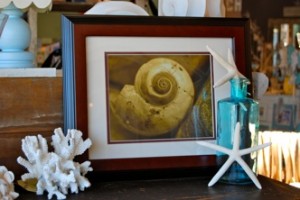 I also have another artist friend Rhonda from Shellebelle's Tikihut that collects "drift shells" to make beautiful art frames too.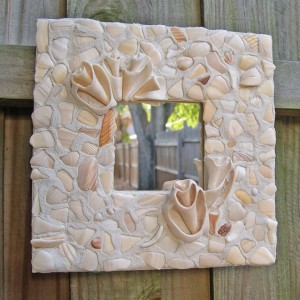 So before I frown again and an "empty" beach, I'm going to remember Mermaid Ella and these other artists who get excited to see bits and pieces of shells on the beach. This is exactly what gets their creative juices flowing for their shellicious decor and jewelry. Thanks yall for the pick-me-up I really needed!