Archive for Yellow Prickly Cockle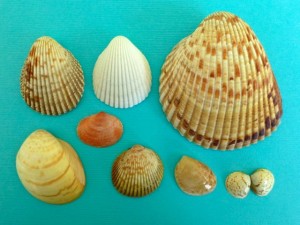 There are so many different COCKLE SHELLS that live here in SouthWest Florida! Clark even found this wonderful ALBINO FLORIDA PRICKLY COCKLE this weekend…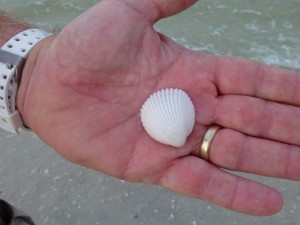 I'm sure that it's an ALBINO since the shell looks so fresh with the ribs perfectly in tact without that dull matte finish that you get with beach worn shells.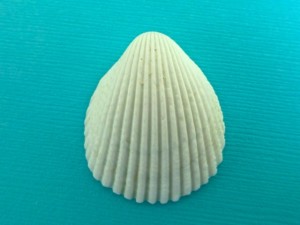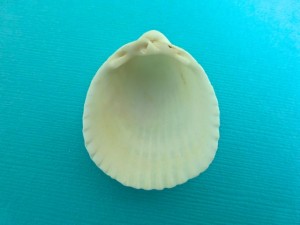 Since I received a comment from Pat Bradley on a post last week who suggested that I add the PAINTED COCKLE on my Seashell Identification page (Thank you Pat for the great suggestion!) I couldnt stop thinking about how many different COCKLES there are.  So when Clark found the ALBINO COCKLE I remembered I needed to photograph the PAINTED EGG COCKLE…
Then I realized I didn't have the very common FLORIDA PRICKLY COCKLE on my Shell Identification page either… Geez, so many COCKLES. I'm getting frazzled!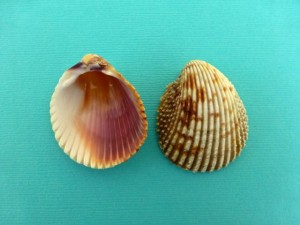 So I might as well show the whole gaggle of COCKLES we have in our collection of shells. This includes of course the ATLANTIC GIANT COCKLE…
And probably my favorite… the YELLOW PRICKLY COCKLE.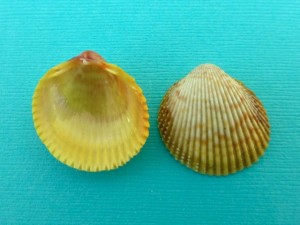 Well wait, I take that back. I think the BROAD PAPER COCKLE is my favorite COCKLE but I just don't find them often. Take a close look… have you found lots of these?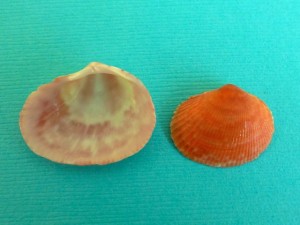 We can't forget about the tiny MORTON'S EGG COCKLE either! They are so stinkin cute!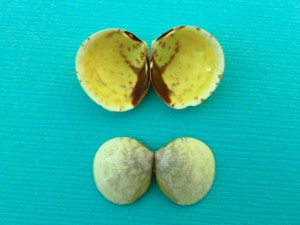 And finally, we have the VELVET EGG COCKLE (which I normally just call it a plain ol EGG COCKLE)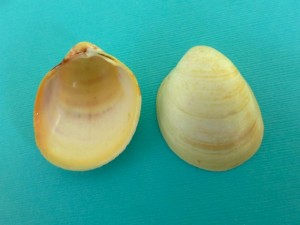 There is a STRAWBERRY COCKLE as well, but I didn't find one this weekend when I looked for COCKLES  and I can't remember ever picking one up. So when we find one, (and we will definitely be keeping our eyes peeled!) I'll let you know.
But before I sign off for tonight, I met a really nice local gal Mary Beth from Fort Myers on the beach by the Sanibel fishing pier. (yes, the water is that ice tea color again… too much rain so overflow of the lake and river – ugh. It will clear up soon)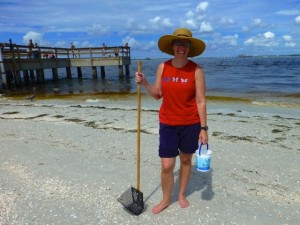 While I was looking for COCKLES, she was on the hunt for minis. She showed me this sweet little MARGINELLA along with some other excellent specimens.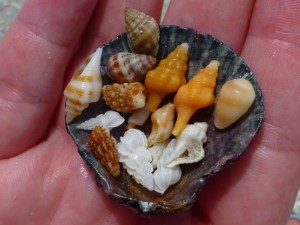 Happy hearts.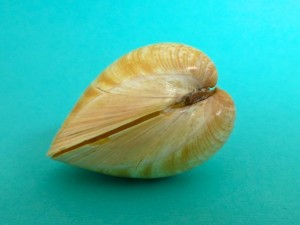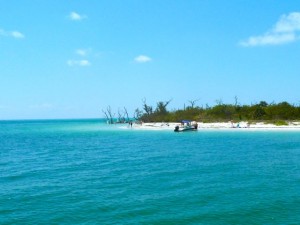 Another Spring Break adventure! On Wednesday, Lori, Hayley, Culter and I went to the secluded island of Cayo Costa to relax and enjoy another gorgeous day on the islands.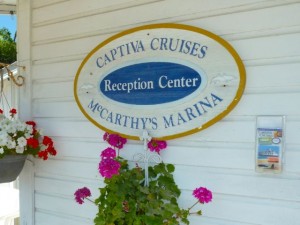 I had problems getting out our own boat  (Clark was busy at work so he couldn't help) so we decided to take the easy route and hop on the Captiva Cruises shelling boat Play Time for the afternoon trip.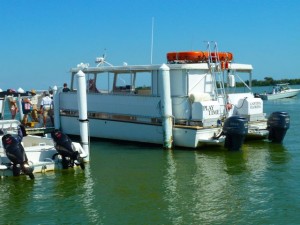 Low and behold, guess who our captain was… my buddy Captain Brian Holaway! It was a nice surprise!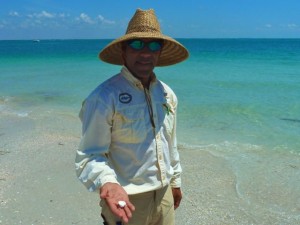 After securing the boat on the south tip of Cayo Costa, Capt Brian walked over to our shelling spot to join us for a few minutes and immediately picked up an ALBINO YELLOW PRICKLY COCKLE. Wow, can he spot those albinos! Remember he won a red ribbon for his ALBINO WHELK at the Sanibel Shell Show this year? Amazing!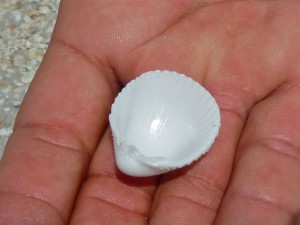 I didn't find an albino but I quickly found a handful of my own fave honeys.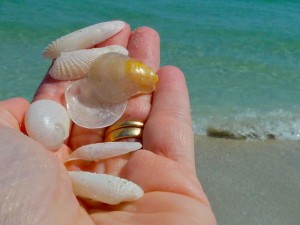 BABY'S EARS and FALSE ANGEL WINGS (they look like cute little juvie ANGEL WINGS)…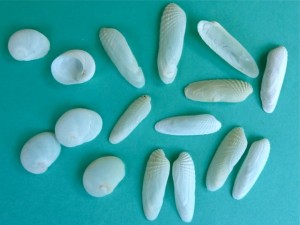 Lots of beauteous JINGLES…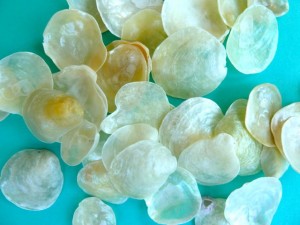 A couple of CLOUDY PERIWINKLES…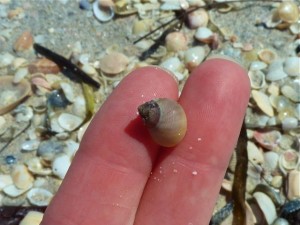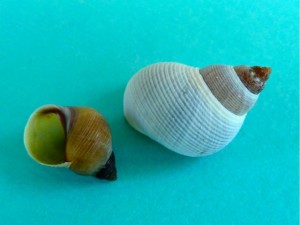 I also found a PURPLISH SEMELE (left) and a CANCELLATE SEMELE (right). I'm not sure why I don't find more of these on Sanibel but I have better luck finding them on Cayo Costa, North Captiva and in Marco. hmmmm
I had thought at one time that this BRYOZOAN COLONY was a type of CORAL but as you can see side by side… it's not a piece of CORAL like the branch on the right. I found both of these past the tree roots on the Gulf side of the beach. (click HERE for more info on Bryozoan Colony)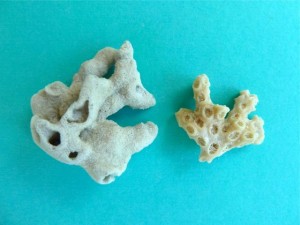 Okay, this one might not be your taste but I thought this SOUTHERN RIBBED MUSSEL was just so pretty for some reason. One day, when I get a fancy camera to show you the nice details up close and personal, I promise…I'll be able to capture more of the beauty in some of these obscure seashells.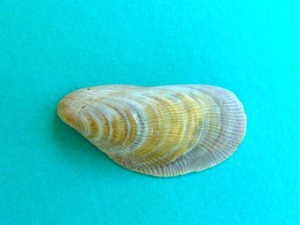 After combing, sunning and shelling this gorgeous beach, Hayley, Cutler and Lori (VA) headed back to the boat with me after one more climb on the BLACK MANGROVE tree roots.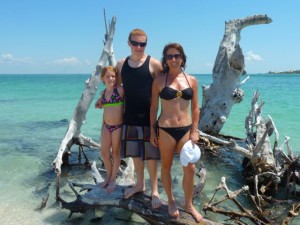 On the boat ride back, I couldn't help but see how excited Margie, Kristi and Mike (California) were about their seashell loot!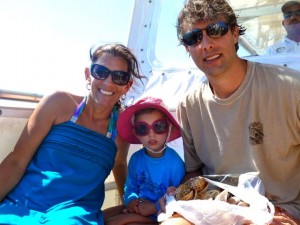 They found oodles of ATLANTIC GIANT COCKLES…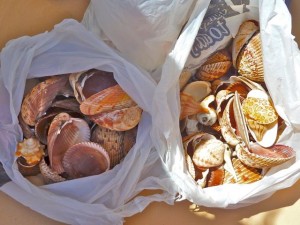 Quite a few humongus SUNRAY VENUS CLAMS…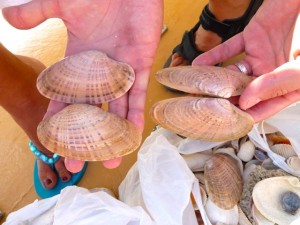 And a really big LEOPARD CRAB shell.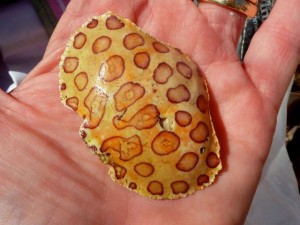 It was a perfect day on the water with calm aqua seas, warm temps in the 80s and DOLPHINS surrounding the boat.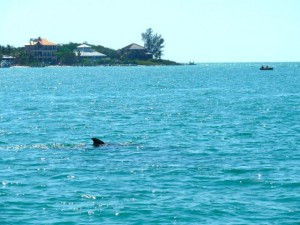 And to top if off, it was great being with good friends and having lots of seashell souvenirs to bring home to remember the day.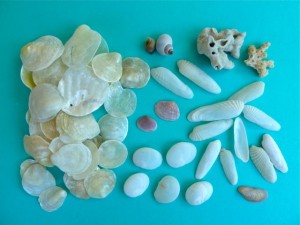 There were lots of 
YELLOW PRICKLY COCKLES
still together scattered around the beach off West Gulf Drive access #6 yesterday. I always seem to overlook these because the 
ATLANTIC GIANT COCKLES
catch my eye first. I'm looking closer at the bivalves (a shell with 2 halves) now since I've always favored univalves (snail shells like CONCHS and CONES).
See? I even gave this PONDEROUS ARK a second look when I normally would have passed right by it. Since the names are somewhat new to me (I would have normally named it an "ARK" shell but now I'm trying to learn the different categories too), we can learn these things together. So that means if I misidentify a shell, please don't hesitate to let me know.
I think Alan favors the univalves (or gastropods) too since he is showing off a FLORIDA CONE and some OLIVES. Check out his home made shelling rake!
I found Sanibel Anne working that same pile and watched her pull out that beautiful HORSE CONCH that she's holding in her left hand. She makes shell mirrors and candlesticks from the shells she finds. Fun!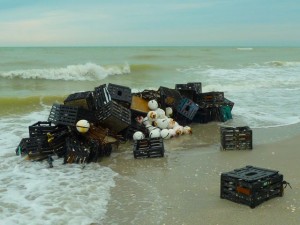 Over 20 mph north west winds washed up this pile of STONE CRAB pots on the beach two weeks ago. No wonder there are so many PIG'S FEET on the beach. These were the same winds that blew in the excellent shelling last month. We are expecting some good north west winds today "they" say about 16 mph (I'm not seeing anything yet) but maybe that's enough for my JUNONIA to wash up. (?)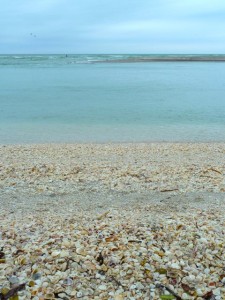 We had a little NW wind yesterday so I ran up to Blind Pass to see the shells were washing up on the Sanibel side. You can see in this picture how close that point of the sand bar on the Captiva side is to Sanibel now. Maybe we should do a pool on who gets to the closest date that when the Captiva exposed sand touches Sanibel exposed sand.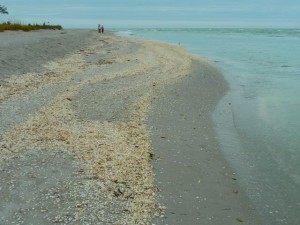 Yesterday there were more shells on the Sanibel side than on the Captiva side. Like I always say ….the beach changes by the day. You never know where the shells will show up.
I took this next picture as I walked the entrance to the beach where there are sea grape trees lining the walkway. I had to stop to take in the beautiful palette of colors the leaves painted on the path.