Archive for Tinted Cantharus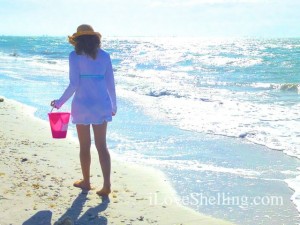 Yes, I am a fanatic sheller and beachcomber… but some days I want to visit the sea to find calmness and peace.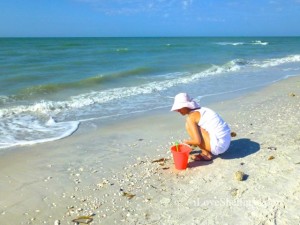 The beach reminds me that life's treasures aren't always obvious. At times I have to stop for a minute or two and focus on everything that is surrounding me. Then take another minute or two to refocus from the large obvious objects, to the smaller items that I may not have noticed.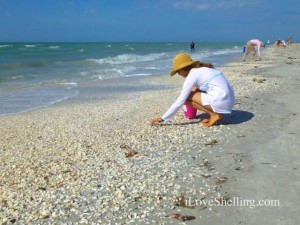 There is so much there and so much more to enjoy. That's when I am happiest.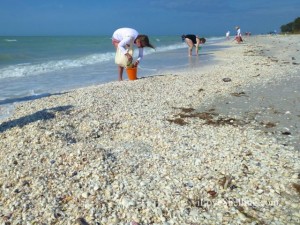 By the look on Kelly's face, she found a little happiness too.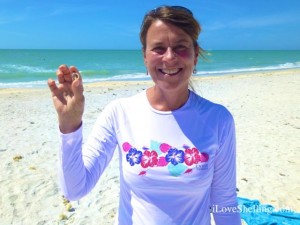 Kelly (Colorado) picked up a TINTED CANTHARUS, WENTLETRAP and golden CHESTNUT TURBAN near Gulfside City Park.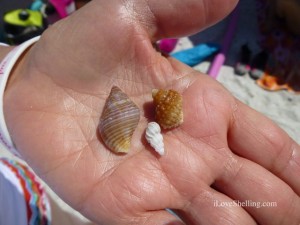 I don't see the TINTED CANTHARUS often so here is a look at the aperture side of the shell…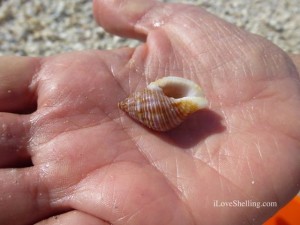 It also makes me so happy to find someone else that only collects one little shell to make them all warm and fuzzy (although we didnt need much help with getting warm… it was in the mid 80s. Nice!). I was happy to meet Susan from Naples…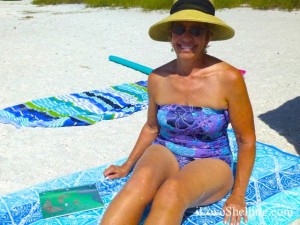 She was thrilled to find this beautiful little COQUINA. She told me she loves butterflies and showed me her butterfly notebook which matched her sweet little COQUINA. That's all she needed to make her day of shelling complete. One COQUINA. Every day should be that simple.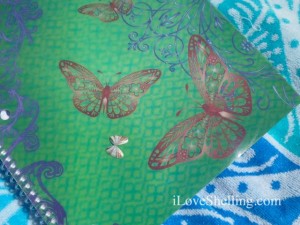 With all of the beautiful shells strung along the beach, Caryn from Michigan was quite amazed by the SPONGES, EGG CASINGS,  and even the BONES (leftover bait from the crab traps that fell out) that were scattered on the beach. Ah! Somebody else that loves that BEACH BLING like I do!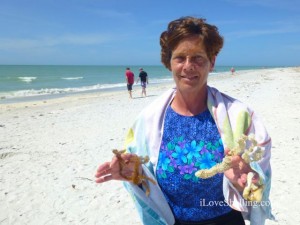 And I met other beachcombers that found a few treasures but just as happy to be on the beach with the fresh air and sunshine. Here is Bernadette from Quebec City, Gertie from Arizona and Angela from Melbourne, FL (with the iLS shell ID card!)…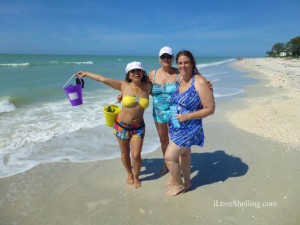 Ahhhh. Yes. I found my not-so-obvious treasures in seeing the happy faces of others enjoying what Mother Nature does best… reminding us that every day is a gift.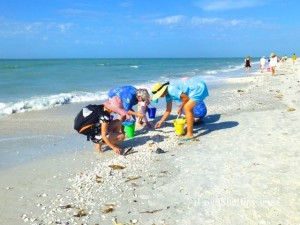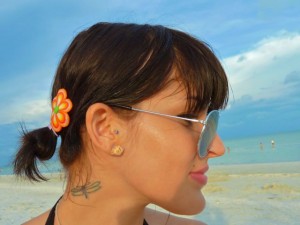 I always love to see what other people do with the shells they find combing the beaches. Sharlene found these DOVE SHELLS on a beach near her home in Puerto Rico and she decided to make them into earrings. They look great…but then I think she could make SEA PORK look good too, right? She also made a simple but very cool necklace out of an AUGER. I might have to borrow your idea, Sharlene.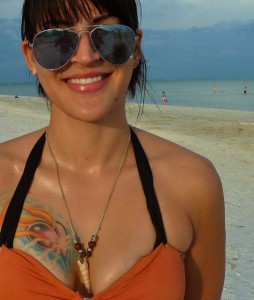 But then I've said that before, haven't I? After seeing Kathy's Junonia Necklace (my post last year) and other inspirations like Sharlene's necklace, I'm reminded that I was going to make a great necklace too out of my shells but this is as far as I got. I bought waxed linen to thread some shells to hang from my fabulous necklace to be. It's still sitting….. waiting…..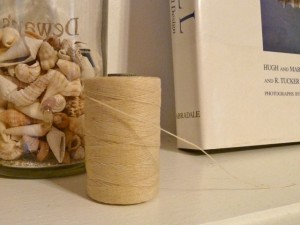 That's okay. One day. But until then, I want to show you a few other finds from my weekend. There were a lot of live shells in the water around Middle Gulf Drive but there were a few good empty smaller shells like the ones Mark and Rene from Miami found…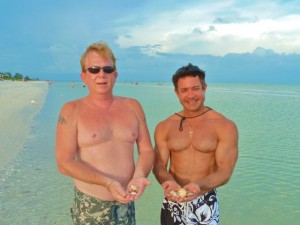 This is a beautiful RIBBED CANTHARUS Mark found along with a BANDED TULIP, OLIVES, a NUTMEG and a CONCH.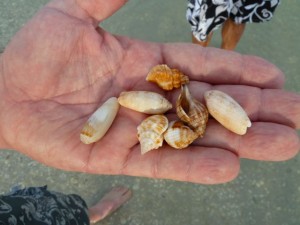 Right after I ooooed at that orange CANTHARUS (I consider that "candy" too), I found a TINTED CANTHARUS…..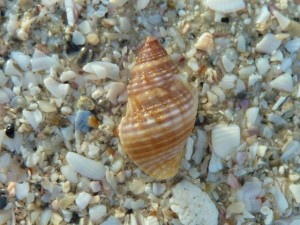 Since it was a full moon on Friday with negative low tides, I thought we'd have a little better shelling this weekend along the middle beaches of Sanibel. Maybe I should have gone to Blind Pass but we had rain and thunder on and off all weekend so the minute I hear thunder…. I know there's lightning somewhere. Yikes! That's when I stay off the beach!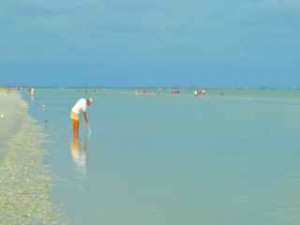 It was a great beach day today with calm, warm weather in the 70′s even though it was hard to find any un-picked-over shell piles. I did, however, find these little RIBBED CANTHARUS that look like they'd fit right in with my little horsies (JUVENILE HORSE CONCHS) in my "candy" dish.
While I was getting info on the RIBBED CANTHARUS, I realized that I had found this TINTED CANTHARUS last week and had no idea they were related. So the happy cousins get to hang out together to start a new "candy " dish.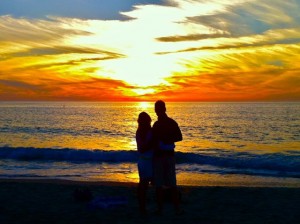 I introduced myself to Neal and Natalia from Florida's east coat after I snapped this photo of them gazing at the sunset in each others arms. So sweet!