Archive for Broad-Ribbed Cardita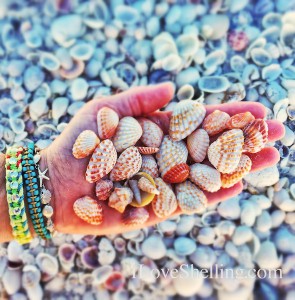 The beaches of Sanibel and Captiva have been gorgeous this week with plenty of sunshine and warm breezes. But shelling has been hit or miss… to some people. In the past few days, I've been asked countless times "Where are the shells?". That's hard for me to answer since I saw this at Gulfside City Park beach today…
Uhmmmm. Those look like shells to me?  There weren't many WHELKS, TULIPS or CONES but this is how I look at it… if JUNONIAS and ALPHABET CONES were washing up on the beach every day, we would never see or learn about anything else that washes up on the beach. It would be nice at first seeing an ALPHABET soup of JUNONIAS but after a while it would kinda get old to people who come to the island every year. We do that with FIGHTING CONCHS at times. There's no denying FIGHTING CONCHS are gorgeous shells but if you already collected 10 of them, you start to look for something else. So I always look forward to the days that make me slow down to look more closely to the shells I normally don't "see". Today I saw BROAD-RIBBED CARDITA shells. BROAD RIBBED CARDITAS are always on our beaches. I mean ALWAYS… but most of them have been sun bleached or worn so they look like lots of the other white BIVALVES. They are one of the most common shells in Southwest Florida but today they caught my eye because they were so colorful. Each one has a different color range of orange with some having stripes and some look like polka dots. Beauty is in the eye of the shell holder. These would be great craft shells for frames!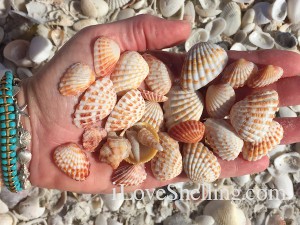 Anyway, there were a few other sweet shells out there too…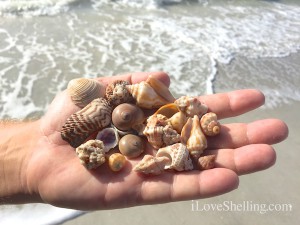 I also saw oodles of SEA WHIPS attached to PONDEROUS ARKS in the high tide wrack line. Most of the SEA WHIPS have lost their pretty yellow or purple colors and all that's left is the black stem left attached to the ARK shell but this one still has a small portion of the golden yellow color still left on the stem like a sheath. Why do SEA WHIPS only seem to like to attach themselves to PONDEROUS ARKS? Of course I have a theory (I always have a theory whether its right or not- heehee). PONDEROUS ARKS have that wonderful thick black PERIOSTRACUM (skin) and they have wide ribs so SEA WHIPS have something pretty substantial to anchor themselves to. Most shells don't have either of those features so it makes perfect sense to me, how about you? (To see a PONDEROUS ARK CLICK HERE)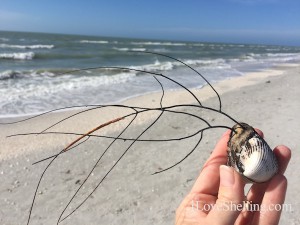 Yes, those CARDITAS were pretty orange but this LETTERED OLIVE was my fave find of the day.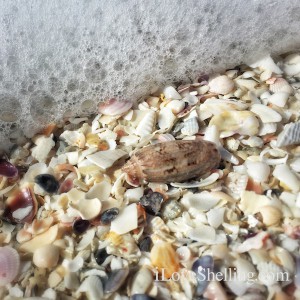 Oh wait- I take that back! This 33 inch, 15 pound SNOOK was my fave find of the day! I love everything there is to do on the beach and fishing is just one more thing I think is very cool. Just like shelling, you just never know what you're gonna find. Some days you catch the big one and some days its just a nice excuse to be out in the sunshine.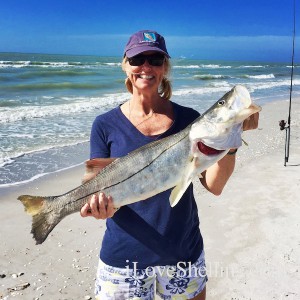 Errrrrr…..Okay, I'll fess up. This is kinda a fish tale…. "my fave find" was actually caught by a guy named Steve but I couldn't wait to get my hands on that beautiful fish. I "found" it in Steve's hands. Hahahaha. i Love Fishing too so next time I wanna reel one in!
Hey, Dont forget… Monday March 16, 2015 – Congress Jewelers are showcasing my Shellography with a wine and cheese gallery reception from 11am- 3pm. I'd love to meet y'all! Bring your fave finds in if you want me to ID them.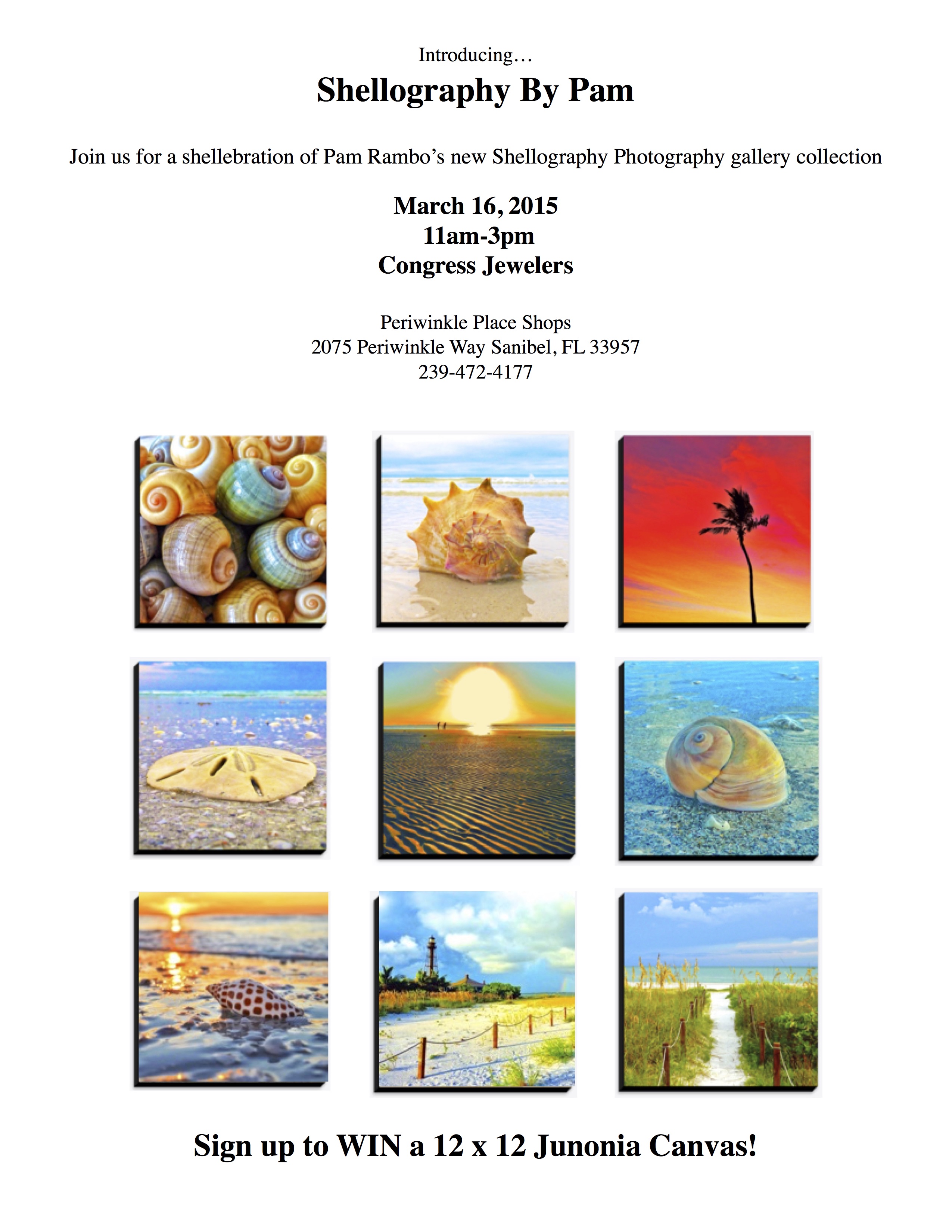 This is the prettiest SPECKLED TELLIN I've ever seen!  I met a Sanibel local gal Susie on the beach at Sanibel Blind Pass and while we were talking, I saw those stripes through her plastic shelling bag…. Okay, I always nonchalantly sneek a peek at someone's shell bag while I talk to them (heehee). So I asked her what she had. She pulled out this gorgeous TELLIN! I don't normally see SPECKLED TELLINS on this beach- especially with those pretty colored "rays". Nice find Susie!
While I was talking to Susie and Peg, I saw our shelling sister Lee and her husband Bill who found the CARRIER SHELL in October. She told me she found an 11″ HORSE CONCH last week north of West Gulf Drive beach access #7. I had to see it!
Wow- that's a doosie! And such a pretty color! You can't see really how big it is so the next photo I put a little "candy" horsie conch next to it. Cute, huh?
Lee told me before she left home to come to Sanibel, her grandson Samuel said he would like her to find a big shell for him just like the one she has displayed in her "best shell finds" cabinet ….a big horse conch. Looks like you'll get  your wish Samuel!
Lee also found this ALBINO FIGHTING CONCH.  Sometimes it's hard to tell an albino from a sun-bleached shell but in this case, there is such a glossy shine and all of the tips look so perfect that I am sure this must me an albino. This one will probably make it into Lee's "best shell finds" cabinet too!
I always enjoy seeing so many different colors and color patterns of the FLORIDA FIGHTING CONCH. Shelling sister Mary Ann captured so many variations in this next photo, I thought you would enjoy this as much as I did. Thanks for posting this great shot on FaceBook, Mary Ann.
Okay, lets get back to Lee and her other finds for the week… I see CHESTNUT TURBANS on a regular basis but I don't show many pictures of them so here are a few in Lee's collection this week.
So now I think I am acquiring a taste for bivalves after seeing this SPECKLED TELLIN and some of the other TELLINS in the last week. No, not to eat them (although I do love oysters at a raw bar) but to admire their beauty as much as the gastropods like the TURBAN or CONCH. I have to thank our blog buddy Bird for suggesting I get a copy of Bivalve Seashells of Florida by Trish Hartman. How did I live without this book before? Thank you, Bird (and Scott R)!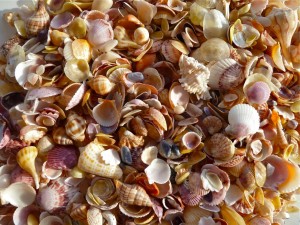 Here you go virtual shellers! Have fun identifying so many beautiful shells by clicking on the picture for enlargement to see some of the shells that Sue from Pennsylvania found from shelling the beach off West Gulf Drive.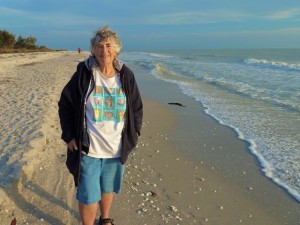 As you can see by Sue's picture above with the tide coming in there aren't many shells on the beach now, but last week there were plenty. That's when she found her ALPHABET CONES, LACES MUREX, FLORIDA CONES and so many of the other goodies you see in the virtual shelling photo. The shells come and they go. She is making a SAILOR'S VALENTINE with some of these shells along with her granddaughter Kaitlyn who found the CABRIT'S MUREX from yesterday's post. So I'd say they had successful shelling. Good luck with your sailor's valentine, Sue!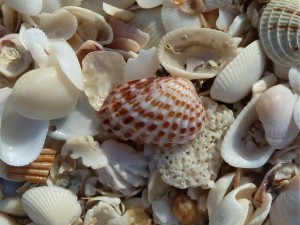 There were still a few shell piles here and there so I again started looking more at the shells I normally don't photograph. Geez. Look at what we've been missing! This BROAD-RIBBED CARTIDA is such a beauty with its animal print effect and deep lines. Could you imagine a frame or mirror made mostly of these? It would be stunning, I think.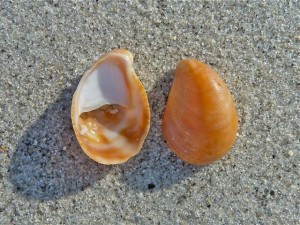 So often we see SLIPPER SHELLS but I never thought they were cute until we moved here and learned they were called "slipper shells". The name gives them the cute factor because you can see they are in the shape of a slipper by looking at the inside view. Growing up, we called them TOE NAIL SHELLS. Yep- by looking at the outside of the shell, they do resemble a toe nail. EEEW! No wonder I didn't like them.