Archive for Middle Gulf Drive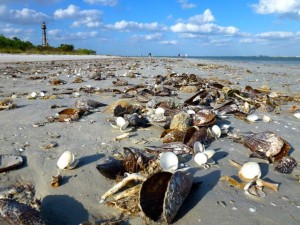 If you want to learn the types of seashells, sea life, vegetation and what the different kinds of mollusk egg cases look like and live in the Gulf Of Mexico, you've got your chance this week. It all washed up on the beach on the East end of Sanibel.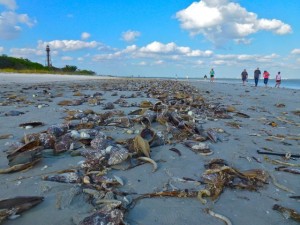 You can see it for miles. So many mollusk egg casings and PEN SHELLS galore!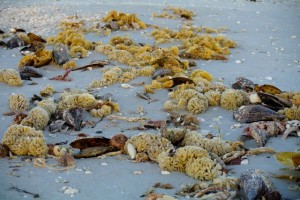 MERMAID PURSES! Well, they are really SKATE EGG CASES…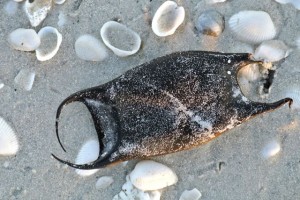 HORSE CONCH EGG CASINGS (I shot this with the Nikon J1)…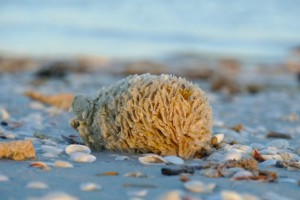 WHELK EGG CHAINS…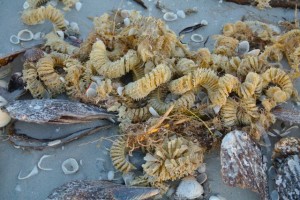 Lots of CRABS too. This one is a STONE CRAB…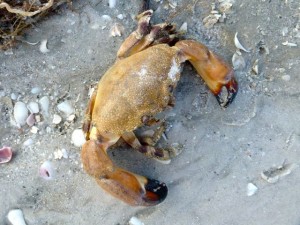 My friend Jane called me and said she found a dead crab shell on the beach that had a NAUTILUS  shell pattern. She has found a NAUTILUS before so she would know! Wanna see? CLICK HERE . So I went to see this crab…and it does have that pattern! It's a FLAME BOX CRAB…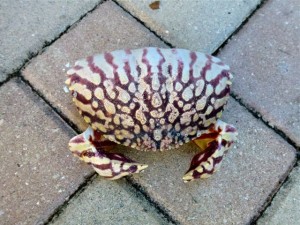 I also saw lots of SEA WHIPS. This was the first time I've ever found a WHITE SEA WHIP…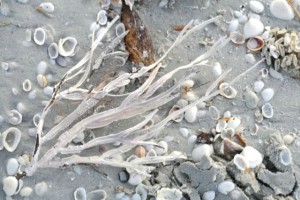 We normally just find the purple SEA WHIPS but when I went to see Jane's FLAME BOX CRAB she showed me this bright yellow WHIP she picked up as well.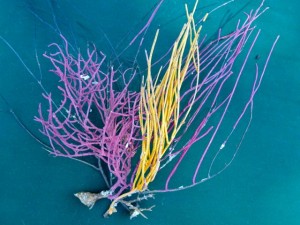 There were oodles of PURPLE SEA URCHINS also ( J1)…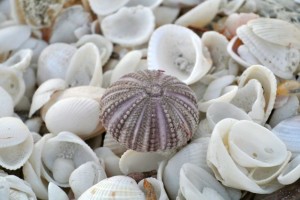 I always get questions about the bones on the beach. They are from the bait in the crab traps… not random dead carcasses. LOL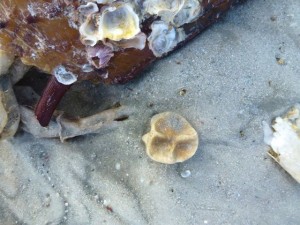 I also get a lot of questions about this guy on the left. It's a SEA CUCUMBER…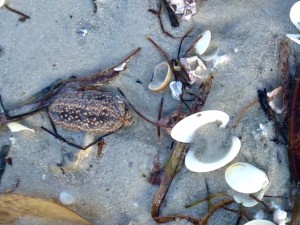 Don't worry, I saw lots of shells too. Mainly, the double DOSINIAS.
Cyber Sheller Alert! This next photo is really big so you can do a little shelling and blinging…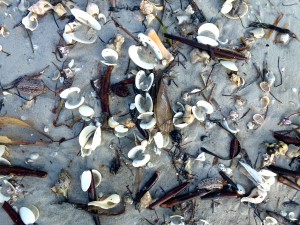 Looking through all this BEACH BLING, there are little treasures that look like this so you have to look closely…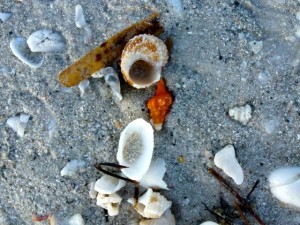 Some goodies were still washing in at the shoreline as well…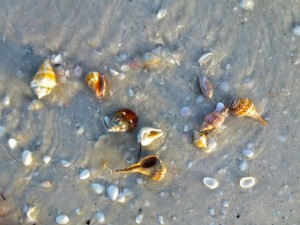 The big find was by Seth (FL)! He found this huge HORSE CONCH on the sand bar near Donax Rd. Here he is with Erin and Reese…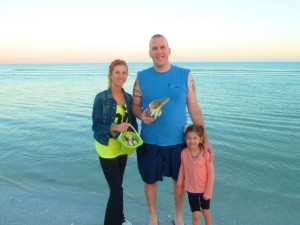 See? BEACH BLING is a wonderful thing… (J1)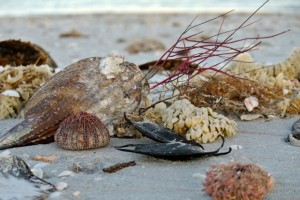 PS- Some of you know I've been testing a new Nikon J1 camera. It isn't very spontaneous but when I do catch a nicer shot than with my spontaneous, trusty, easy, clear Panasonic DMC…. I've noted it.
It's funny- I don't usually pick up COCKLE shells. I guess because they are common on the beaches of Sanibel and I haven't thought of a fabulous craft project for me to use them. My friend Sarah made that beautiful mirror I showed you on Septemeber 2, post Sarah's Seashell Chandelier but then again, she only used four. So I don't have a reason to pick them up….. until NOW! I can't give you my reasons why YET (geez- I'm not big on secrets but this will be worth it!). I will be announcing this really big event hopefully this week.
I made this video yesterday so this shows you that there are still shells (and sponges and urchins and SEA PORK and lots of fun stuff) on the beach left over from last weekend's wind and good tides.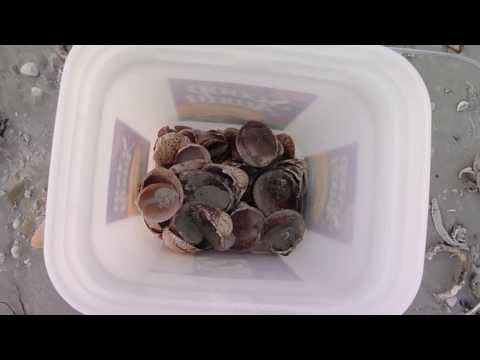 On the Cockle hunt, we met Jim from Ohio enjoying the sunset sky and learned he was a big sheller too. He quickly bonded with Clark after discovering each of them had found two JUNONIAS (in the past) …… and ribbed me for my big fat zero. That's OK fellas… "those who wait, find the biggest Junonias of all".

Here's a hint for the big event-    It's beginning to look a lot like……
This is what I love to see on the beach! Lots of SEA SPONGES, PARCHMENT WORM CASES, SEA PORK, and PEN SHELLS. Why? Because it means there will be great shelling in the next few days!
See that JINGLE SHELL on this PEN SHELL? This jingle has both sides and is attached to the Pen shell….. and this isn't even the most exciting part of this whole picture. I've never noticed a 2 sided jingle until MurexKen showed me. Yes! You read that correctly! Clark and I met MurexKen and MurexAlice (celebrating their 33rd wedding anniversary) on the beach and he showed this jingle to me.
For those of you who don't "know" MK, he is a seashell identification wizard and educates us on the scientific gastropod and bivalve names with his comments on my posts. That may have been the first time I've written "gastropod" and "bivalve" in the same sentence…. huh? He's rubbing off!
Clark had to break out the big shelling backhoe and found this TUBE WORM.
I thought this was a PARCHMENT WORM but I think it's a different MARINE WORM.
Clark also found this SEA CUCUMBER in his backhoe. This guy was still alive so we put him back after I snapped this photo. Lots of fun stuff off Middle Gulf Drive near Gulf Side City Park!
Julianna has been collecting shells all over the world so she and Allen were happy to finally be in Sanibel.
A great shelling Girls' Trip! These gals take a girls trip the same time their husbands get together and do a guys trip at another destination. How fun for all of them!
OK- I've got to get to bed so I can be up for the early morning low tide. I hope to have lots of goodies to show you…. or maybe just one… I'm not giving up on that JUNONIA!