Archive for Lighthouse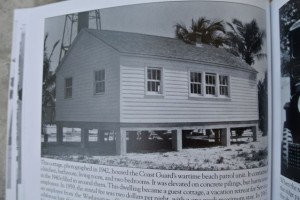 Move over Nancy Drew! There's a new girl on the beaches of Sanibel solving our own Beach Bling mysteries.
In a few posts a couple of weeks ago, I mentioned there are some chunks of concrete, bricks and debris I've never seen before that have been uncovered because of beach erosion by the Sanibel lighthouse. Remember?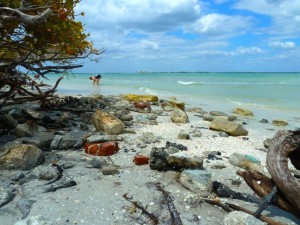 The first thing that caught my eye was this piece of concrete with a layer of aqua linoleum or tile adhered to it. Hmmm. Where did it come from? I wanted me a piece of that aqua Beach Bling!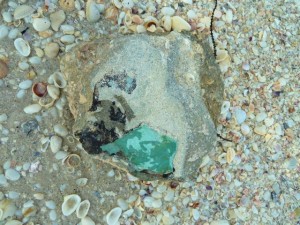 Then I saw pieces of red brick scattered around…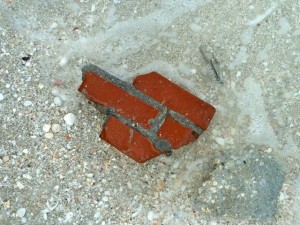 There were random bits and pieces of concrete every where…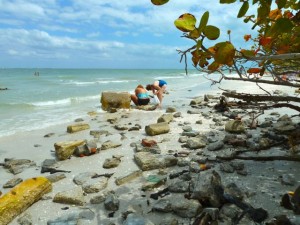 So I put on my Pamsy Drew hat and tracked down the very man that buried this rubble 40 years ago… Charles LeBuff.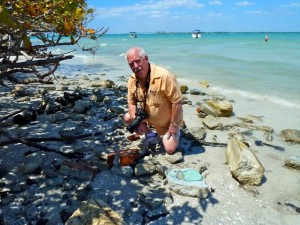 While working for US Fish and Wildlife Service, Charles LeBuff lived in the beach cottage called Lighthouse Quarters 2 (which is still there today) in 1958 through 1979 when the Sanibel Lighthouse facility was headquarters for National Wildlife Refuge.
Jackpot! He knows the history of each of those pieces of rubble and wrote two books telling the story!
As he stated in his book, Lighthouse Quarters 3 was built in 1942 to house the Coast Guard's wartime beach patrol. Then became a guest cottage rented to Service employees for vacation retreats.
Unfortunately, the cottage was torn down in 1969 because a Washington office employee complained about an odor of stinky bait which had been left in the unplugged refrigerator. At that time, the regional refuge supervisor thought that shutting the cottage down would be easier than maintaining it so they tore it down.  What?? Was he crazy?
Charles said when they tore down the cottage, they burned the wood and used heavy equipment to move all the other remains of the building (concrete, bricks, etc) closer to the water. Charles pointed out that the aqua color on the concrete was the tile floor of the cottage.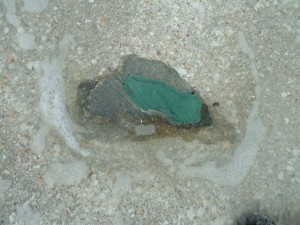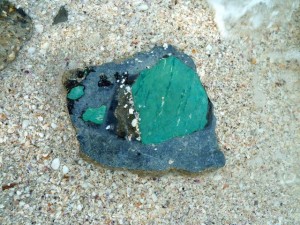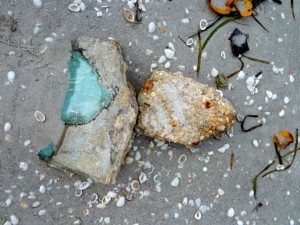 The bricks were from the chimney of the cottage…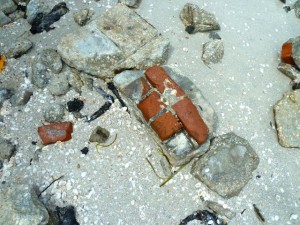 After demolishing and burying this cottage 40 years ago, he recognized each piece of this "Bling" and told me what it used to be.
Isn't it so interesting how much you learn from getting out on the beach just to go shelling? I did see lots of good shells getting stuck around those concrete chunks but my curiosity about that "Bling" got the best of me and I didn't pick up one shell.
Talking with Charles at "the scene of the crime" was fascinating. Of course I thought y'all would enjoy hearing him as well, so I made a short video so you could meet this memorable man.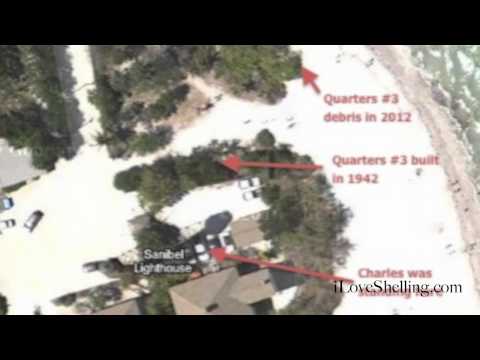 I was tickled to hear him tell the stories about the "old days of Sanibel Lighthouse" and I also enjoyed browsing through the pages of his two books… "Sanybel Light" published in 1998 and his latest one "J.N.Ding Darling National Wildlife Refuge" published in 2011. You can find the books here on Sanibel at MacIntosh Books where Charles works on Sundays or on his website Sanybel.com.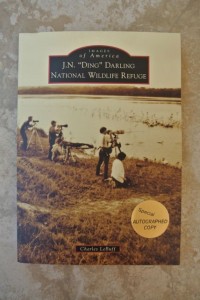 I'm so happy to tell you that the wonderful couple that now live in Lighthouse Quarters 2 love shelling too. Here are Judy and Dennis who have been in the cottage for 10 years and are now…. the "keepers of the Lighthouse"…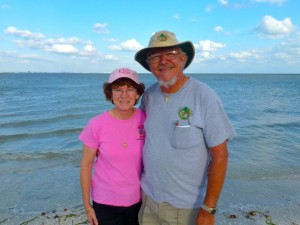 PS- Speaking of shelling at the lighthouse, Donnie found major treasure over the supermoon weekend.   A JUNONIA! That makes #2 for him almost in the same spot as finding his first one six months ago as I showed in Another First Junonia. Congrats again Donnie!