Archive for Blind Pass Sanibel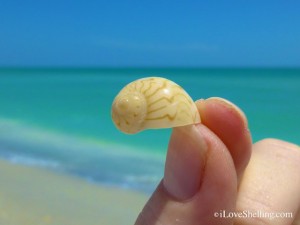 It's the small things in my beach life that I seem to get most excited about. When I found this tiny juvie GAUDY NATICA (Colorful Moon), I literally laughed out loud because it was just a perfect beautiful baby. And then I said to myself… "Self? Why don't we find more juvie GAUDY NATICAS on our beaches?". We find baby SHARKS EYE all the time so why wouldn't we see more baby GAUDIES. Things that make you go Hmmmmm.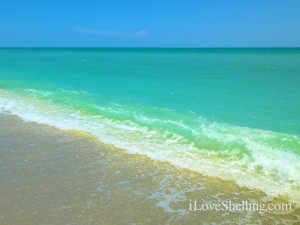 But my attention quickly changed when I saw Noah (Fort Myers) filling up his bucket on a nice shell pile right at the entrance to Bowman's Beach yesterday. He walked right over to me to hand me one of his shells after seeing me collect a few too. I told him the shell he gave me was called a JINGLE shell so he repeated it once… then quickly found another and another to share them all with me. Each time he said "JINGLE!" How sweet! Thank you Noah, you are an excellent sheller.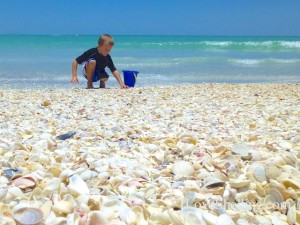 We only found a few of those nice shell piles on the beach but the water's edge was holding a few more goodies. Clark emptied out his pockets and put them in his shelling backhoe to show me what he found from his walk from Blind Pass to Bowman's Beach.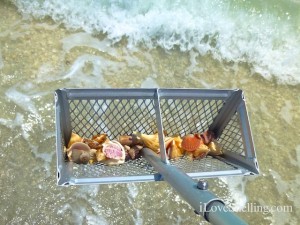 We started out at Blind Pass Sanibel and in just a few minutes I pulled these lovelies out of the the surf line…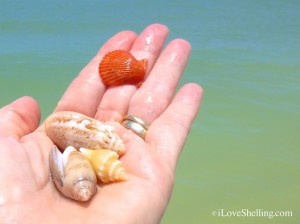 Susan (Sanibel) showed me her favorite find of the day… A ROSEATE SPOONBILL FEATHER! How lucky! I rarely see them on the beach so I would call that ultimate BEACH BLING…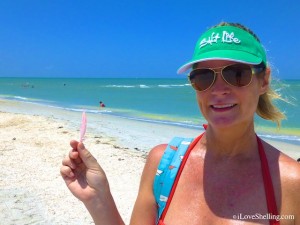 Speaking of ultimate BEACH BLING, some creative soul made this cool BLING art sculpture. Yes, it's cool, but I don't want to encourage anybody to make tall sculptures or sand pits in the summer (May through September) because they can be disastrous for SEA TURTLES. They can get trapped or disoriented by moving around them or they can get stuck. So please be aware of nesting SEA TURTLES.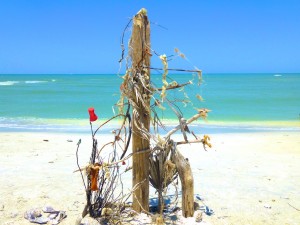 But if you can't keep that inner artist trapped inside you while you're on the beach, just make a flat design like this beautiful SEASHELL MERMAID made by artist Christy and her creative daughters Baylee and September.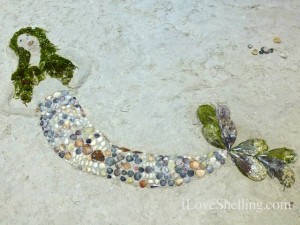 It was a beautiful weekend finding beautiful treasures…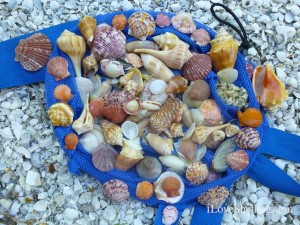 Come on! Come shelling with us on Wednesday June 19th!!!!
We are taking a shelling cruise to Cayo Costa June 19, 2013 at low tide at 1pm so I'd love for you to join us! Call 239-472-5300 and tell them you want to be on the iLoveShelling cruise or CLICK HERE for more information. It's so much fun!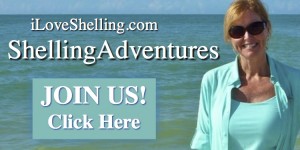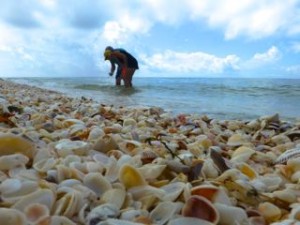 Seashells are back at Blind Pass Sanibel! The beaches of Sanibel and Captiva have been playing the shell game for over a month now. Remember that game? You had 3 shells (although they were walnut shells I believe- ha) in a row then you put a ball under one of the shells, shuffled the shells around then you had to guess which shell the ball was underneath. It was always a guessing game! That's exactly what we've had to do to find the seashells on our beaches lately. Earlier this week we had a nice shell pile at Blind Pass Captiva but now look…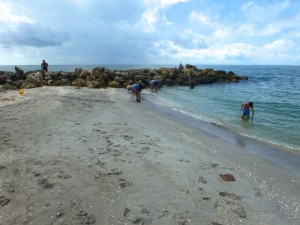 There were no shells on the Sanibel side last week but now look…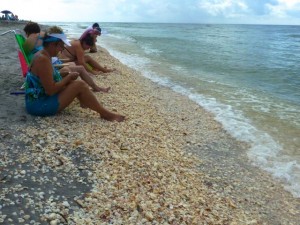 I found Carolyn and Jeanne from Oklahoma having a great time just waiting for shells to roll right up to their feet.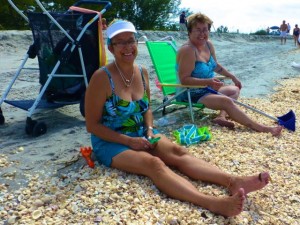 Carolyn was starting to fill her o-so-cute shell bag she made herself…. that matched her suit! Along with the other shells, notice that piece of JUNONIA and a piece of LIONS PAW…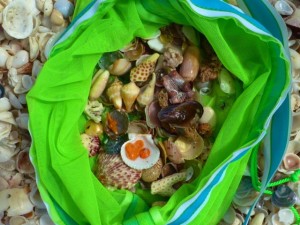 She made such a cute bag for Jeanne too. Adorable, right?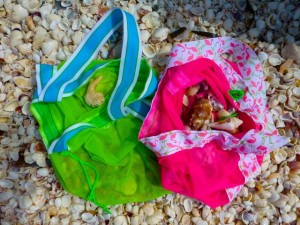 Jen from Colorado hit the jackpot! She found this awesome empty LIGHTNING WHELK rolling up in the water!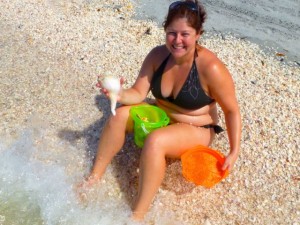 It is such a pretty light color completely in tact.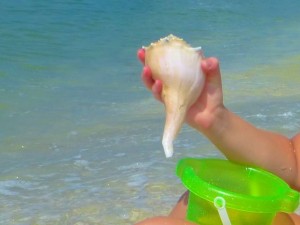 I walked under the Blind Pass bridge to find Paul (Indiana) sifting on the edge of the water. He had a little shell pot of gold all to himself.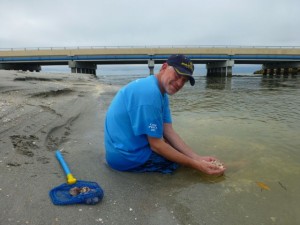 He said he was already on his third load of finding all sorts of treasures in this one little hole.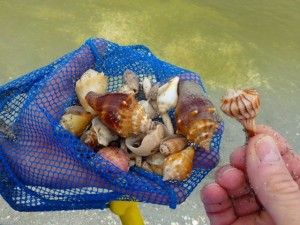 That's how you win the shell game.  There are 15 miles of Sanibel and Captiva beaches to hunt for treasures so just keep on moving to uncover clues until you find your very own seashell honey hole.