Archive for Poems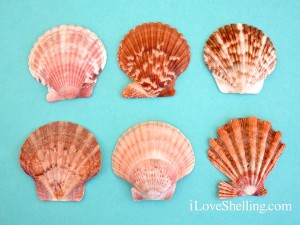 Can you tell the difference between a CALICO SCALLOP, ROUGH SCALLOP, BAY SCALLOP (top row), ZIGZAG SCALLOP (the FLAT valve and deep valve) and a LION'S PAW (bottom row)? I searched through our collection to find similar sizes and color examples of each species so that you can see the differences in shapes with the exterior (above) and the interior (below). But Ack! I didn't mean to but I switched the ZIGZAG valves in the next photo so that now the FLAT side is in the middle and the inflated side is on the second row left. Sorry- silly me!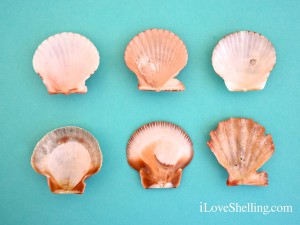 It's so hard to show every angle but here is a way to see how different they are and how deep the valves are. On the top row right in the next photo, you can see how much flatter the BAY SCALLOP is from the CALICO (left) and the ROUGH SCALLOP (middle) and also how deep the ribs are in the LIONS PAW. I've written about both valves of the ZIGZAG SCALLOP before  (CLICK HERE) but not about how the valve looks beside the other SCALLOPS. Denise Kisko (my buddy in the New York Times article!) asked me how to identify the second side of the FLAT ZIGZAG. In the next photo look at the shell in first row on the left, see the big shadow under the "nose" of that SCALLOP? It doesn't sit flat on the table because it is so inflated and the sides spread out so much. That's the second half of the ZIGZAG bivalve shell that fits with the FLAT side (middle shell).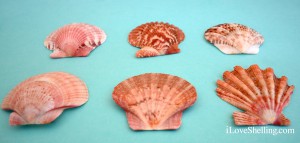 This is how it looks when both valves are together when it is alive…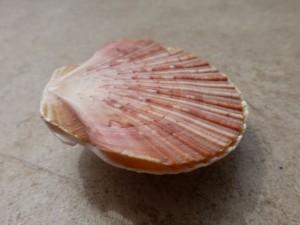 Here is a photo of a common CALICO SCALLOP, the deep side of the ZIGZAG SCALLOP (the other side of a FLAT) and a common ROUGH SCALLOP. Can you see that the middle shell is more "fanned" and the hinge area seems a bit smaller too.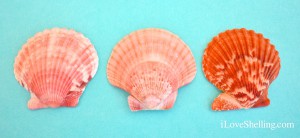 Now you can really tell the difference by looking at the interior…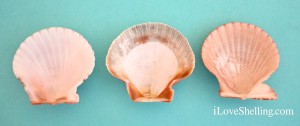 When I was looking at all of our SCALLOPS, I noticed how similar the CALICO SCALLOPS and BAY SCALLOPS look alike too. There are a few different ways to tell them apart but for me, this is the best angle to look at them. Now they look different, right?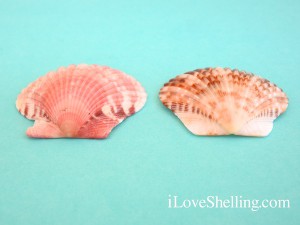 So I hope this will help you just a little bit more to tell the different SCALLOPS of Southwest Florida apart. Top left to right…. CALICO SCALLOP, ROUGH SCALLOP, BAY SCALLOP. Bottom left to right… FLAT side of ZIGZAG SCALLOP (which I normally just call a "FLAT", ZIGZAG SCALLOP (the deep right valve), LION'S PAW.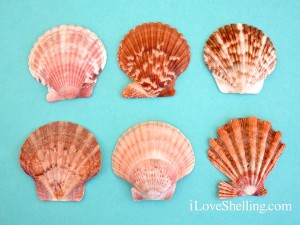 When Denise asked me how to identify the "other side of the FLAT", her friend Penny Lang Yelverton posted a poem on the iLoveShelling Facebook page that she and Denise wrote while together on Sanibel. She said…
"Great month on Sanibel with my friend Denise Sheldon Kisko (NYT). We wrote new lyrics to the song My Favorite Things while waiting for a storm to pass at Gulf Side.
Sand dollars, starfish and conchs of all kinds.
Kitten paws, scallops are some common finds.
Sunglasses, sunscreen and lip balm galore,
Keep you from burning so you can shell more.
Lions paws, tulips, junonia's so fine.
Worm shells and murex are also good finds.
Blind Pass and Bowmans and Gulf Side seashore,
These are the beaches we shellers adore!
When the rain comes,
When the waves crash,
We don't even mind.
We'll keep on shelling for our favorite finds.
We must be out of……
Our minds.
Happy shelling!"
I love this! Thank you Penny and Denise! You inspired me and made it fun to start sorting my SCALLOPS.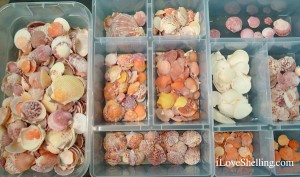 This is the sweetest nativity scene made with URCHINS, PEN SHELLS, CLAMS and topped with a STARFISH.
I also want to share a really cute Christmas carol written by local sheller Jody Brown. Our neighborhood sang carols together the other night and I learned her new song. Now we can too! Ahem…. Okay, all together now…
Jingle Shells, Jingle Shells ……
Now that you are warmed up, I'll show you what I found at Blind Pass this morning…. Shelling sisters!
Meet sisters Kelci, Katie and Kara shelling for COCKLES and CONCHS. 😉 Speaking of CONCHS, I found some candy for Christmas Eve. Merry Christmas!
Talk about sweet?  This poem is sweet! Tammy is sweet for sending it…. and the unbroken LION'S PAW is pretty sweet too. I couldn't wait another second to send it to you because you will understand every moment she feels. This is what Tammy M from Michigan sent me…..
"A little poem I whipped up after one of my fun trips shelling to Sanibel with my girl friend, during the time they were digging out Blind Pass. She moved away and we met there for a visit!"
My Sweet Sanibel
The Palm trees sway with the warm summer breeze,
The broken shells are nothing but a tease,
The salt water splashes up on me,
I get to relax in the hammock under the tree,
I get to look for the treasure of the day,
My skin tan from the intense sun's ray,
I am "humming" to myself and smiling inside,
I'm up at dawn to be there at low tide,
The day ends with being so tired, I might have to crawl,
Because I have a bag full of shells and unbroken Lion's Paw!
The tubes throwing shells to my feet,
What a delight; this is so neat,
I have a flashlight and my net, bring it on soon,
I'm ready for the storm and the full moon,
Do the shuffle to say hi to the sting ray waiting in the mud,
The sand bar is showing, oops just another dud,
Please give me a shell that isn't alive so I frown,
I'd like a Bonnet but I'll settle for a Crown,
What more can I ask for than this thing,
A great girlfriend, warm weather and a perfect Angle Wing.