Archive for Cloudy Periwinkle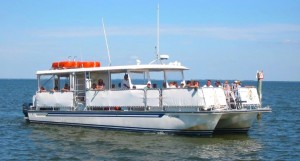 When you are about to get on a boat to go to a secluded island for a morning of shelling with a bunch of people who all LOVE SHELLING as much Shelling Sistahs Marilyn and Diane from Chicago…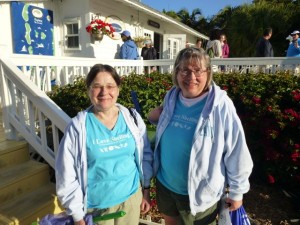 And avid shellers Jessica (cute aqua backpack!) and Ben from Texas… It's gonna be a good day!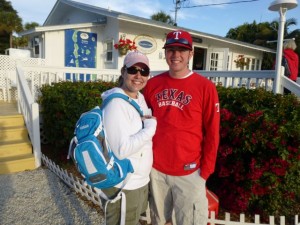 As soon as I saw Rhonda (next photo) I had to tell her how cute her necklace was. She told me she made it…. then gave it to me off her neck! OMG What? Thank you! But really, this is how sweet she is….She would have given it to the first person who had liked it that much…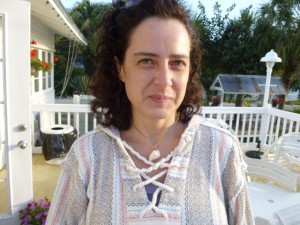 You know how I know this? Because as we all were waiting to get on the boat, Rachael had commented on her necklace too and she gave Rachael this bracelet she made. She has a heart of gold!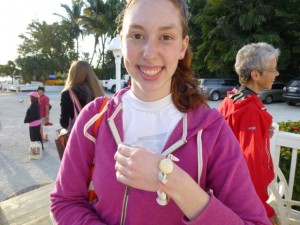 Needless to say, our iLoveShelling cruise to Cayo Costa on Saturday was a success. It was a perfect day. Awesome people, clear skies, calm water, gorgeous weather, aqua water…. and shells!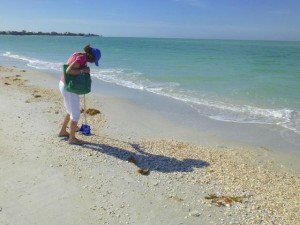 As soon as we got off the boat on Cayo Costa, lots of people scattered to their favorite areas to look for shells. Some went straight to the water and some went straight to the shell piles on the beach.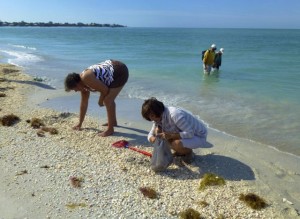 Bill C. saw my photo above of the shellers above and said it reminded him of the painting "The Gleaners". LOL It does! I just got a kick out of it so I had to share it with you too. I borrowed this image of Millet's 1857 oil painting from Wikipedia to show the similarity…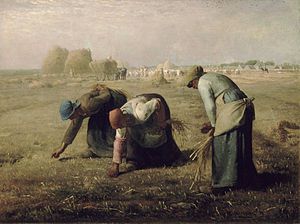 Within the first 5 minutes on the beach, Michele found an awesome WORM SHELL with the tip intact.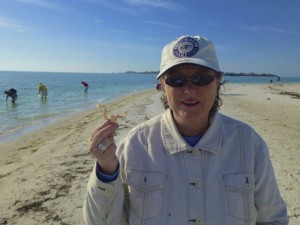 I loooove to show people how to spot the BABY'S EARS and the mini shells while Clark shows the rest of the group he finds the OLIVES, CONCHS and the bigger shells. Here I am pointing out the treasures that hide in the beautiful fallen tree roots…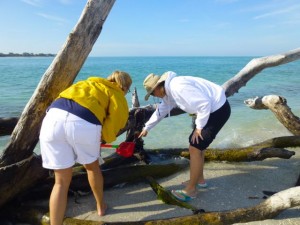 There were hundreds of live CLOUDY PERIWINKLES!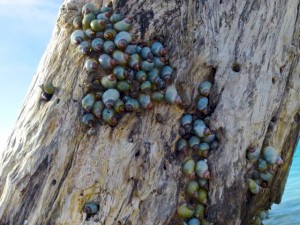 Sally from Sarasota was going for the minis…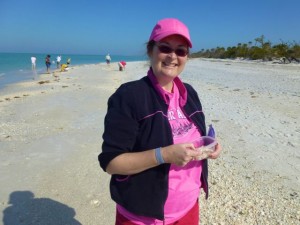 She was ready with her tupperware container. She has a nice WORMIE and ANGEL WING too.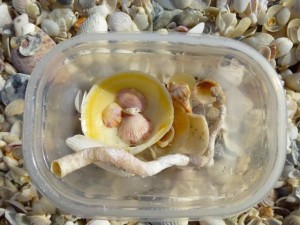 She also found beautiful CANCELATE SEMELES. This is the only beach I ever see them…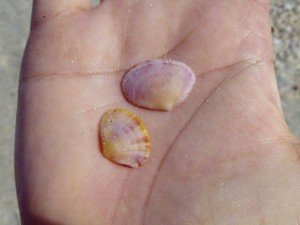 Okay one more thing… she found the biggest stinkin TUSK SHELL I've  ever seen…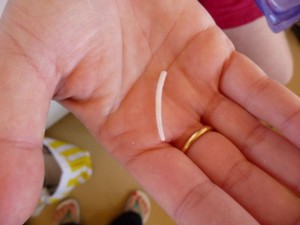 Look at all of these white shell bags filled with the bigger shells like OLIVES, SUNRAY VENUSES, WHELKS, CONCHS, WORM ROCK and CORAL!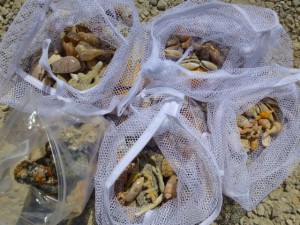 These were all found by this adorable family that just moved to Sanibel… Berkely, Matt, Loulie and Landon.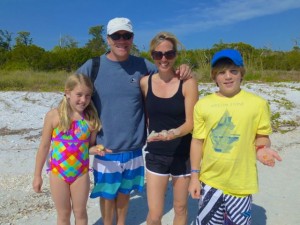 These were their faves out of their shell bags…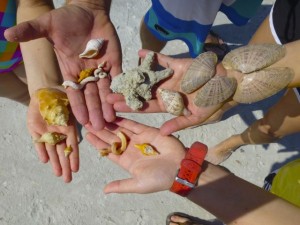 I was thrilled at how many people wanted to share their favorite treasure with the group. So many of my faves too! BABY'S EARS,  WORMIES, SAND DOLLARS, OLIVES, VENUS SUNRAYS and ANGEL WINGS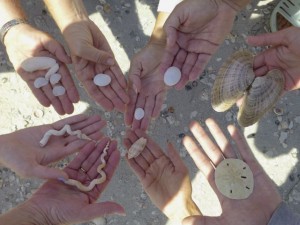 Okay, I have to confess. I get overwhelmed when I meet so many awesome people that love this stuff as much as I do. I just want to drink it all in …so I forget to get names and I forget to take pictures of everything. I want to enjoy the moment so I want to apologize to these amazing folks that let me photograph your hands (in the photo above) but I didnt get all of your names. I know Rachael and Johnnie but if any of yall want to comment… I'd love to add your names. Awwww. I feel so badly … but look how cute they are!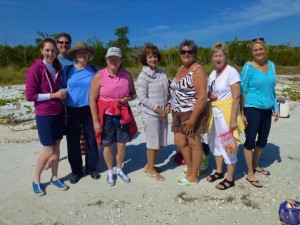 I almost just started calling everybody "Sue" and "Jim" (yall know who you are- heehee). Let me assure you, nobody was worried was I was calling them.  I do know that we all had a fabulous morning exploring the beautiful island of Cayo Costa finding treasures and making new shelling friends.  It is soooo much fun. Thanks to Captiva Cruises' Captain Brian for the safe, smooth ride and Captain Yogi for the funny stories!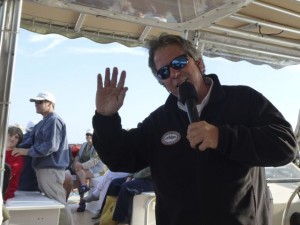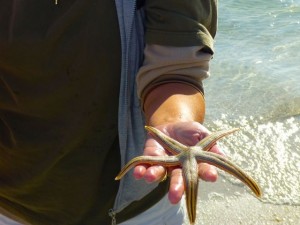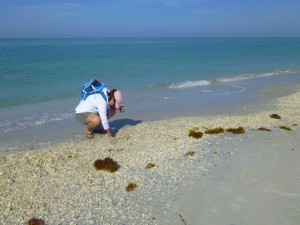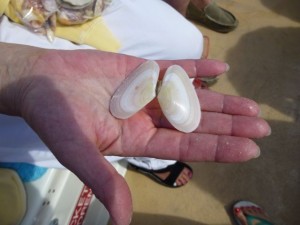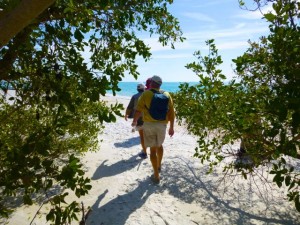 If you want to join me, Clark (Oops! see? I didn't even get a picture of Clark working his shelling backhoe!), and a boatload of other shellers just like you… join us!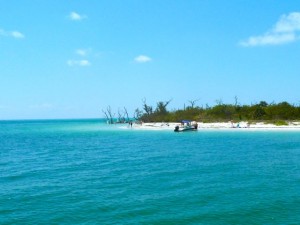 Another Spring Break adventure! On Wednesday, Lori, Hayley, Culter and I went to the secluded island of Cayo Costa to relax and enjoy another gorgeous day on the islands.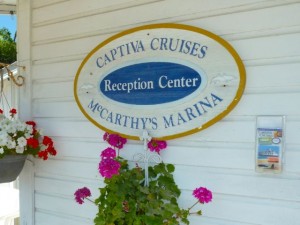 I had problems getting out our own boat  (Clark was busy at work so he couldn't help) so we decided to take the easy route and hop on the Captiva Cruises shelling boat Play Time for the afternoon trip.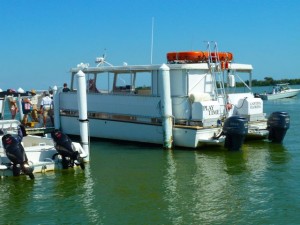 Low and behold, guess who our captain was… my buddy Captain Brian Holaway! It was a nice surprise!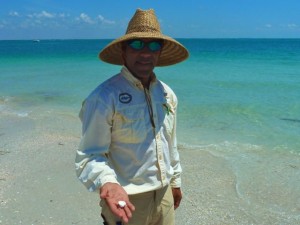 After securing the boat on the south tip of Cayo Costa, Capt Brian walked over to our shelling spot to join us for a few minutes and immediately picked up an ALBINO YELLOW PRICKLY COCKLE. Wow, can he spot those albinos! Remember he won a red ribbon for his ALBINO WHELK at the Sanibel Shell Show this year? Amazing!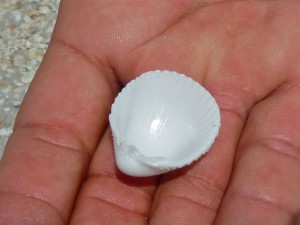 I didn't find an albino but I quickly found a handful of my own fave honeys.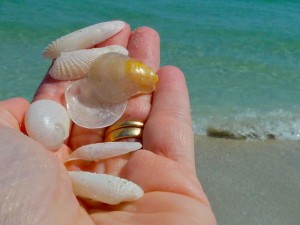 BABY'S EARS and FALSE ANGEL WINGS (they look like cute little juvie ANGEL WINGS)…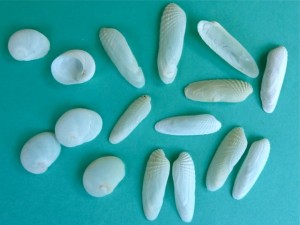 Lots of beauteous JINGLES…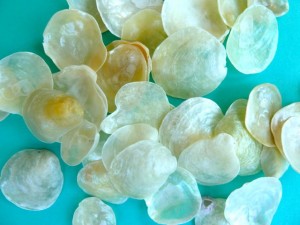 A couple of CLOUDY PERIWINKLES…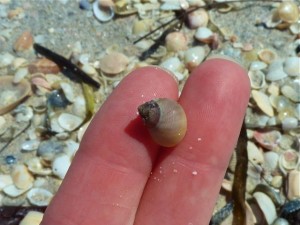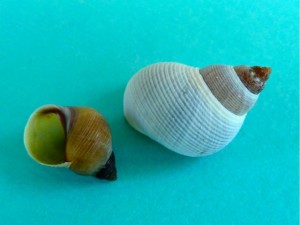 I also found a PURPLISH SEMELE (left) and a CANCELLATE SEMELE (right). I'm not sure why I don't find more of these on Sanibel but I have better luck finding them on Cayo Costa, North Captiva and in Marco. hmmmm
I had thought at one time that this BRYOZOAN COLONY was a type of CORAL but as you can see side by side… it's not a piece of CORAL like the branch on the right. I found both of these past the tree roots on the Gulf side of the beach. (click HERE for more info on Bryozoan Colony)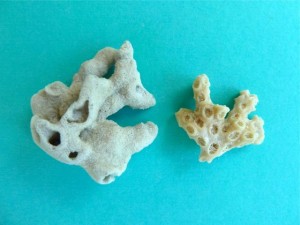 Okay, this one might not be your taste but I thought this SOUTHERN RIBBED MUSSEL was just so pretty for some reason. One day, when I get a fancy camera to show you the nice details up close and personal, I promise…I'll be able to capture more of the beauty in some of these obscure seashells.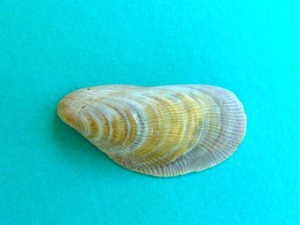 After combing, sunning and shelling this gorgeous beach, Hayley, Cutler and Lori (VA) headed back to the boat with me after one more climb on the BLACK MANGROVE tree roots.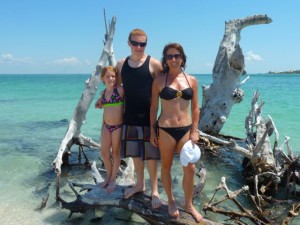 On the boat ride back, I couldn't help but see how excited Margie, Kristi and Mike (California) were about their seashell loot!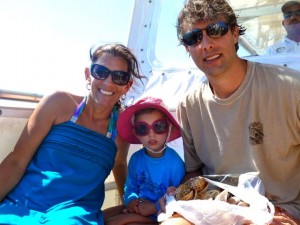 They found oodles of ATLANTIC GIANT COCKLES…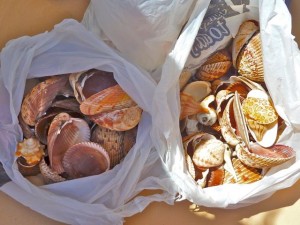 Quite a few humongus SUNRAY VENUS CLAMS…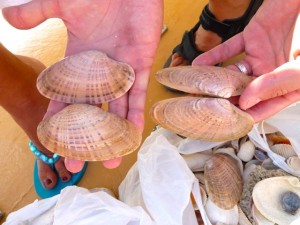 And a really big LEOPARD CRAB shell.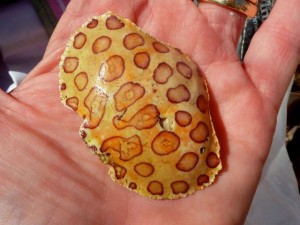 It was a perfect day on the water with calm aqua seas, warm temps in the 80s and DOLPHINS surrounding the boat.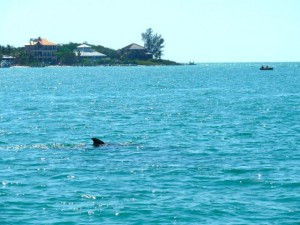 And to top if off, it was great being with good friends and having lots of seashell souvenirs to bring home to remember the day.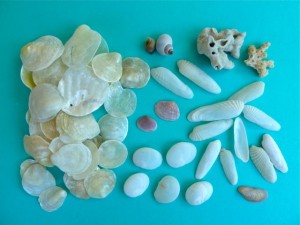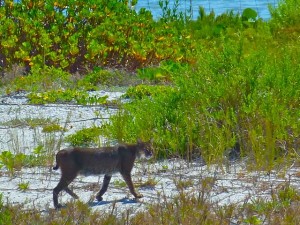 I was stunned as I watched a young, wild bobcat casually stroll along a stretch of beach on North Captiva Island. The scene was so surreal, I couldn't take my eyes off this beautiful beast. My heart skipped a few beats so I fumbled with my camera. Click, click. Yes! I felt so fortunate to  have captured her in two photos.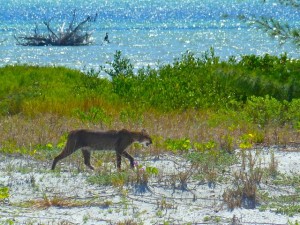 My good friend Diane and I took her boat out for an island hopping adventure with her trusty dog Callie this weekend. Within 10 minutes of anchoring off North Captiva, Diane saw this gorgeous cat and held well behaved Callie tightly on her leash. We have never had any bobcats attacks so we weren't afraid she would turn on us but then again, a bobcat is a wild animal. We didn't want to disturb her in any way to make her feel threatened or nervous so we stayed out of her way so she could go on her merry way to find a nice rat appetizer before her raccoon tartar lunch.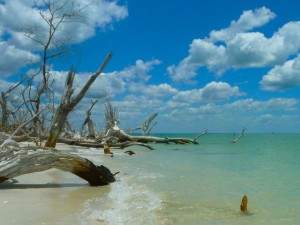 Still in awe over our sighting, we hopped on over to Cayo Costa to see what the south tip had in store for us. Live CLOUDY PERIWINKLES!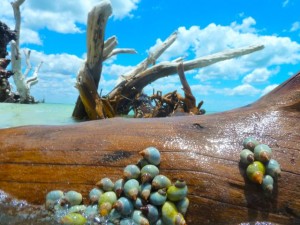 I mean llllllots of PERIWINKLES.
Here's cutie Diane (check out our Cayo Costa Camping adventure last year) and her sweet dog Callie….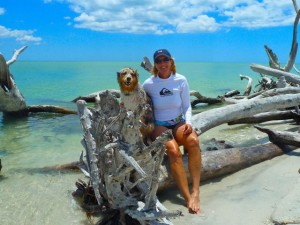 Look who we ran in to… or should I say "phooned" in to. Captain Brian! So we (including Callie) had to phoon with Di's boat.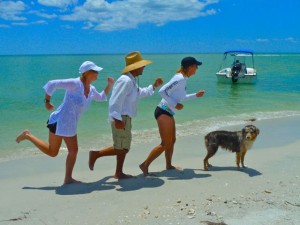 We may not have found a boat load of shells but we sure had a "wild", adventurous girls day on the calm gulf waters. Thanks Di!!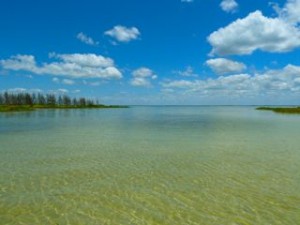 PS- You can only get to North Captiva and Cayo Costa by boat. I thought I'd add a map to show you where these islands are in relation to Sanibel. North Cap is marked by the purple circle in the top left corner and Cayo Costa is one island north of North Cap.