Archive for Saw-Tooth Pen Shell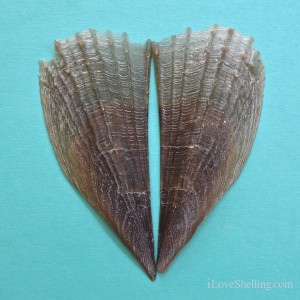 No, you silly goose, this shell doesn't have a bikini on… it's really called a HALF-NAKED PEN SHELL! I found this rare PEN SHELL (Atrina seminuda) at Gulfside City Park on Sanibel Island, Florida a few weeks ago just after high west winds so there were thousands of shells that washed up on the beach. Talk about being silly… remember my crazy post "On The Beach With Shell Eggs And Ham, Pam-I-Am"? Well that's when I found this very rare PEN SHELL. When I say "very rare" I mean it's very rare for Southwest Florida.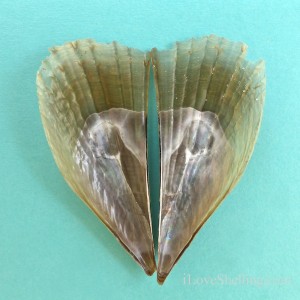 Okay wait….before you get bored with hearing about the not-so-attractive PEN SHELL, this is actually pretty dang cool, so go get some caffeine and stay with me, alright? And really, haven't you seen tons of these shells if you've visited the west coast of Florida?
Last year when Shelling Sistah Susan H was here, she asked me if I had ever run into a third type of PEN SHELL  (the HALF NAKED) and told me to look at a picture of it online CLICK HERE. I studied the differences between this one and the STIFF PEN SHELL and the SAW TOOTH PEN SHELL. Okay, I've got it in my brain… if it's here, I'm gonna find it. I searched for an entire year to find this stinkin thing! But I found it! I think I was just as excited when I found my JUNONIA… not.
I don't think you will ever be collecting oodles of PEN SHELLS, (I'm not sure I know anybody who actually "collects" them) but it was sure exciting to me to finally find the darn thing. The only way to really tell it apart from the other PENS is to look at the inside muscle scar of the MOLLUSK… in other words- where the meat attached to the shell.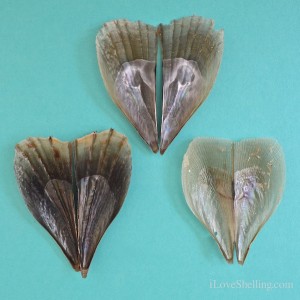 There is a slight variance on the outside of each of these shells. From left to right… STIFF PEN SHELL, HALF-NAKED PEN SHELL and SAW TOOTH PEN SHELL. I'm not really sure if you'll be able to see the difference from this photo, but look very closely at the right side of each of the shells. That's the hinge.. and it is very straight on the first and third shell but slightly curved on the middle one. So now that you know that the HALF-NAKED has a curved hinge, go back to the last photo with all 3 shells and see the big gap in-between the valves of the middle shell. That's why I even picked up the shell in the first place, I saw that slight curved hinge and immediately thought to myself… OMG maybe that's it!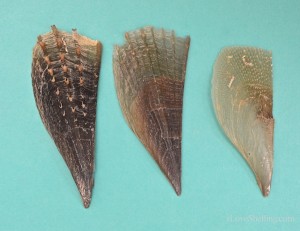 Maybe this is a better view of the curve in the hinge… on the left is the HALF-NAKED and on the right is the STIFF PEN SHELL. Can you see it now?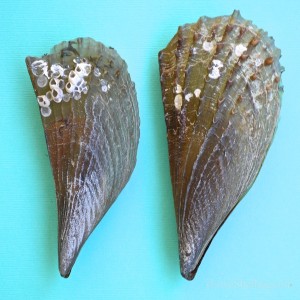 This is the real giveaway on the difference between these shells. The middle one is the HALF-NAKED (isn't that just the funniest name? I get so tickled every time I say it!). Can you see more lines and shapes on the HALF NAKED right in the middle of the shell?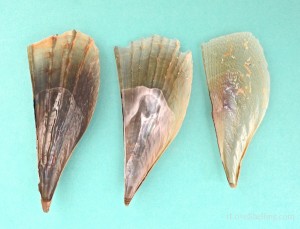 The next photo is a close-up of that shell and it almost looks like a face, right? Do you see the "eyes"? Okay, that is the muscle scar. Right above the "eyes" is a wide milky space before it changes complete color (like a hair line). The whole milky or pearly area is called the nacreous. The HALF-NAKED is the only one of our PENS that the muscle scar leaves such a prominent space below the nacreous border.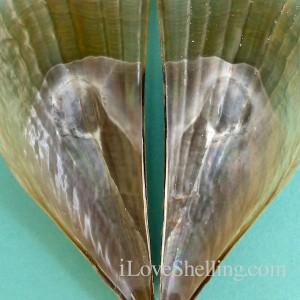 This next one is the STIFF PEN SHELL… the most common PEN SHELL on our beaches and it looks almost identical to the HALF- NAKED. I'm sure you've all seen this one if you've walked on the beaches in Sanibel or Captiva and you've probably cussed at it after you stepped on it, right? Ouch!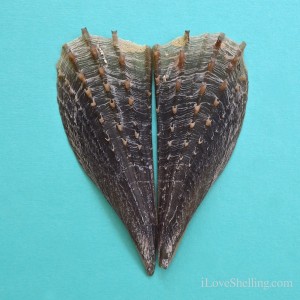 Here's the interior of the STIFF PEN. It's hard to see the muscle scar on this one but there is definitely no obvious space between the top of the muscle scar and the border of the pearly part.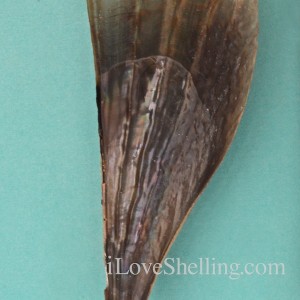 This next one is the SAWTOOTH PEN SHELL. This one is easy to tell the difference from the others since it is much lighter in color and it has much smaller spines that don't stick out (to cut your foot). I didn't do a close up of the interior nacreous area because it didn't really show up well… and …. wait! wake up! I'm just getting to the good part so gulp more caffeine, would ya? LOL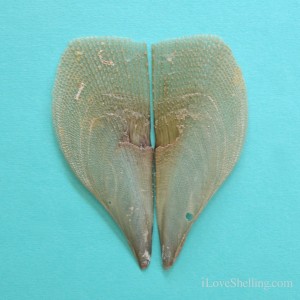 This is how I found my first HALF-NAKED PEN laying on the beach at Gulfside City Park.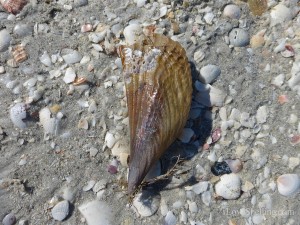 I took the shell to Dr. Jose Leal at the Bailey-Matthews Shell Museum to get a positive ID from him. He positively identified it for me as the Atrina seminuda (HALF NAKED) and then told me that they did not have one of these shells at the museum. Since it was my first one I've ever found, I told him he could borrow it to photograph it.  I know, I know, it sounds stingy that I didn't donate it to him but geeeeez, remember…. Ive been looking for this guy for a year!
The first one I took to him to get a positive ID wasn't so pretty and it cracked a little when I opened it up to look at the muscle scar…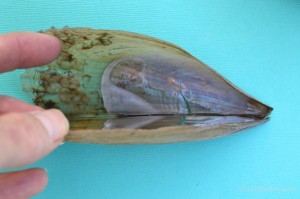 So I went hunting again and low and behold… I found two more after looking at thousands of them all along Sanibel. Gulfside City Park was the winner again. I found a perfect one with no cracks that I've shown in my photos here and I donated this one to The Bailey-Matthews Shell Museum…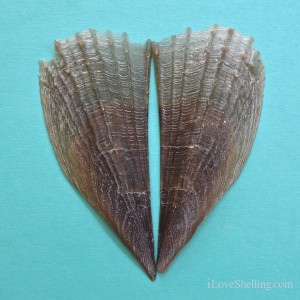 They will soon have it on their website as a Southwest Florida shell and have my shell in the photo. And yes, it's still the only one they have so far- Dr Leal looked in the archives and couldn't find another one. I'm so proud of that little PEN SHELL! Hahaha- Really, Who would have thought I'd ever be so happy about a PEN SHELL. heehee. And I would never have known to look for it if it hadn't been for sweet Susan H! Thank you Susan H for asking me about it and giving me something to hunt for. I always love to find new things on the beach!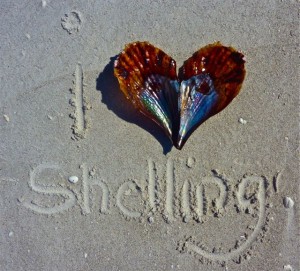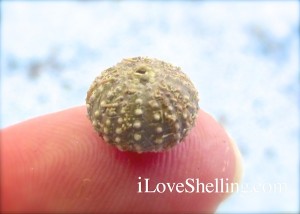 SEA URCHINS! I haven't seen SEA URCHINS washed up on our shores in quite a while… much less cutie itty bitty ones like this.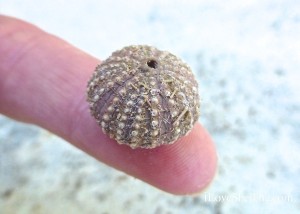 I found dried tiny ones with spines as well…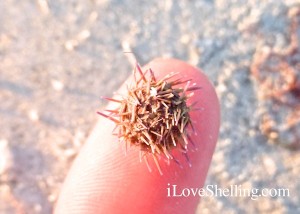 Normally if SEA URCHINS still have their spines in tact I would assume they were still alive and put them back in the water. But I found these in the highest wrack line at Lighthouse Beach. They had been cast on shore by those rough waves from the high winds last week with the high tide and got caught in the "sea weeds" then left for days to dry out. They look like the gumballs that the Sweetgum trees drop in the winter up north, dont they? LOL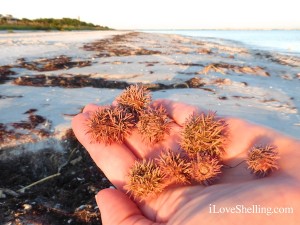 I normally don't get so excited to collect PEN SHELLS (since we see them so often on our beaches) but I rarely see perfectly intact baby STIFF PEN SHELLS (on the left of my hand) and SAW TOOTH PENS SHELLS especially with no BARNACLES or SLIPPER SHELLS attached to them. They are so cute!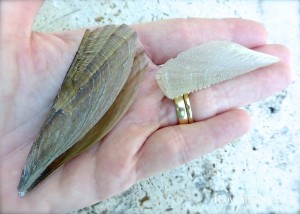 See how thick this wrack line was? Some people in other parts of the world might think this was an ugly site on a beach… but not me and most beach combers. This is a haven for shells and BEACH BLING for beach combers and for wildlife as well. Thick wrack lines like this packed with all sort of vegetation and other sealife are so important for our beach ecosystem. They provide food for birds and other wildlife as well as providing a layer to trap sand  for less erosion. They become incubators for dunes!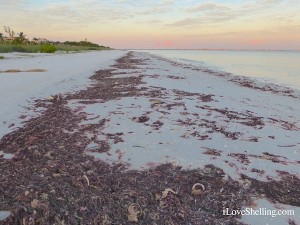 But… Just to make sure this seaweed was a natural occurrence without being harmful, I asked my friend and director of the Sanibel Captiva Conservation Foundation (SCCF) Dr. Eric Milbrandt if he knew what types of matter had washed ashore. Of course he did! He said "There were 8 species from collections at Moonshadows beach and the Lighthouse beach. Many of the specimens had intact holdfasts and given the recent > 1 m wave heights, were likely attached and cast on shore. Many of these species are found at nearshore hardbottom areas (the same areas that produce many of the mollusc shells) whose abundance peaks in Nov."  He also reported that most of these species of seaweed (macroalgae) were common on all coasts. Thank you Dr. Milbrandt!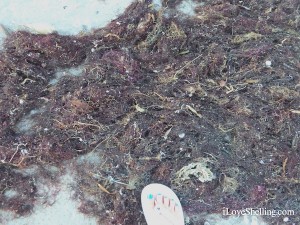 Along with the PEN SHELLS and SEA URCHINS tucked away in all that seaweed, Clark and I found hundreds of double DOSINIAS…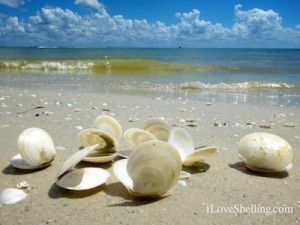 And a very cool completely intact dried (and non-stinky!) SPIDER CRAB…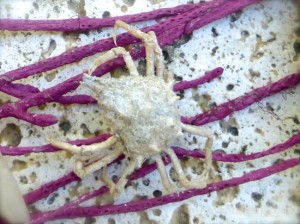 Clark found a double SAILORS EAR (CHANNELED DUCK CLAM) without any cracks. It's funny, we rarely find them on the beach with both sides intact because they are just so dang delicate…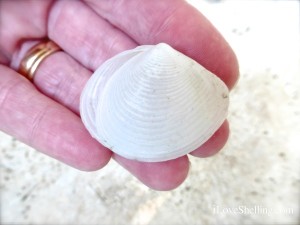 I haven't gotten a good dose of combing through cool BEACH BLING in a while so I was in haaaawg heaven. There were oodles of little micro shells, SEA WHIPS and other goodies so I could (and did) walk for miles and miles getting lost in discovering the fascinating gifts that Mother Nature leaves us on our beaches.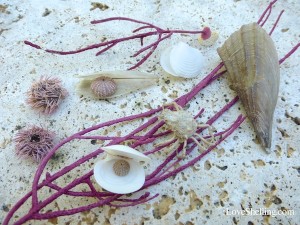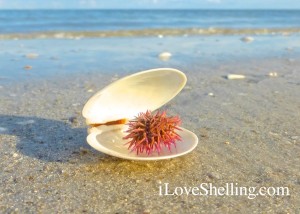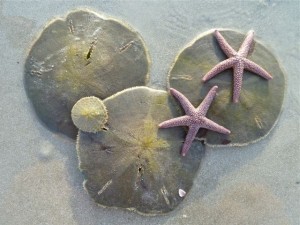 The weather conditions and last night's full moon caused an extreme high tide that washed up lots of live creatures on the beach. Unfortunately for them, an extreme low tide left them with no where to hide.  Fortunately for Cory from Cape Coral (and me), he got to see a tiny live SAND DOLLAR with a few mature beauties as well as several live STARFISH at the Sanibel Lighthouse Beach then he put them back in the water.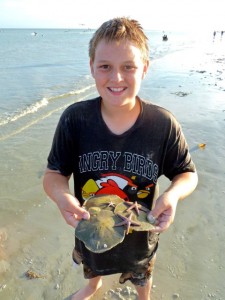 I saw several live TRUE TULIPS hiding inside a STIFF PEN SHELL.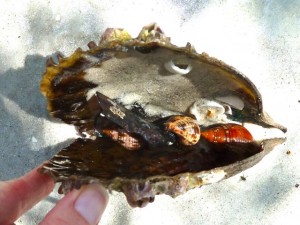 I did spot one empty bright orange TRUE TULIP hiding under one of those PEN SHELLS. A keeper! Yippee!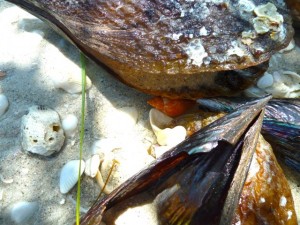 Along with a WORMIE and CHESTNUT TURBAN…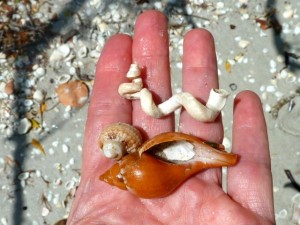 Caroline and Jennifer (Atlanta) are long time "wentlers" so they knew just where to look to find dozens of WENTLETRAPS.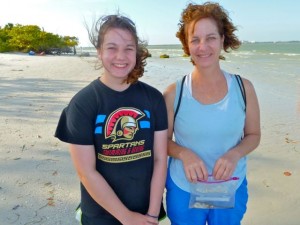 Jennifer found all of these WENTLETRAPS within an hour and a half…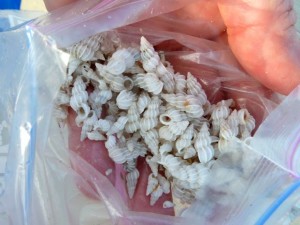 Her daughter Caroline has the WENTLE-eye too …and the KING'S CROWN-eye and the BABY'S EAR-eye!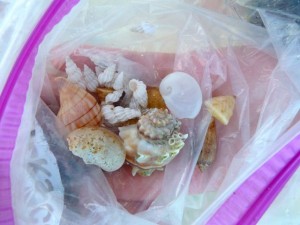 Guess who I met! …. Sanibelle! If you read a lot of my post comments, you might have read one of Sanibelle's comments. She rocks! …well she "shells" …but you know what I mean. 😉 It was a pleasure to me you, Sanibelle! This is miss cutie Sanibelle…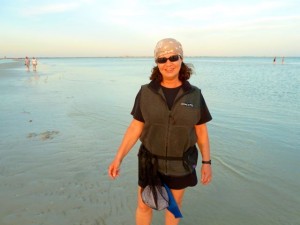 Since there were so many live creatures to ooooh and ahhhh at, it was hard to find many big empty shells besides PEN SHELLS. I talk about PEN SHELLS so often but I rarely ever show them so I found good example of both types that we find here. The one on the left is a STIFF PEN SHELL and the one on the right is a SAW-TOOTH PEN SHELL.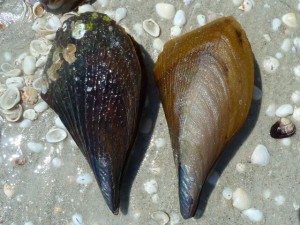 The most unusual shell I saw yesterday was a MANGROVE PERIWINKLE that Clark found yesterday on the gulf side of Lighthouse Beach. We just don't find many of them at that beach.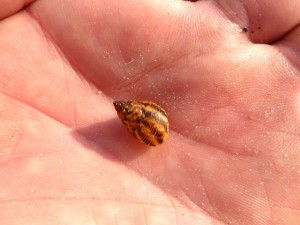 He also found this little army man. I think he'll make good company for my LEGO guy I found in February.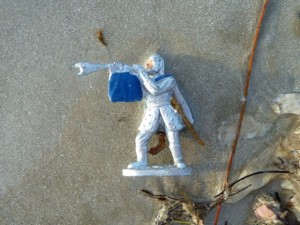 Since there are so many live shells on the beaches right now, I just want to make sure you know that you can't take any live shells, SAND DOLLARS, STARFISH and such. You should gently put it back where you found it or in deeper waters. Lots of people don't know how to tell if a sand dollar is alive or not. Here's the deal… if a SAND DOLLAR is any where near the water and is brownish and looks a little "furry", that means it is happy and healthy so we need to let it live a long time …..so it can breed! This is what live SAND DOLLARS look like. See that "fur"? Those are his feet AND how he breathes. Cool, huh?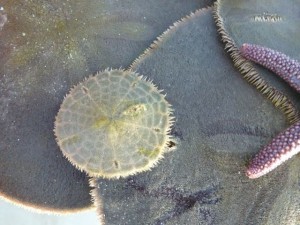 This was the moon rise last night over Fort Myers Beach. I did not change or colorize this photo! It was really that big and colorful! I guess that's why all the living creatures were stirring yesterday.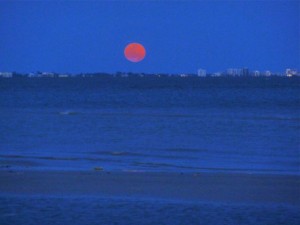 There should be more goodies washing in so for now…. Gone Shelling.