Archive for Mangrove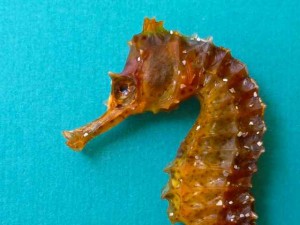 I found a SEAHORSE on Bowman's Beach!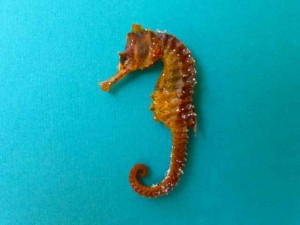 I have only found one other SEAHORSE in all the years I have been shelling so this is a real treasure for me. After I washed some of  the sand off of him, I could see that his back fin had been broken off so that's why the little guy didn't make it. Poor little sweetie.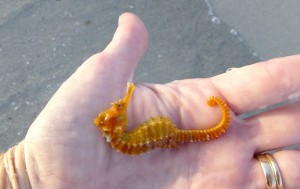 SEAHORSES anchor themselves by their tail on sea grasses so maybe this guy couldn't help but get pushed around with the tide on one of the pieces of SARGASSUM after his fin got damaged. Last night the beach was littered with SARGASSUM which looks like a SEAWEED with little berries on it. This is NOT the same as the HYDROID that I talked about on my last post. This will not sting you thank goodness.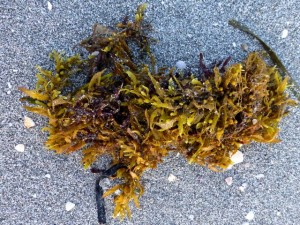 I was a little disappointed that there weren't more shell piles instead of all this BEACH BLING but I just kept looking around the SARGASSUM and oodles of RED MANGROVE SEED PODS sprinkled along the beach.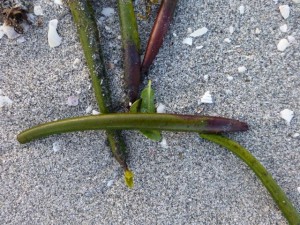 That's when I saw it!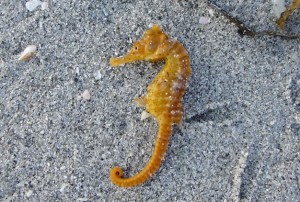 I even got video of my find! Now you will see how much BEACH BLING I had to "weed" through to find this awesome treasure. Enjoy!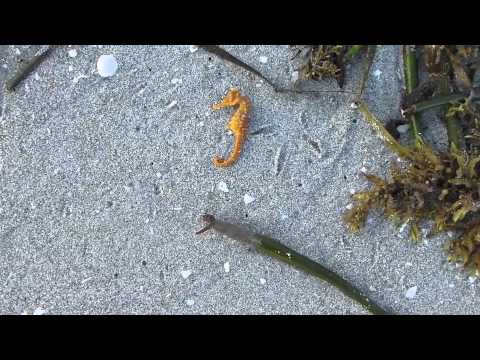 PS- That first photo looks like the SEAHORSE painting I did to make my Sea Life notecards.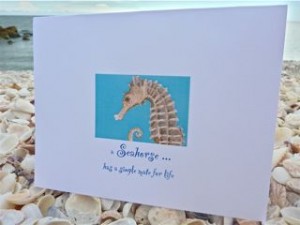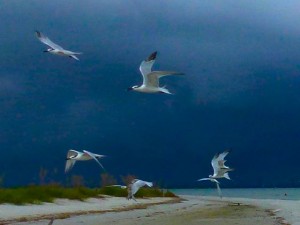 The Sanibel sky turned black with rain clouds and turned white SANDWICH TERNS soaring by. The sky was such a beautiful back drop for them.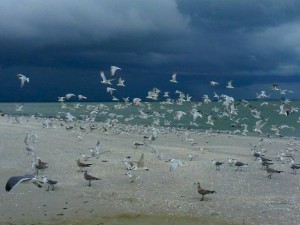 There were ROYAL TERNS and LAUGHING GULLS joining in on the fun too.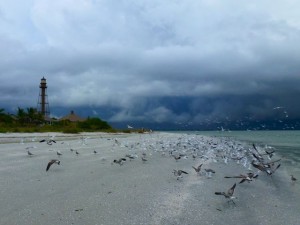 We didn't stay on the beach long since that sky looked a little frightful and we weren't seeing loads of shells other than this cute little LACE MUREX (or lacie), a few WENTLETRAPS and minis.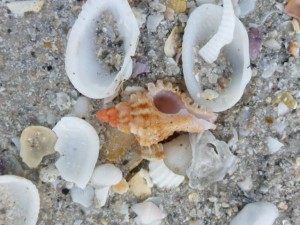 Up high on the beach was a wide wrack line of what I call "beach bling". Yes, I made up the phrase! Here's my definition…. Beach Bling: noun– (beech-bling) 1. anything that washes up on the beach other than seashells. 2. Collectable and/or noncollectable debris washed up on any shore.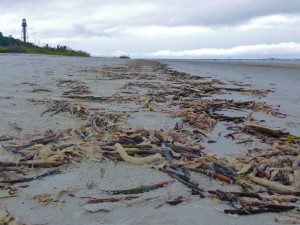 Doesn't "Beach Bling" even make PARCHMENT WORMS sound better?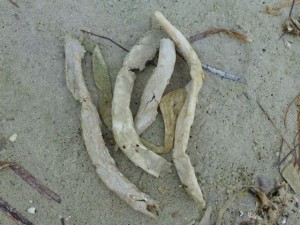 More Beach Bling in the wrack line like BLACK MANGROVE SEEDS which are the little split green lima bean looking things in this next photo…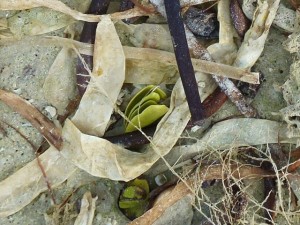 …and the RED MANGROVE SEED PODS mixed in…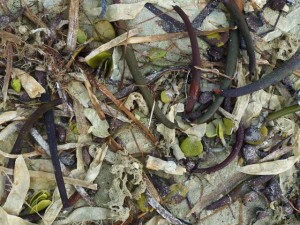 This baby BLUE CRAB shell would fall into this category too…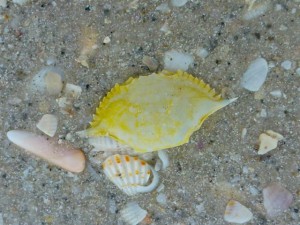 But still the best thing to watch was the beautiful birds soaring and swirling in the stormy sky. They definitely stole the show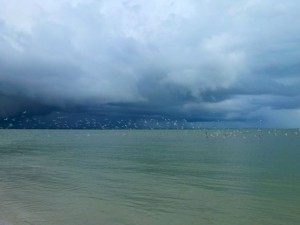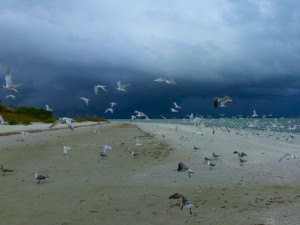 …