Archive for Island Inn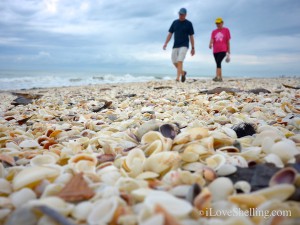 I feel very fortunate to have had the opportunity to breathe the salty air with a walk along the shell filled beach at the Island Inn this morning.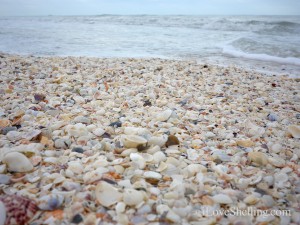 I didn't collect many shells today because I just wanted to hear the ocean sounds, smell the beach, feel the sea breeze and to see the amazing view.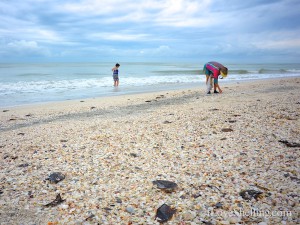 … And give a little thanks to Mother Earth for this paradise I call home on Earth Day.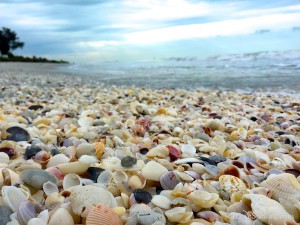 I asked Lynn from Charleston, SC if she had found any treasures and she replied with "Every single shell on this beach is a treasure".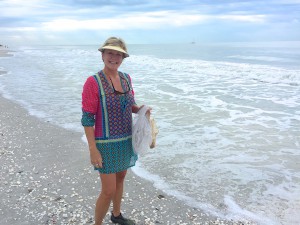 I feel the same Lynn!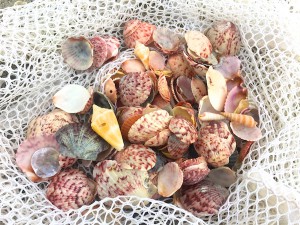 John from Rhode Island plopped right now in the water and waves where he was finding all sorts of treasures. He found an amazing live purple FIGHTING CONCH that he gently put back in the water to live a healthy life after we all admired it.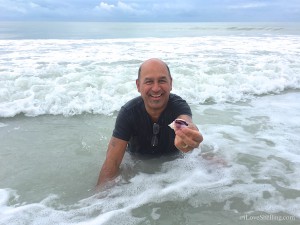 After this little SEA STAR said "Hello" then waved "Good Bye", the surf washed in and took her right back out to sea. Hmmm… Or maybe she was saying "Raise your hand if you Love Shelling!"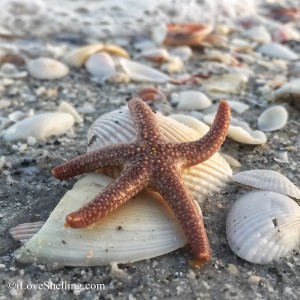 This OLIVE shell was playing "Hide 'N Seek" with me.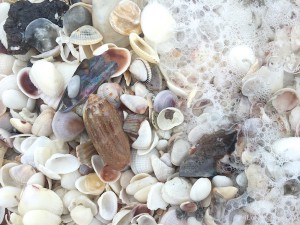 A beautiful treasure may be right in front of you but if you don't appreciate it when you can, it may disappear in a moment. Always keep your eye on the ball… well, in this case… the SHELL. 😉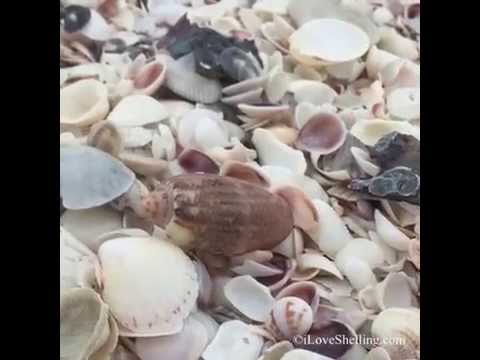 In between rain showers this week, Jeff was finding some shells but most of the really good ones were alive like this big LIGHTNING WHELK he found in front of Island Inn.
While I shot Jeff taking a photo of this conch, he told me he was from New York, New York. Manhattan Island. I shared a little fun fact with him.
Did you know that Manhattan is about the same size as Sanibel?
Manhattan is 13.4 miles long and 2.3 miles wide. Sanibel is around 12 miles long and 3 miles at its widest. Weird concept, huh?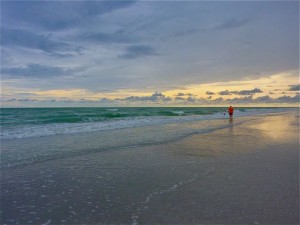 Don't forget…
Sometimes after a storm, the high tide will bring in the shells. This morning's high tide didn't show much promise (as you can see) after Tropical storm Bonnie went through Florida yesterday. She went north of us with east winds ( we hardly got any rain or wind) so right now it looks like she took all of the shells with her…and some of the beach sand too. Tomorrow we have a full moon (yeah!) so I'll give you another shelling update on the morning high tide and the evening low tide.  Here are some more pictures of the beaches we checked out in Sanibel.
Looks like potential shells but not much really but old shells and lots of foam.
We even went in front of Island Inn beachfront resort but still didn't have much luck finding shells on the beach. We did see some fabulous shell displays inside the Inn. I could do a whole post on this historical property and the shell displays but here's a tease and hopefully I'll get to take more pictures when I'm not on a scavenger hunt for Bonnie's beach treasures.
We didn't find anything here either. The gulf waters are still churning out there so who knows what the week will bring. I'm still thinking positive thoughts.