Archive for Stone Crab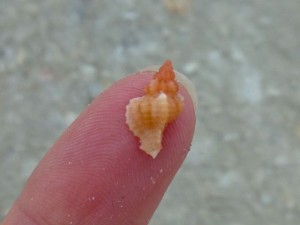 Now who in their right shelling mind could not think that this little baby LACE MUREX shell is not THE cutest thing that ever washed up at the Sanibel Lighthouse Beach? heehee What a cutie petutie!
I even found smaller baby shells in some of the LIGHTNING WHELK EGG CASES that have been washing up this week…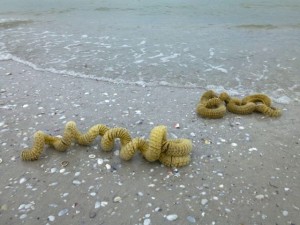 Most of the disks were empty but some of them still had tiny dried shells in them…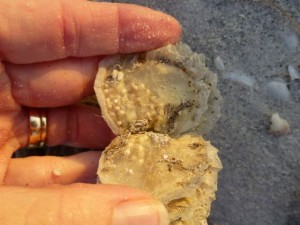 One was torn open so we could see the teeny tiny babies. They only look like grains of sand at this point… or honestly they remind of those little bits when eat corn on the cob. Errrr, Okay, I cant really explain that well so let's move on and get back to the point… they are tiny LIGHTNING WHELKS!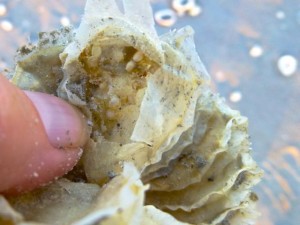 I got to share these little WHELK EGG CHAINS with a couple of gals that came to visit us from Virginia Beach. Kathleen was a good friend of Clark's over 40 years ago and they haven't seen each other since. What a hoot to meet Kathleen and her friend Jan and to hear about "the old days" and to catch up on all of our mutual friends while walking the beach…. and to find out they both love shelling!!!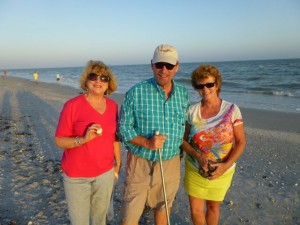 Today, I ran into Roma with a shell bag full of BLING!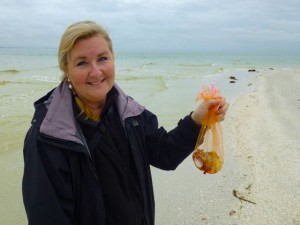 I peeked at her "Bling Bag" and saw all of this…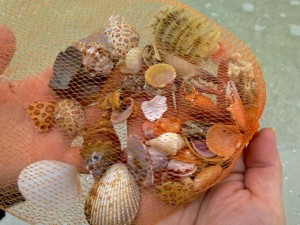 Holy Crab! She loves BEACH BLING as much as I do! She was collecting all of these different CRAB claws and shells for her daughter who makes jewelry out of them. There is a HERMIT CRAB CLAW, STONE CRAB CLAWS, BLUE CRAB CLAWS and some LEOPARD BOX CRAB shells. Ha! Love it!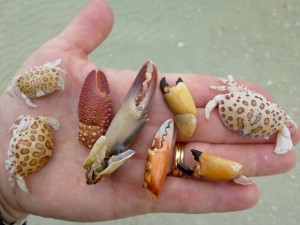 I found one more piece of cool BEACH BLING.. a MERMAID PURSE! Okay, it's a SKATE EGG CASE but it sure is more fun to think of it as a MERMAID PURSE, right?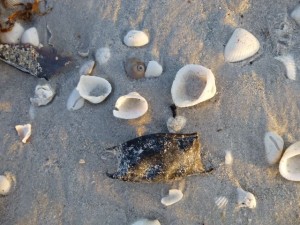 Oh, and I almost forgot to show you my fave shell today… A BROAD PAPER COCKLE. The colors on this sweetie are awwwwwesoooome…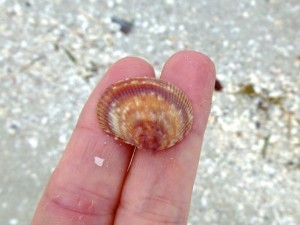 PS- Shellers Unite! There are still a few spots left on the iLoveShelling cruise to Cayo Costa this Sunday the 17th from 9am to noon. Come join me and lots of other spectacsheller folks that love shelling! Call Captiva Cruises to book your shelling spot at 239-472-5300.
For more iLoveShelling Cruise dates and info on the Shellabaloo click on the next image…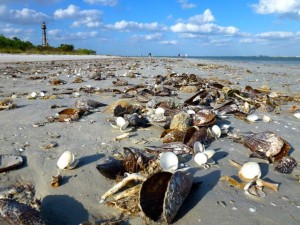 If you want to learn the types of seashells, sea life, vegetation and what the different kinds of mollusk egg cases look like and live in the Gulf Of Mexico, you've got your chance this week. It all washed up on the beach on the East end of Sanibel.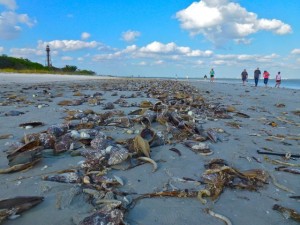 You can see it for miles. So many mollusk egg casings and PEN SHELLS galore!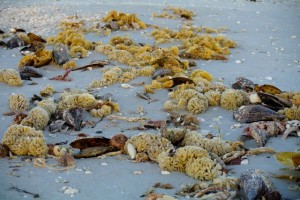 MERMAID PURSES! Well, they are really SKATE EGG CASES…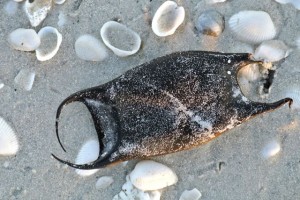 HORSE CONCH EGG CASINGS (I shot this with the Nikon J1)…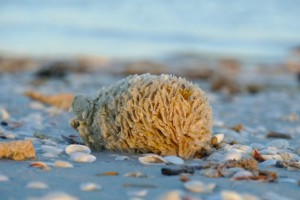 WHELK EGG CHAINS…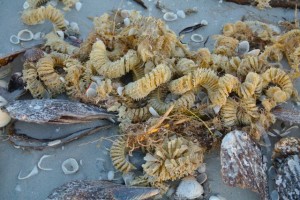 Lots of CRABS too. This one is a STONE CRAB…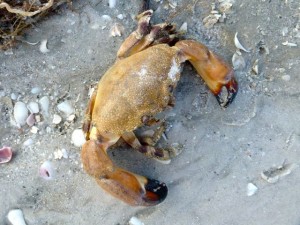 My friend Jane called me and said she found a dead crab shell on the beach that had a NAUTILUS  shell pattern. She has found a NAUTILUS before so she would know! Wanna see? CLICK HERE . So I went to see this crab…and it does have that pattern! It's a FLAME BOX CRAB…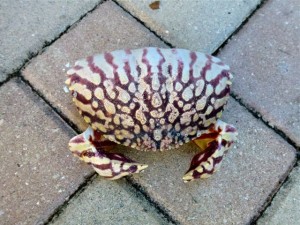 I also saw lots of SEA WHIPS. This was the first time I've ever found a WHITE SEA WHIP…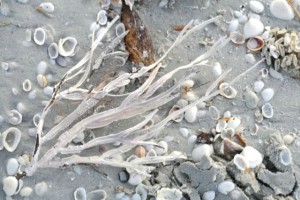 We normally just find the purple SEA WHIPS but when I went to see Jane's FLAME BOX CRAB she showed me this bright yellow WHIP she picked up as well.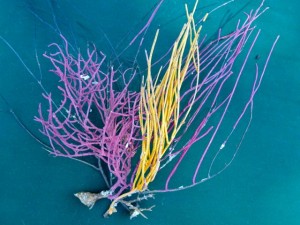 There were oodles of PURPLE SEA URCHINS also ( J1)…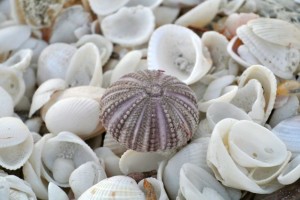 I always get questions about the bones on the beach. They are from the bait in the crab traps… not random dead carcasses. LOL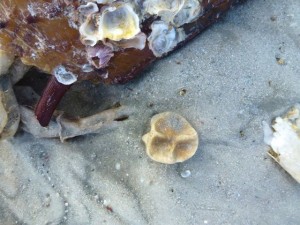 I also get a lot of questions about this guy on the left. It's a SEA CUCUMBER…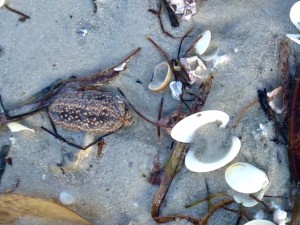 Don't worry, I saw lots of shells too. Mainly, the double DOSINIAS.
Cyber Sheller Alert! This next photo is really big so you can do a little shelling and blinging…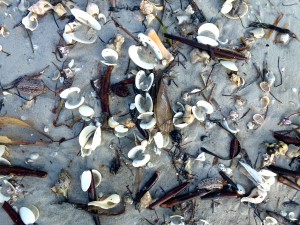 Looking through all this BEACH BLING, there are little treasures that look like this so you have to look closely…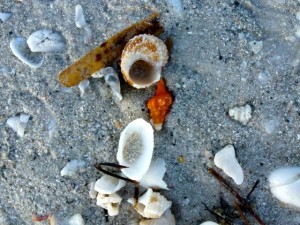 Some goodies were still washing in at the shoreline as well…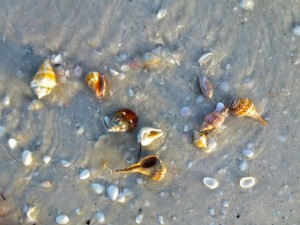 The big find was by Seth (FL)! He found this huge HORSE CONCH on the sand bar near Donax Rd. Here he is with Erin and Reese…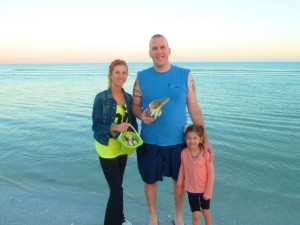 See? BEACH BLING is a wonderful thing… (J1)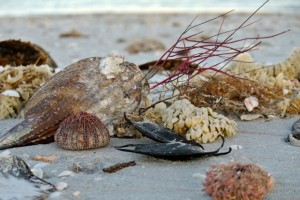 PS- Some of you know I've been testing a new Nikon J1 camera. It isn't very spontaneous but when I do catch a nicer shot than with my spontaneous, trusty, easy, clear Panasonic DMC…. I've noted it.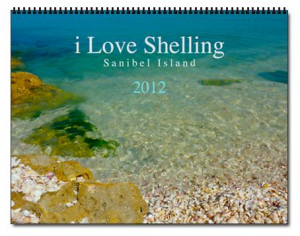 The holiday season is in full swing on Sanibel and Captiva islands so I have been a busy little elf! First of all,  I'd like to introduce the brand new i Love Shelling 2012 Calendar chock full of beautiful Sanibel photos and of course our beloved seashells. Now you can enjoy shelling 12 months of the year!
Here's a sneak peak of January's sunset photo and  CLICK HERE to see all 12 months and get one for yourself or as a gift for your shelling buddy.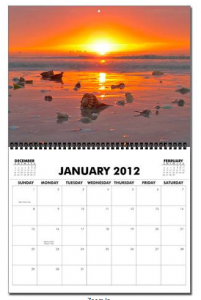 We also hit the beaches this week to find a few shells and lots of Beach Bling. We found big old WHELK and CONCH pieces I love for yard shells along with a few SEA WHIPS, LONG SPINED SEA URCHINS, PURPLE SEA URCHINS, PEN SHELLS, CRAB SHELLS and this little BRITTLE STAR too.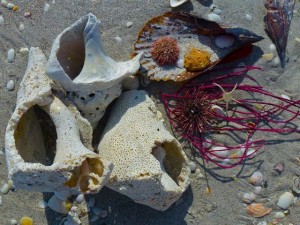 There were lots of DOSINIAS mixed in with hundreds of SAILORS EARS and TRANSVERSE ARKS…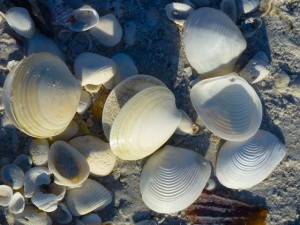 I even saw a few bones scattered along the beach. These are from bait in the crab traps in the gulf that get tossed around in rough surf.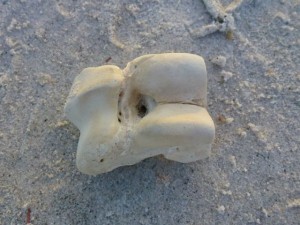 STONE CRABS are what lots of those traps are made to catch. When fishermen bring in the traps, they only take one claw from a STONE CRAB since the claws have the best meat. They throw the crab back without killing it because they know the crab can eat and defend  itself with only one claw until another claw grows back. Here is a STONE CRAB  claw lying on the beach that could have been a good appetizer if it had been freshly caught. Darn!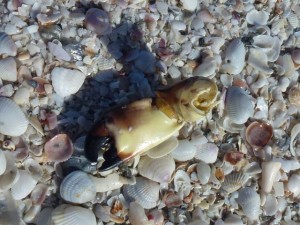 There were HORSESHOE CRABS too …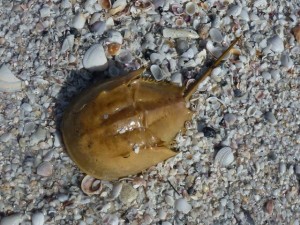 And a BLUE CRAB…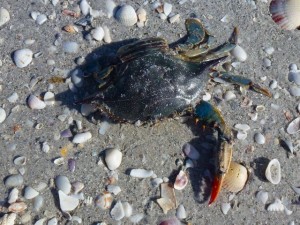 I also saw this MOON SHELL (SHARK'S EYE) EGG COLLAR…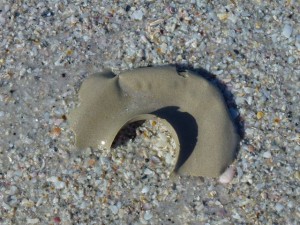 I met a wonderful local man Frank, who moved here in 1964 and still loves to walk the beaches and pick up shells especially with his daughter Connie. He told me he was 87 but he looks like he is no older than 72! Thank you Frank for your service for our country in WW2.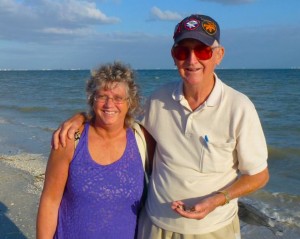 Here are some of the mini shells Frank and Connie collected when I saw them along Middle Gulf Drive.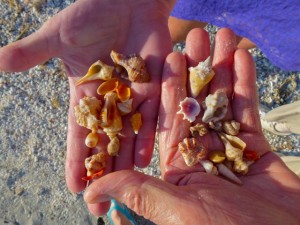 I also have photos of the yesterday's oh-so-fun Captiva Holiday Village golf cart parade. Here's one picture of our Junonia Jalopy but I'll have to show you the rest tomorrow. It was a blast!  All of the other cart were so darn cute!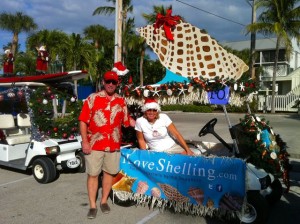 Check out my new tee shirt! I wore my new "Oh CONE All Ye Faithful" Christmas design v-neck tee. I got so many compliments- so much fun ! And don't forget to check out the 2012 i Love Shelling Calendar too….. and the new online i Love Shelling Shop….. Or the fun faves at Shelling Shop. You see? I've been a little Santa's helper for the good seashell loving girls and boys. Ho Ho Ho!