Archive for Charities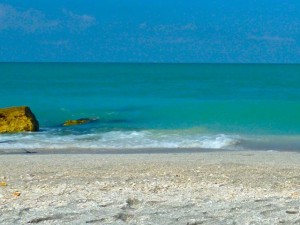 The beach gives us a different perspective about life, doesn't it? The calming sounds of the waves lapping up on the shore and the smell of the salty sea seem to give us powers of healing. We start getting a little rejuvenated by the aqua colors of the water, blue skies, splashes of orange and pink shells on the bed of tan sand to bury our toes in.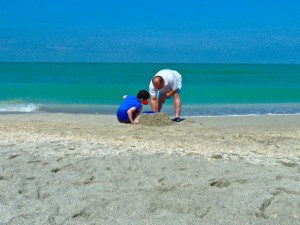 It brings us back to the basic beauty of life.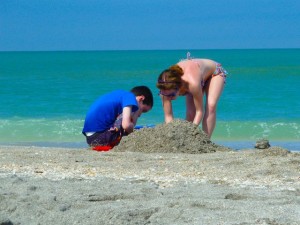 A simple bucket filled with sand, water and a few shells can be the perfect ingredients for a marvelous morning.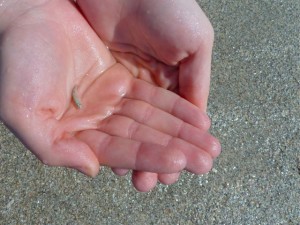 This simple little bucket can turn into a fascinating world of wonder after adding a tiny baby fish.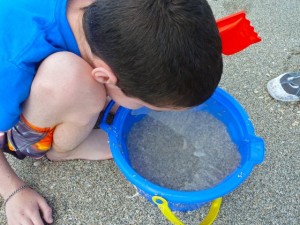 This is better than finding a JUNONIA.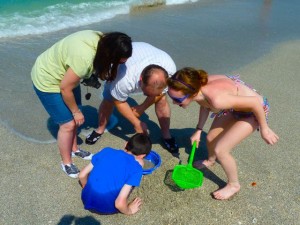 The whole family can share in the joy of the "wonder bucket".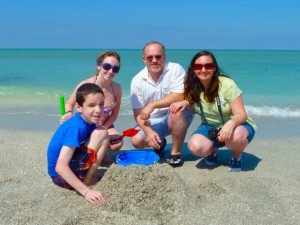 Cody, Sarah, Tim and Angie were my best "finds of the day"…. It's always nice to find a great shell but sometimes it's even better to find a great family enjoying the uncomplicated pleasures of the beach.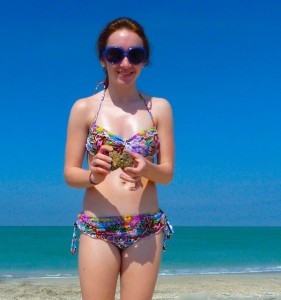 Besides finding the fish for her little brother's bucket, Sarah found a large heart shaped rock. Perfect for a girl with a big heart.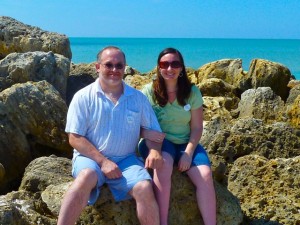 Soaking up every single second of this beautiful life at the beach. This is what I call an awesome happy day!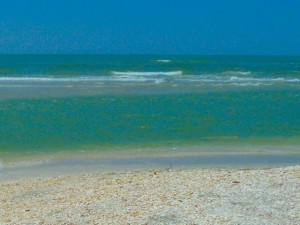 I wish every family could have this experience.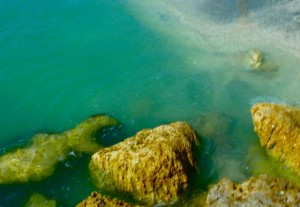 So I'd like to dedicate this post to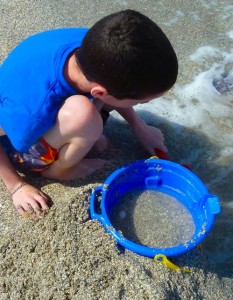 If you would like to know more about Make-A-Wish, make a donation or spread the word about how to grant a child's wish, please click on….
A special thanks to Royal Shell for their generosity to grant wishes for Make-A-Wish Foundation.
I just love this! You could start something wonderful with this, Brenda! Fantastic idea to give for encouragement to conch out cancer.
From Brenda the teacher from Grand Rapids, MI -
"My daughter and I read your post about the fighting conchs & cancer and it got us to thinking.  In the past 3 months I have had 2 close teacher friends of mine diagnosed with advanced breast cancer.  One of them is my age (38) with 2 small children.
My daughter and I had collected several conchs when we were in Pensacola Beach this spring break, so we got them out, sprayed them pink and added some 'bling' as little reminders for our friends that they are strong enough 'conch' out their cancer.
Thanks for the great idea

"

Sanibel and Captiva put our FIGHTING CONCHS to good use to fight against cancer at Relay for Life in Fort Myers last weekend. Cancer seems to touch us all in one way or another so I'm happy that so many Sanibel and Captiva people and businesses were involved in raising money for the American Cancer Society. My friend Lisa with Dorado Property Management was one of the powers behind getting the island involved in this fundraiser. She sent me this link in case any one would like to donate to ACS through the Fighting Conchs.
This post is dedicated to another Sanibel blogger ……Sanibel Toot's Lazy Days. She lost her daughter to breast cancer earlier this year. My heart goes out to you, Tootie.