Archive for Captiva Island Yacht Club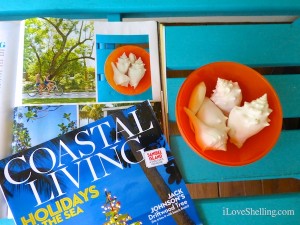 Have you seen that Sanibel is featured in Coastal Living for their December 2013/January 2014 issue??? Did you notice those ALBINO shells in that orange bowl? Those are our shells on our front porch! Holy Cowrie! We made it into Coastal Living magazine! Coastal Living photographer David Hillegas came to our house to photograph our collection of local shells and my WORM SHELL mirror he heard about on the coconut shellegraph.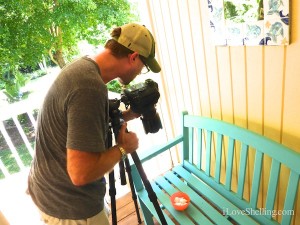 He ended up spending THREE hours photographing our house, shells and our "shellaboratory" so needless to say Super Sheller Clark and I had an amazing day hanging out with him and watching him work his magic. Thank you, David, for such a memorable day!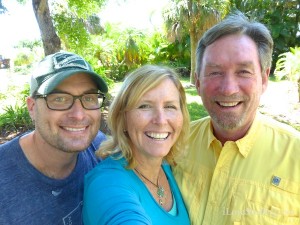 Honestly, I had heard about the article about Sanibel in the magazine but it came out when we were vacationing on Cat Island, Bahamas. When we returned it was Thanksgiving with amazing shell frenzy at Blind Pass Captiva, then I was focused on decorating for the Golf Cart Parade during the Captiva Holiday Village festivities. But low and behold, last night at the fantabulous Captiva Lighted Boat Parade, I met one of the judges for the parade…. Susan Sutton of Coastal Living.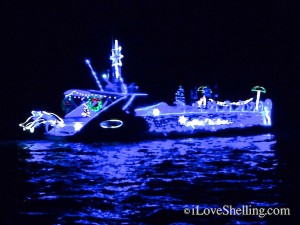 Wow! So awesome to have Coastal Living involved in our boat parade judging on Captiva! She had a whole stack of Coastal Living magazines at the after party on Andy Rosse Lane so I flipped through it to see our shells made it into the issue AND saw this One Week Getaway to Captiva Island GIVEAWAY by Captiva Holiday Village. I'm so sorry I didn't know about this sooner to tell you guys… but you have until the end of today December 15, 2013 to enter. Go to coastalliving.com/giveaway to enter today!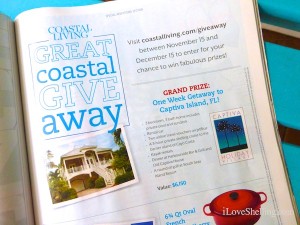 The Captiva Christmas Boat Parade was crazy fun with lots of boats lighting up the Roosevelt Channel so I didn't want you to miss it either so we could shellebrate together. Here's a quick vid of the awesome decorations on the Captiva Cruises' boat with Captiva Island Yacht Club and the Let It Snow boat. Woo Hoo!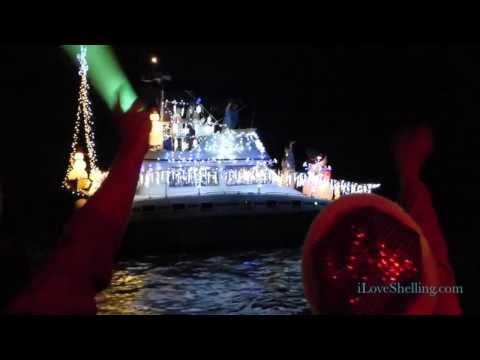 With so much fun for the holidays, I put together my hand painted Holiday Shellection in my new Art Gallery… Check it out!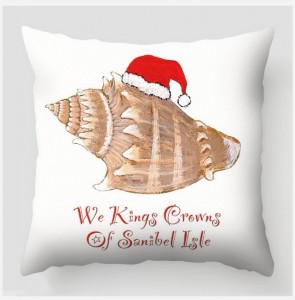 Oh but wait… remember…. don't forget to watch Xtreme Xmas on the Travel Channel tonight at 7pm (12-15-13). Our whacky Captiva Golf Cart Parade is featured. Y'all need to be here next year to see all of this in person!
Join me on our next Shelling Adventure January 3, 2014 CLICK HERE for more info…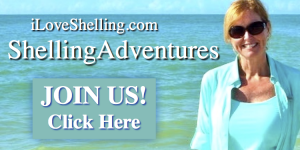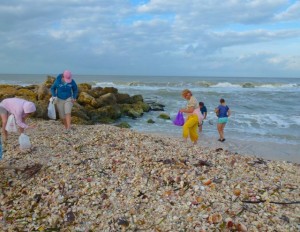 The islands get happy. The strong winds and rain that belted the islands the past few days are paying off with seashells! The shells are rolling in and piling up all along the beaches of Captiva.  The first person I saw this morning was Michelle from Toronto with her 2 huge LIGHTNING WHELKS…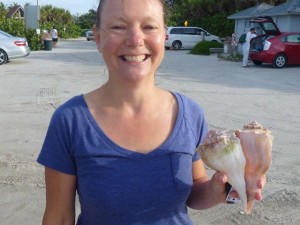 Look at this huge ALPHABET CONE and KING'S CROWN in her shell jug….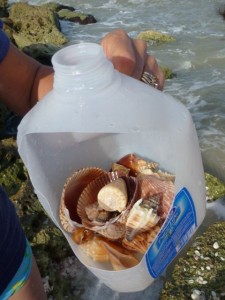 Then I heard a "Woohoo!" from somebody. It was Lois from PA …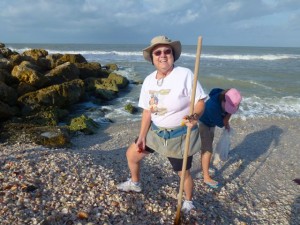 with a perfectly beautiful SCOTCH BONNET in her hand…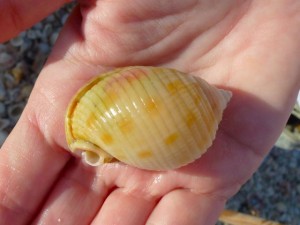 Okay, this is really cool. Get this….She told me she has been shelling for 40 years and that she has kept a life list of shells she has found. She has 347 different types of shells on her life list. You hear that yall? You can start counting your shell finds to have a shell life list of your own if you want.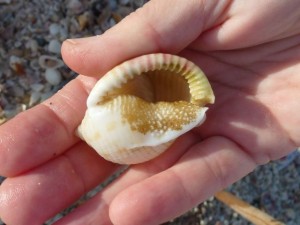 Charity from Ohio was finding lots of WHELKS…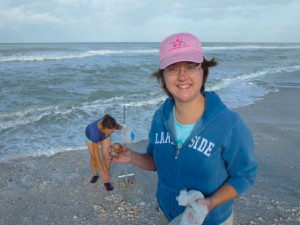 Get a load of this big honkin chunk-a CORAL she found too…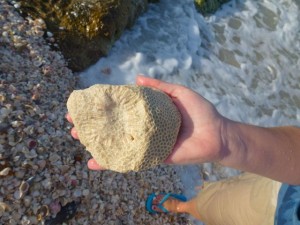 Joyce from Long Island, NY shows us her FLORIDA CONE and big shell bag filled with goodies.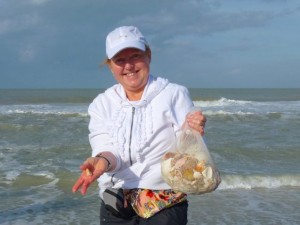 Look at Loretta from Texas with her great piece of WORM ROCK (and her cutie iLoveShelling hat!!!) …
I saw great shells along every stretch of beach on Captiva today and heard that someone found a nice size LION'S PAW right in front of Captiva Island Yacht Club. I also heard the Sanibel was rocking too!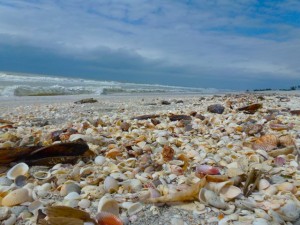 I haven't even gone through all of my photos or much less taken photos of my own finds from today but I will hopefully get to that tomorrow….if I'm not too busy finding new treasures! Enjoy the shelling whether you are on the coast or doing a little fun cybershelling.